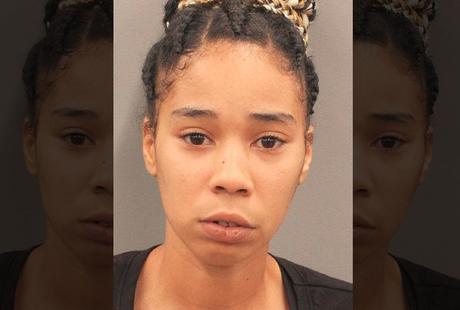 Houston, TX – Surveillance video captured a mom apparently "playing chicken" with her son moments before she killed the 3-year-old with her SUV.
The horrifying incident serves as a reminder to protect children around moving vehicles.
The district attorney's office believes the young mother was needlessly fooling around when she struck her toddler with her right tire, reports KTRK.
Authorities originally called the tragedy an "unfortunate accident" until the department obtained video footage.
Lexus Stagg, 26, was playing a weird driving game with her son, one where she drove forward and her three children ran out in front of her, reports the Houston Chronicle.
During the game, the boy got caught under the vehicle's tire. But after the initial impact, "she continued driving, running over the child again."
Lexus Stagg told police she thought she had hit a speed bump. HPD's Lt. Thurston Roberson initially said of the incident:
"The 3-year-old child ran behind her vehicle as she backed out of her parking spot."
The Houston mom was arrested Thursday and charged with criminally negligent homicide.
MOTHER CHARGED: Police are have released the mugshot of Lexus Stagg, who is accused of running over her 3-year-old son…

Posted by KHOU 11 News on Friday, June 21, 2019
Harris County District Attorney's Office Vehicular Crimes Chief Sean Teare told the Chronicle:
"You should be playing Peek-A-Boo with a three-year-old instead of forcing him to try and dodge a 5,600 pound deadly weapon."
District Attorney Kim Ogg told KTRK:
"Every parent has an obligation to protect their children, even from themselves. Cars aren't toys and playing chicken with your kids isn't a game."
According to Kids and Cars, parents should always play it safe around kids and cars.
Stagg's bail was set at $1,500. If convicted she could be sentenced to up to 10 years in prison.