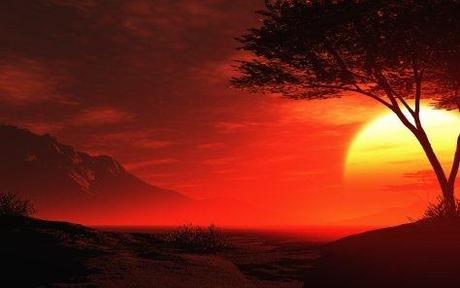 All right boys and girls, ladies and gentlemen, the moment you've guys have been waiting for has arrived, and well, not much more needs to be said: it's time to do the right thing and rank the new shows coming out this summer!
That's right, the new TV shows coming out this summer. Not any sequels (like The World God Only Knows!) or continuing franchises, nor any OVAs or movies. Anybody could go do that, except what if you haven't watched the show/didn't continue watching said show? Why write about that? Oh well. I think I'll see how things go by giving these new shows a fair shake. But just because I'm not covering it doesn't mean you don't have to share what you're looking forward to this Summer. Now, let's begin!
20. Brothers Conflict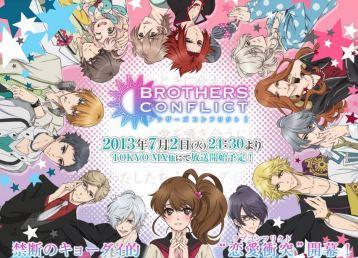 Title: Brothers Conflict
Genre: Romance, Harem
Studio: Brains Base
Director: Jun Matsumoto (Persona -trinity soul-, Night Raid 1931)
Series Composition: Natsuko Takahashi (Moyashimon, Nura: Rise of The Yokai Clan, Tokyo Magnitude 8.0, Yuyushiki)
Original Creator: Atsuko Kanase
Air Date: July 2, 2013
Official Website: http://www.bc-anime.com/
Summary:
Hinata Ema is the only daughter of a famous adventurer, Hinata Rintarou. One day, Ema learns that Rintarou is going to remarry with a successful apparel maker named Asahina Miwa. Since she doesn't want to disturb them, Ema decides to move out and live with her 11 new brothers in a mansion called Sunrise Residence. As they live under the same roof, romance is starting to grow between Ema and the Asahina brothers.
My Take: Why hi otome adaptation #29393432. Hi you used to be a reliable studio but you sold out for more cash Brains Base. Seriously, is this actually going to be good? Well so far, the track record for keeping up with these types of shows for the past few years since I've started this blog has been zero. Well, unless you want to count K, and that kind of fell apart at the end. I don't even want to go over my sordid history with otome adapted anime, with the only one I thought was at least decent, UtaPri, still on my on hold list. One day I'll watch it. Honest. But unless Brothers Conflict shocks me in its first episode, it will be the only otome anime I've completed to this day. Brains Base, get back to actually making anime! Stop selling your soul to the devil!
19. Makai Ouji Devils and Realist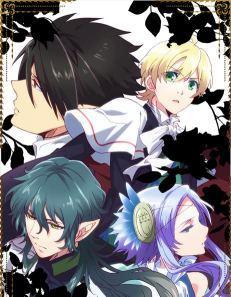 Title: Makai Ouji Devils and Realist
Genre: Comedy, Fantasy, Supernatural
Studio: Studio Pierrot, Dogakobo
Director: Chiaki Kon (Arcana Famiglia, Hanasakeru Seishounen, Junjou Romantica)
Series Composition: Michiko Yokote (Air Master, Red Data Girl, Genshiken, Joshiraku)
Original Creator: Madoka Takadono, Utako Yukihiro
Air Date: July 7, 2013
Official Website: http://makai-ouji.com/
Summary:
After his uncle's business fails, William Twining, an intelligent young noble, finds himself in a dire financial situation. With no funds for his school tuition, he searches his house until he comes upon the basement. There, he accidentally summons Dantalion, who recognizes William as a descendant of Solomon, and the Elector—the individual that will choose a substitute ruler for when the Emperor of Hell, Lucifer, rests. From that moment on, William's life is irrevocably interwoven with the supernatural world as other demonic candidates for substitute king vie for his nomination and Heaven attempts to retrieve his soul.
My Take: See above — well ok, Makai Ouji is nowhere at the level Brothers Conflict is. The problem is as nice as the summary sounds, there's nothing much to gleam from the trailer (unless you care about that ending), and the staff behind it doesn't exactly excite me. You all know why my aversion to otome adapted anime/shows with lots of guys started with Arcana Famiglia, and the director for that show is doing this one. And then you have Michiko Yokote, who's a part of some show called Air Master, which I'd like to forget about quickly, and Red Data Girl, which didn't exactly excite me when I watched its first episode, and apparently has not excited anyone else now that it's over. Easily an anime I don't think is going to be all that good.
18. Kitakubu Katsudou Kiroku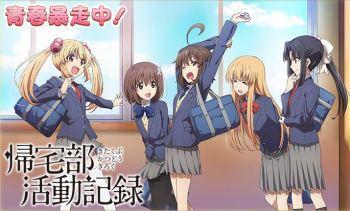 Title: Kitakubu Katsudou Kiroku
Genre: Slice-of-Life
Studio: Nomad
Director: Hikaru Sato (First Director Work)
Series Composition: Go Zappa (NAKAIMO, A Bridge to the Starry Skies, Koihime Musou)
Original Creator: KUROHA
Air Date: July 2013
Official Website: http://www.ntv.co.jp/kitakubu/
Summary:
When a friend asks Natsuki what high school club she's going to join, she cheerfully responds "the go-home club" (meaning, she's not going to join any of them). However, she soon realizes that this club actually exists at her high school, and she's just expressed interest in joining it! Before she knows it, she ends up as one of the two new members of "the go-home club," which is a small group of eccentric school girls. One of the girls likes fighting bears, while another is ridiculously rich. But what exactly constitutes the activities of "the go-home club"?
My Take: This admittedly has a nice synopsis, but then you realize there's one small problem and then one big problem. It looks like one of those gag 4-koma shorts you get every once in a while, so that means it might be a short, and then also wouldn't be on this list. But I can't confirm that. That's nothing compared to the fact that the same writer who did NAKAIMO is on this list, and that is not good. Now, maybe it was the source material's fault that it turned out to be a disaster, and considering it had my interest in the first four episodes, maybe Go Zappa's just had some bad luck. And then you realize some of the other crap he's been a part of, and well, hopes are quickly dashed. This might be the anime to break out of that slump. But I won't expect it.
17. Inu to Hasami wa Tsukaiyou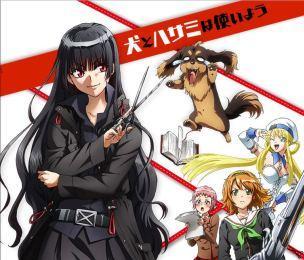 Title: Inu to Hasami wa Tsukaiyou
Genre: Comedy, Supernatural
Studio: Gonzo
Director: Yukio Takahashi (First Director Work)
Series Composition: Toshizo Nemoto (Inu X Boku SS, Tokyo Majin, Towanoquon)
Original Creator: Shunsuke Sarai
Air Date: July 1, 2013
Official Website: http://inuhasa.jp/
Summary:
The absurd mystery comedy centers around Kazuhito Harumi, a high school boy who is obsessed with reading books. One day, he is killed in the middle of a robbery — and resurrected as a dachshund dog. Unable to read in his new form, the hapless Kazuhito now belongs to Kirihime Natsuno, a sadistic novelist who uses scissors on Kazuhito to abuse him.
My Take: Seriously though, if none of the above 3 were around, then you can bet I would have placed this last by default. The premise is comical, but comical in the sense that it makes absolutely no sense. Then you watch the trailer, and proceed to want to jump out your window. It looks bad, seems typical, and very unremarkable. How did this get green lit into an anime again? Well, whatever the case, I'm guessing this anime will have to prove to me it knows what it's doing. But I won't hold my breath.
16. Kiniro Mosaic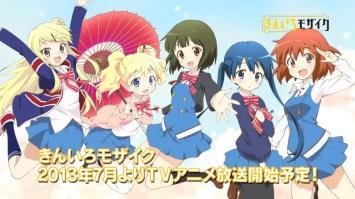 Title: Kiniro Mosaic
Genre: Comedy, Slice-of-Life
Studio: Media Factory
Director: Motoki Tanaka (First Director Work)
Series Composition: Yuniko Ayana (Ground Control to Psychoelectric Girl, Manyuu Hikenchou)
Original Creator: Yui Hara
Air Date: July 6, 2013
Official Website: http://www.kinmosa.com/
Summary:
The story begins with Oomiya Shinobu, a 15-year-old, seemingly pure Japanese girl who actually did a homestay in Great Britain. Even after coming back to Japan, she still misses her time overseas. One day, an airmail letter arrives from Alice, the girl in Shinobu's host family in Great Britain. The letter reads: Shinobu, I'm coming to Japan! The Japanese/British girls' mixed comedy follows the lives of Shinobu, Alice, and other girls from both Japan and Great Britain.
My Take: Kiniro Mosaic has a cute idea, but this trailer didn't really show that to be the case. I mostly found it sleep inducing, and maybe, just maybe, a hint that this is just the same, usual cute girls doing cute things that's gonna have to be really cute for it to get my attention. It doesn't help you have the series composition writer from Manyuu Hikenchou. Ok, ok, it's not really fair, but it definitely doesn't help. Unless the interactions are fun or decent, I can't see myself watching Motoki Tanaka's first directorial piece from start to finish.
15. Gifuu Doudou!! Kanetsugu to Keiji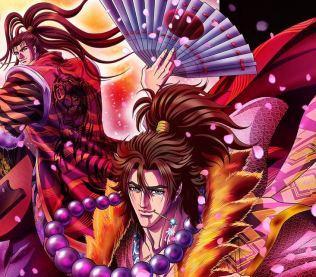 Title: Gifuu Doudou!! Kanetsugu to Keiji
Genre: Action, Historical, Samurai
Studio: Deen
Director: Bob Shirohata (Gravitation, Hetalia, Hiiro No Kakera)
Script: Yasuhiro Imagawa (Bartender, Berserk, Shin Mazinger Shougeki Z Hen)
Original Creator: Tetsuo Hara
Air Date: July 2, 2013
Official Website: http://gifuu.jp/
Summary:
The Sengoku era gave birth to many historical legends. One of them is Naoe Kanetsuku, the brilliant military general of the Uesugi family. Together with Maeda Keiji, a legendary warrior on the battlefield, who become lifelong friends with each other, they carve out a piece of history in the most dangerous and volatile time in Japan's history. The two men recall their beginnings and the journey they took to get to the accomplished position they now sit at.
My Take: I might — hint, MIGHT — have ranked this higher if it had a trailer. The problem is it didn't have a trailer. It also has a problem in trying to convey what it's all about. No, I can get the synopsis well enough, and this is from the creator of Fist of the North Star (Tetsuo Hara), so you'd think it'd be solid. But then you have check out the director, and the works he's directed generally revolve around handsome, sexy bishonen. You instead have Hara's designs. You then have the writer who's done stuff like Bartender and Berserk. Exactly how's this going to work out. I don't know, but who knows, this might be a sleeper title this summer.
14. Love Lab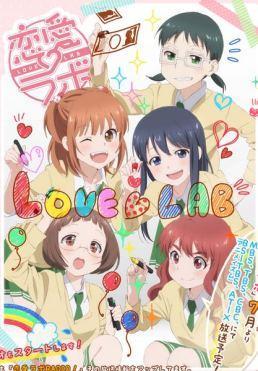 Title: Love Lab
Genre: Comedy, Romance
Studio: Dogakobo
Director: Masahiko Oota (Kotoura-san, Mitsudomoe, YuruYuri)
Series Composition: Takashi Aoshima (Kotoura-san, Mitsudomoe, YuruYuri)
Original Creator: Ruri Miyahara
Air Date: July 2013
Official Website: http://www.love-lab.tv/
Summary:
The Fujisaki Girls Academy is known for their school body being composed of very proper students. The most prominent one of them is Maki, the student president who is admired by her classmates for her calm and polite demeanor. On the other hand, Kurahashi Riko is also admired but for having a very forward and boyish personality. Riko accidentally walks into Maki while she's practicing kissing with a pillow and learns that she isn't what everyone thinks she is. Riko is forced into keeping Maki's secret and join her in practicing all aspects of romance like holding hands and more.
My Take: I'm mostly expecting this to be an extension of YuruYuri, but maybe just better. I mean you already have the director and the series composer, why should I expect anything different? Well anyways, the trailer's pretty short so not too much to glean from that, but it looks like it might be ok, if not distinguishable from most cute girls doing cute things. As long as it provides a decent laugh track and goes to the depths in romance, this might be an enjoyable week to week watch.
13. Kimi no Iru Machi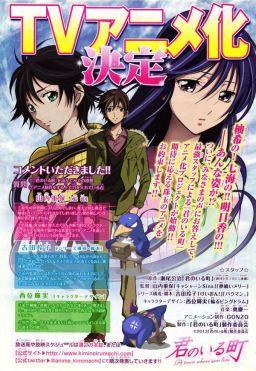 Title: Kimi no Iru Machi
Genre: Drama, Romance, Slice of Life
Studio: Gonzo
Director: Shigeyasu Yamauchi (Casshern Sins, Dr. Slump, Xenosaga: The Animation)
Series Composition: Reiko Yoshida (Bakuman, Girls und Panzer, K-On!, Kaleido Star)
Original Creator: Kouji Seo
Air Date: July 13, 2013
Official Website: http://www.kiminoirumachi.com/
Summary: 
Eba Yuzuki, a girl from Tokyo moves to a countryside to attend high school. She lives together with a guy named Kirishima Haruto whose father is an apprentice of Eba's father. Haruto never agrees to let Yuzuki stay at his house and always rejects her. Another girl, Kanzaki Nanami, comes whom Haruto might be in love with. So… what will happen in this story?
My Take: Normally something like this I might have rated a bit higher, but there's a lot of things in the way, starting with the fact that the manga is still ongoing, and then noting just how reviled this series seems to be. I still remember being warned to not even bother watching this series when I did my manga questionnaire, and once the anime was announced, twitter mostly took it apart. I guess those who started Seo's work early are immune, but I don't know. I guess I have a bit of apprehension. The staff seems decent enough, so who knows, they may just be able to take some liberties here and there. The anime doesn't look very good visually though.
12. Watashi ga Motenai no wa Dou Kangaete mo Omaera ga Warui! (Watamote)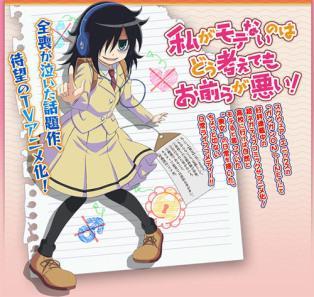 Title: Watamote
Genre: Comedy
Studio: Silver Link
Director: Shin Oonuma (C3, Dusk Maiden of Amnesia, Kokoro Connect)
Series Composition: Takao Yoshioka (Elfen Lied, High School DxD, Senran Kagura)
Original Creator: Nico Tanigawa
Air Date: July 8, 2013
Official Website: http://watamote.jp/
Summary:
Kuroki Tomoko is a super popular, high school girl who has had 50 years of dating experience and 100 boys… in the Otome game world. In the real world, she is a 15-year-old shut in who has all of the qualities of a "mojo" (a gloomy or unpopular woman).

However, when school isn't going as she expected, and she isn't as popular as she had thought she was, she takes a look at herself in the mirror for the first time in a few years, and has some shocking revelations…
My Take: For real: when I read the first sentence, I thought we just had the female version of Keima Katsuragi. Honest! But then I read the rest and learned that whoever you are Kuroki, you're good at being a shut-in, and we need to get you out of that! Now, I watched the trailer and while it had some moments, I wasn't all that impressed. I'm also not all that impressed with the staff behind it. Shin Oonuma, you have no excuses this time. Unlike stuff like C3, Amnesia, and Kokoro Connect, everything here is comedy. Don't screw it up!
11. Stella Jogakuin Koutou-ka C3-Bu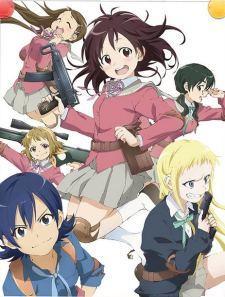 Title: Stella Jogakuin Koutou-ka C3-Bu
Genre: Military
Studio: Gainax
Director: Masayoshi Kawajiri (First Director Work)
Original Creator: Ikoma, Tomomoka Midori
Air Date: July 5, 2013
Official Website: http://www.tbs.co.jp/anime/stella/
Summary:
Yura Yamato has just arrived at the high school division of Stella Women's Academy, when Sonora Kashima invites her to join a club called "C³". Sonora is the third-year student who became the new head of this club for military survival games. The other members include two second-year students (part-Japanese Karila Hatsuse and G36K-wielding Honoka Mutsu) and two other new students (Rento Kirishima whose family runs a Japanese sweets shop and the really short Yachiyo Hinata).
My Take: Poor Gainax. Everyone's pretty much called their death sentence and gotten them to reminisce about the good old days. I'm not quite that ready to do so. It does help that they have a good adaptation to work with, and C3-Bu might be it. Yeah, the trailer didn't advertise much, but it's girls and guns. That's always a good thing right? Well it better be for some people!
10. Free!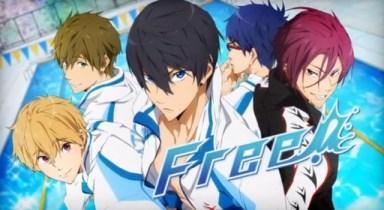 Title: Free!
Genre: Sports
Studio: Kyoto Animation
Director: Hiroko Utsumi (First Director Work)
Series Composition: Masahiro Yokotani (Beezlebub, Busou Shinki, The Devil is a Part Timer, Sgt. Frog)
Original Concept: Kouji Ouji
Air Date: July 3, 2013
Official Website: http://iwatobi-sc.com/
Summary:
The story revolves around Haruka Nanase, a boy who has always loved to be immersed in water, and to swim in it. Before graduating from elementary school, he participated in a swimming tournament along with his fellow swimming club members, Makoto Tachibana, Nagisa Hazuki, and Rin Matsuoka. After achieving victory, each of the boys went their separate ways.

Time passed, and in the middle of their uneventful high school lives Rin appears and challenges Haruka to a match, showing Haruka his overwhelming power. Not wanting it to end like this, Haruka, gathers together Makoto and Nagisa once again and brings a new member named Rei Ryugazaki to create the Iwatobi High School Swimming Club in order to defeat Rin.
My Take: And so, I finally get to talk about Free!, which, in case you happened to go on a long winding journey without the services of the internet, generated controversy. No, I won't get into said controversy here, but let's just say people claimed to be betrayed, many celebrated and rejoiced, and others cried in anguish. Me? I could only shake my head and go, "It's just another anime boys and girls." And unfortunately for Free!, while it may be adapted by KyoAni (who by the way has not exactly created a hit in the past year or so, barring Hyouka), it still falls into, "There's too many boys, plot plz save me". However, I think the trailer was somewhat interesting. For no good reason I thought of Kimi to Boku, which I was supposed to keep watching but never did, and maybe it could turn out like that, but just with swimming. I think. Whatever the case, we'll just have to see how it'll go.
9. Chou Jigen Game Neptune The Animation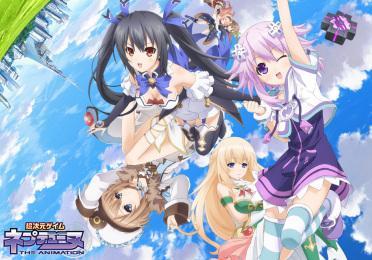 Title: Chou Jigen Game Neptune The Animation
Genre: Action, Comedy, Fantasy, Parody, Sci-Fi
Studio: David Productions, Media Factory
Director: Masahiro Mukai (First Director Work)
Series Composition: (Screenplay for Phantom ~Requiem for the Phantom~)
Original Creator: Compile Heart
Air Date: July 12, 2013
Official Website: http://nep-anime.tv/
Summary:
This is Gamindustri. Beings called the Goddesses rule the countries of this unreal world. The four Goddesses govern four states: Planeptune, Lastation, Lowee, and Leanbox. For many long years, these countries fought each other over the Shares, the source of the Goddess power.

However, fearful that the conflict would pointlessly erode their countries' strenght, the Goddesses signed a Friendship Treaty forbidding them from taking Shares by force.

Under the treaty, the Goddesses and their younger sisters took a step forward to a new stage in their relations. It was the dawn of a new, dymanic era marked occasionally by shared laughter, disputes as well cooperation.

What does the future hold in store for Gamindustri?
My Take: There's no other way to take the adaptation of the Hyperdimension Neptunia video game series as nothing but it poking fun at the gaming industry. At least that's what I hope. Otherwise, in David Productions I trust. Even their worst series are seemingly watchable, if I go by twitter. And after the high of Jojo's Bizarre Adventure, surely I can rely on them to provide at least a watchable anime from week to week? I can only hope so.
8. Fantasista Doll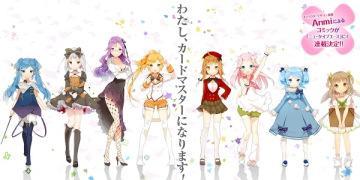 Title: Fantasista Doll
Genre: Sci-Fi
Studio: Hoods
Director: Hisashi Saitou (Bamboo Blade, Boku Wa Tomodachi ga Sukunai)
Original Creator: Goro Taniguchi (Code Geass creator, Planetes, Scryed Director)
Air Date: July 6, 2013
Official Website: http://www.fantasistadoll.com/
Summary:
This original story revolves around cute dolls who fight and power up with special cards.
My Take: If there was just some elaboration on exactly what type of story this would be, Fantasista Doll would be higher on my list. But all we got is a trailer, and while it was ok, it didn't show any animation, so can't say I'm too worked up on that front. However, it does help to have what seems to be a good staff on board this show, and it is an original story. That means something good should come to us. That's what I'm banking on at least.
7. Danganronpa The Animation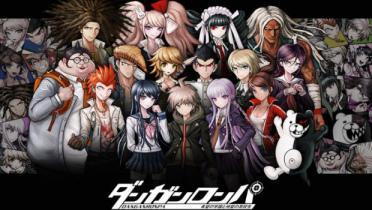 Title: Danganronpa The Animation
Genre: Action, Mystery, Horror, Supernatural
Studio: Geneon
Director: Seiji Kishi (Humanity Has Declined, Persona 4: The Animation, Devil Survivor 2)
Series Composition: Makoto Uezu (Devil Survivor 2, School Days, Kamisama Dolls)
Original Creator: Chunsoft, Spike
Air Date: July 5, 2013
Official Website: http://www.geneonuniversal.jp/rondorobe/anime/danganronpa/
Summary:
A group of 15 elite high school students are gathered at a very special, high class high school. To graduate from this high school essentially means you'll succeed in life, but graduating is very difficult. The school is presided over by a bear called Monokuma, and he explains to them that their graduation hinges around committing a murder. The only way to graduate is to kill one of your classmates and get away with it. If the other classmates discover the identity of the killer, the killer is the only one executed. However, if they fail to catch the killer, only the killer graduates and the others are annihilated. Which of the 15 will survive the bloodbath to come?
My Take: Man, with a premise like that, this should be way higher than I have it. It makes me think a bit of Battle Royale, and surely this would mean some tense moments. The problem is Seiji Kishi and Makoto Uezu's at it again. They've been in a major slump, and in hearing nothing but bad things about Devil Survivor 2 (Man do I look bad for ranking it #3 in my Spring Compendium), and their recent works not being too spectacular, I can only expect it to be screwed up again. But the premise is cool and the trailer's interesting. I BELIEVE IN SEIJI KISHI!
6. Servant X Service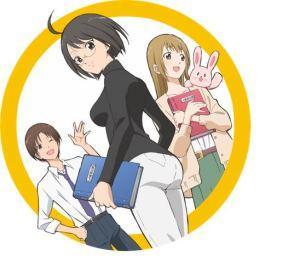 Title: Servant X Service
Genre: Comedy, Slice of Life
Studio: A-1 Pictures
Director: Yasutaka Yamamoto (Squid Girl S2, Valkyria Chronicles)
Script: Kento Shimoyama (Binbougami Ga!, Bleach, Rock Lee & His Ninja Pals)
Original Creator: Karino Takatsu
Air Date: July 4, 2013
Official Website: http://www.servantservice.org/
Summary:
Anime about the staff of the health and welfare section of the ward office of a certain city. Newcomers Hasebe Yutaka, Yamagami, Miyoshi Saya, and their supervisor Ichimiya Taishi go through the everyday quirks of working at their office.
My Take: This will be my chance to finally watch Working!…I mean a comedy about health in a certain city. Well, in viewing the trailer, it seems like it will be a wacky comedy with some nice looking characters. As much grief we give A-1 Pictures, they've created works of interest for everybody (Magi, Gyrozetter, SAO, etc), so with what should be a strong source material, Servant x Service should be pretty good.
5. Genei wo Kakeru Taiyo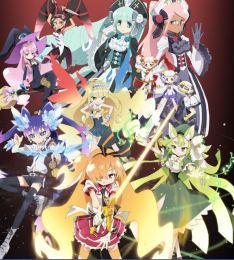 Title: Genei wo Kakeru Taiyo
Genre: Fantasy, Action
Studio: AIC
Director: Keizou Kusakawa (Campione!, Ro-Kyu-Bu!, Sekirei)
Series Composition: Michiko Itou (HENNEKO, Ro-Kyu-Bu!, Twin Angel: Twinkle Paradise)
Original Concept: Haruyasu Akagi, Hidenori Tanaka
Air Date: July 6, 2013
Official Website: http://www.geneitaiyo.com/
Summary:
A story of girls who solve mysterious matters that occur in this world, using the mystical tarot cards that hold the power to read destinies.
My Take: My only concern is the staff behind this anime. Let's just say I have a special place for Twin Angel, and it's pretty much buried in crap; Campione! will be remembered for its lovely episode 12, and well, I lasted one episode into Ro-Kyu-Bu. HENNEKO probably saves it from a complete disaster, but otherwise that doesn't impress me. What does is that it is an original concept, and the trailer for this work looks great. Surely they can't screw this up right? Right?
4. Blood Lad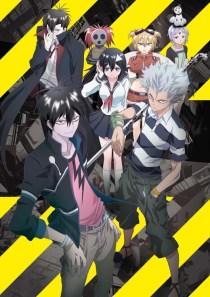 Title: Blood Lad
Genre: Comedy, Supernatural
Studio: Brains Base
Director: Shigeyuki Miya (Buzzer Beater)
Series Composition: Takeshi Konuta (Haitai Nanafa, Library War)
Original Creator: Yuuki Kodama
Air Date: July 7, 2013
Official Website: http://bloodlad.jp/
Summary:
Staz is the vampire boss of a section of the demon world, but he has little interest in human blood. He's more infatuated with Japanese culture. When he learns that Yanagi Fuyumi, a Japanese teenage girl, accidentally wanders into the demon city, he jumps to the occasion. However, while Staz deals with an intruder on his turf, the oblivious Fuyumi is killed by a monster and becomes a wandering ghost. The disappointed Staz vows to her that he will find a way to bring Fuyumi back to life.
My Take: Ok Brains Base, you finally have an opportunity to prove that you were just saddled with awful adaptations with Blood Lad, which looks to be their strongest material to work with in a long while. Man, has Blood Lad had a strange history. I've actually listed this work in last year's summer compendium, except as it turned out, it wasn't ready to air. Well now it is. And in summoning forth random copies of Dragonball and just in general being strange, I think this should be a pretty fun watch.
3. Kamisama no Inai Nichiyoubi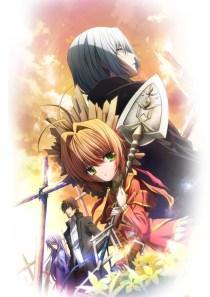 Title: Kamisama no Inai Nichiyoubi
Genre: Mystery, Fantasy
Studio: Madhouse
Director: Yuuji Kumazawa (The Ambition of Oda Nobuna)
Series Composition: Tomoko Konparu (Chi's Sweet Home, Kimi Ni Todoke, Urusei Yatsura)
Original Creator: Kimihito Irie
Air Date: July 6, 2013
Official Website: http://www.kami-nai.com/
Summary:
God abandoned the world on Sunday. As a result, nobody in the world can die or reproduce. A little girl, Ai, is the gravekeeper for a village. She has prepared 47 graves for the eventual deaths of every member of the village. Later, a boy who identifies himself as "Hampnie Hambart, the 'Man-eating Toy'," which is coincidentally the name that Ai's mother left behind as the name of her father, arrives in the village and slaughters everybody. Just what is going on?
My Take: Another work based off a light novel eh? Well, I think this can do well. It looks good visually speaking, and then it has an interesting synopsis. I'm actually curious to see how Yuuji Kumazawa works off what might be stronger material than Oda Nobuna, and Madhouse has been on my good side recently (although that's mostly due to Hunter x Hunter though!). I hope for the best with this.
2. Uchouten Kazoku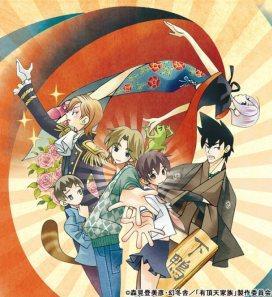 Title: Uchouten Kazoku
Genre: Comedy, Fantasy
Studio: P.A. Works
Director: Masayuki Yoshihara (First Director Work)
Series Composition: Shoutaro Suga (Langrange: Flower of Rinne, My Teen Romanic Comedy SNAFU)
Original Creator: Tomihiko Morimi
Air Date: July 7, 2013
Official Website: http://uchoten-anime.com/
Summary:
In Kyoto, there are three kinds of residents: humans, raccoon dogs, and tengu. Shimogamo Yasaburou is the third son of the Shimogamo raccoon dog family. His father, Souichirou, had been the head of Kyoto raccoon dog community until he was eaten by the human members of "Friday Club". While taking care of old tengu, fighting with other raccoon dogs, and playing with a psychic human girl, Yasaburou approaches the truth of his father's death.
My Take: All right P.A Works, no excuses. You finally have possibly the best material to adapt from (this is a novel created by the author of Tatami Galaxy), it actually looks different, and man does it look weird…but in the good way. Too bad you're not creating any enthusiasm with me with the staff you have — a first time director, and the series composer for SNAFU and Langrange. But I'd like to think you finally have the means to break through, and produce your best anime since Hanasaku Iroha. That shouldn't be hard to do.
Oh, and with that, I guess that means this series should do well, if everyone liking Valvrave is any indication. Like I said, aside from SAO and Bakumatsu, I'm good at this ranking business, honest!
1. Silver Spoon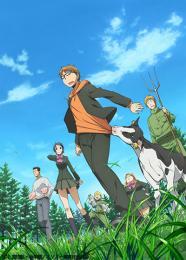 Title: Silver Spoon
Genre: Comedy, Slice-of-Life
Studio: A-1 Pictures
Director: Tomohiko Ito (Occult Academy, Sword Art Online)
Script: Taku Kishimoto (Bunny Drop)
Original Creator: Hiromu Arawaka
Air Date: July 2013
Official Website: http://www.ginsaji-anime.com/
Summary:
Yugo Hachiken dreams of life separated from his family, so he takes the initiative by enrolling in an agriculture school. He thinks, with his talent in studying, no problems will arise no matter what kind of school he attends. He is proven wrong very quickly. Raised as a city boy, he is forced to uncover the inconvenient truth about agricultural life. Enjoy the story of Hachiken, as he tries to keep up with his new friends, farmers' heirs, who are already accustomed to the harsh world of farming. With no clear goals or understanding of farming life, how will Hachiken survive this new, cruel reality? The story of a sweat, tear, and mud-stained youth begins!
My Take: Too bad I'm apparently not good at ranking anything #1. Attack on Titan is probably the best anime I've ranked #1, except with its animation problems and being even more shounen than shounen could possibly shounen, it's a 7/10 right now. Man, I need to get better at this.
Oh, and I guess that means Silver Spoon's on suicide watch. Yeah, you may have won the Shogakukan Award and yeah, you may have been created by a professed farmer in Hiromu Arakawa (and yes I completely ignored the fact that she also did some work called Full Metal Alchemist), I've now put you in a position where you're bound to fail. Do I even want to go back into the history books and relive my failures? Not really. So what does that mean? You need to go change that Silver Spoon. Sure you had the director of SAO and Occult Academy working on you, but you have a potential savior with the script writer from one of my favorite anime of all time in Bunny Drop. There is a chance you can become the best anime I've ranked #1. I…I know you can do it! I have faith!
Anyways, done. Finished with you compendium. Now, time to go have more brownies…oh right. Again, what are you guys gonna keep track of this summer? Feel free to share while I munch on sweets.