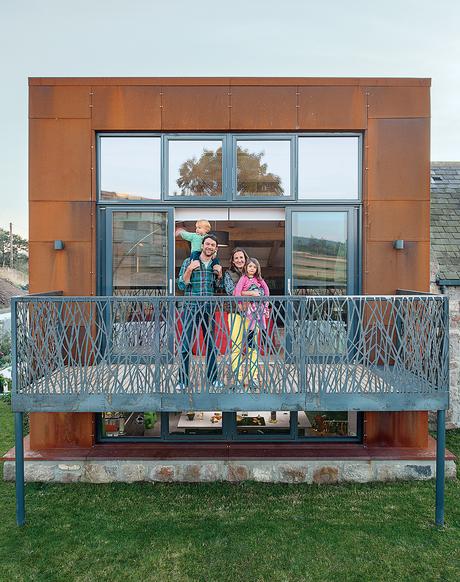 Architect
Andrew McAvoy
created an earth-sheltered house in Scotland for Gavin and Angelique Robb and children Scarlett and Gus. Project  Skye Steading Architect 
Andrew McAvoy
"The house is always the perfect temperature. The only way you get cold in this house is if you're coming down with a cold—it'll be your own internal thermostat," Angelique Robb says with a laugh, as she surveys the light-filled and beautifully temperate open-plan living area of the new home that she shares with her husband, Gavin, and their children, Scarlett, five, and Gus, two.
Surprisingly, this cozy and partially earth-sheltered family home—which is, according to Gavin, "one step away from Passive House standards"—started life as a series of derelict and semi- derelict farmstead buildings in raw and rural Aberdeenshire, in the hinterland of Scotland's northeast coast. Perhaps also surprising is the fact that, in 2005, when Angelique and Gavin bought the run-down buildings, complete with asbestos roofs and an old milking facility, a full-on home-building challenge was the last thing on their minds.
"We were living in a flat in the center of Aberdeen and had never talked about moving or buying anywhere," says Angelique, a native of Lafayette, Louisiana, who relocated to Aberdeen to work as a drilling engineer in the oil industry. "But I spotted this piece of land in a free local newspaper. It was for sale with planning permission and almost an acre of land. We visited the site, and we were so excited by what we saw. I believe in fate and felt that this place was just right for us. In our initial excitement, we had ideas about building a house ourselves. Now I wonder what we were thinking. Before that I had only built a deck in my back garden, when I lived in Houston."
Angelique and Gavin, a construction consultant in the oil industry, eventually enlisted the expertise of Glasgow-based architect Andrew McAvoy of Assembly Architecture, and "fell in love with his ideas," says Angelique. After studying mid-19th-century maps of the old steading buildings, McAvoy convinced the couple to follow the original U-shaped arrangement around an entrance courtyard by creating two new energy-efficient houses that would share the courtyard but have private aspects and gardens. First to be completed was Gavin and Angelique's current home, Skye Steading, which they project managed from an onsite trailer over nearly three years of construction. The second house, basically a mirror image of, and connected to, the first, is under construction and due to be completed in the fall.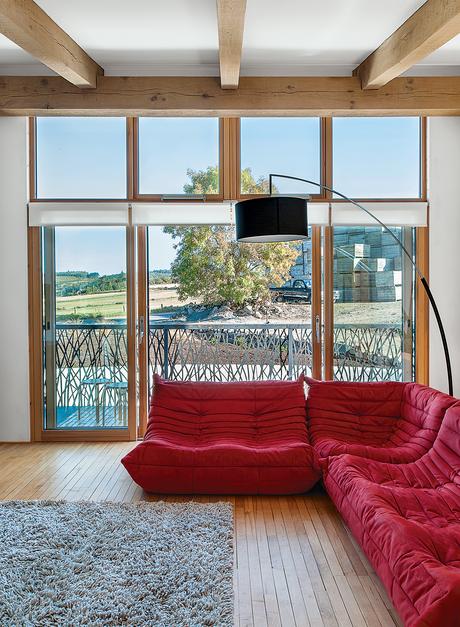 The lounge, with maple flooring from an old school in nearby Aberdeen, has a Togo sofa by Michel Ducaroy for Ligne Roset.
Essentially, Skye Steading is a granite farm building that was rebuilt into a contemporary dwelling comprising three bedrooms (including the master), a bathroom, an office (which can become an additional bedroom, if needed), and a one-and-a-half-story, open-plan, newly built kitchen and living-dining area, with a large lounge space above. "The intention was to locate the bedrooms in the stone steading, which has small window openings, so the rooms are more secluded," says Angelique. "In contrast, we wanted a lot of glazing and large open spaces in the new build." Spectacularly, the new wedge-shaped building, which is partially sheltered in order to duck the harsh northeasterly winds, features Cor-Ten steel cladding—one of only a few residential buildings in the UK to employ the material in this fashion.
"As you travel through Scotland, you are aware of Cor-Ten—it is part of our heritage and central to traditional industries, such as shipbuilding," McAvoy says, explaining the decision to include the steel in the main palette of materials. "Cor-Ten forms the core of the crinkly roofs on old rural sheds and the rusty red roofs of many buildings on Scotland's Atlantic and North Sea coasts. With this house, we wanted to create a building that reflected the surrounding industrial and agricultural landscape. The building's wonderful deep oxidizing metal color blends beautifully into the rustic backdrop of this former oat mill site."
As an eco-friendly solution, Cor-Ten also makes perfect sense, which is one of the main reasons that Gavin, with the help of a local blacksmith, personally took on the arduous yet ultimately rewarding task of cladding the building with it. "It was a lot of work, trying to bend and shape each panel individually, to give it a sculptural, rather than homemade look that is common," says Gavin. "It just wasn't possible to find anybody to do this, due to the lack of popularity of the material. But it's really in keeping with the architectural style and the use of honest, good-quality materials, laid bare and allowed to improve with age rather than deteriorate."
"Honest, good-quality materials," locally sourced whenever possible, and the use of trade specialists were intrinsic to the overall success of this old-meets-new building. Traditional green oak purlins, rafters, and floor joists combine with contemporary steel to form the internal framework of the new building, with thick, polished concrete floors storing warmth from the radiant-heat flooring. In much the same heat-retaining way, the Trombe walls store sunlight filtered through the glazed "walls." The illusion of more light is achieved via a glass walkway between the lounge and the guest bedroom in the space connecting the two buildings. Sheep's wool insulation and a sedum roof allow the house to breathe and maintain a cozy indoor climate. Consequently, the couple's energy bills are considerably less than they were in their previous flat, which was half the size of their current home.
The spirit of recycling also looms large. The dismantled roof tiles and granite stones were numbered and reinstated. "During the build, we also had access to a number of 1800s and 1900s schools in the process of being torn down in Aberdeen, and we inherited some fantastic materials that were to be sent to the landfill," says Gavin. "Solid granite steps, polished by 100 years of children's shoes, and a whole gym's worth of three-quarter-inch- thick solid Canadian maple flooring, now in the upper-level lounge, were delivered in a dump truck. I spent many days hauling these out of schools just days before full demolition." 
Sweat equity, it seems, has been central to Gavin and Angelique's self- build experience—to the extent that they found themselves cladding the house during one winter in which the temperatures dipped to below zero. Yet there is nothing about the process, or result, that they'd change. "It has been hard work. But we'd definitely do it again," says Angelique. "In fact, we already are."
Steel the Show
"We love the look," says Gavin of the Cor-Ten steel cladding. "It enhances how solid the build is. It sounds really radical but actually has a very muted look that some people still mistake for a timber finish when seen at a distance. The material will last for hundreds of years with zero maintenance, and any aging actually improves its appearance." As far as Gavin and Angelique know, there are only a few other buildings in the UK that use Cor-Ten cladding, including Cremorne Riverside Centre, in London, by Sarah Wigglesworth. The couple flew down to London especially to see how it was constructed and examine the detailing.
Notes from the Underground
"We are very far north here," says Gavin. "We wanted an efficient, renewable solution to heating, the most important requirement for a large percentage of the year." Ground source is just that— a summer's worth of solar energy stored in the ground for heating and hot water. "For day-to-day buffering of heat, we rate highly the Trombe granite wall behind the south-facing glass—ideal in the cold nights and sunny days of spring and fall."
Feeling Sheepish
Sheep's wool is a low-cost material made into batts of insulation, with no chemical by-products in its production. It is free of plastics and breathable, which is ideal for the wetter climate of Scotland. "Sheep's wool insulation is totally unique in its ability to actively absorb and break down formaldehyde and other hazardous VOCs," says McAvoy. "This capability significantly reduces the risk of VOC exposure and improves the indoor environment."
Getting Framed
In creating the skeleton for the new parts of the steading, portal frames were created from a combination of steel and wood. The wood, a European green oak, was married to stainless steel via slip connections that allow for shrinkage. The oak provides strength and durability, while the steel staves off any tannin corrosion and staining problems.
Up on the Roof
Armour-Chem's Polyurea Elastomer from Site Sealants is an alternative to the usual welded membrane for green roofs. When sprayed on, the material provides a strong, impact-proof, waterproof covering that should not deteriorate or require any maintenance. And there are no welded seams—always a weak point—to fail.
Log in or register to post comments