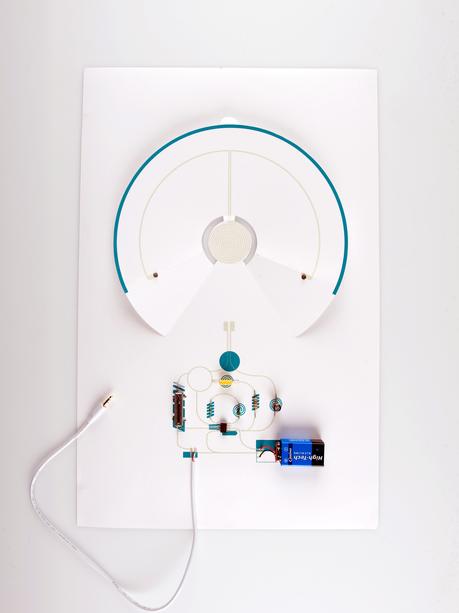 Coralie Gourguechon's paper speaker, powered by a single nine-volt battery. 
CORALIE GOURGUECHON
Location: Treviso, Italy
Practicing Since: 2013
Don't call Coralie Gourguechon a D.I.Y. geek, even if her most successful designs to date have involved building a speaker and a camera around a single sheet of cardstock paper. The 28-year-old has managed to fuse the world of crafty, open-source gadgets with the rigor and sensibility of high design. Her creations are minimalist and chic, and suggest that as technology becomes ever more present in our lives, its form—inside and out—should be as thought-through as its function.
Gourguechon grew up in northern France and studied applied arts in high school. She had her first breakthrough when a teacher suggested she avoid designing the types of things she already liked and instead focus on improving or demystifying the things she loathed, like personal electronics. Her paper speaker functions simultaneously as a rudimentary battery-powered electronic and a kind of educational diagram that teaches you how it works.
While Gourguechon has made a name for herself with her elegant paper devices, she's also branching out into other areas. She's now finishing a residency at Fabrica, the interdisciplinary research center financed by the Benetton Group in Treviso, Italy, where she collaborated with others to create a "virtual archivist" that uses artificial intelligence to categorize digital artworks. (The project has been shortlisted for the IK Prize given jointly by Tate museums in the UK and Microsoft.)
"Technology is sometimes this bright and shiny thing but it also can be a black box," Gourguechon said. "I want to open it up a little, to try to better understand our relationship to it."