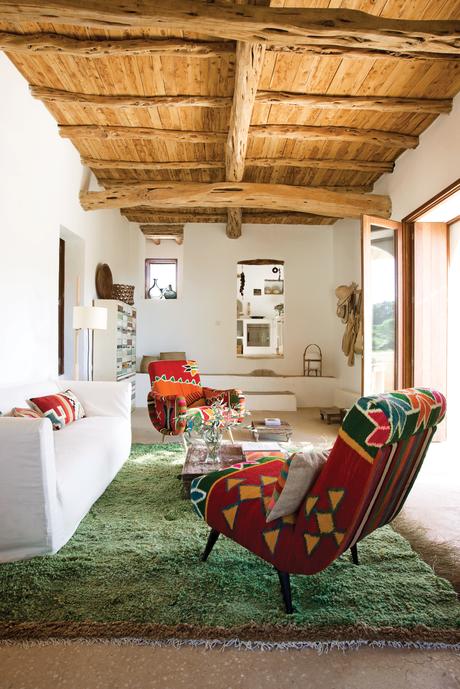 In Marquina and Font's living room, a pair of kilim-covered chairs by Philippe Xerri, a chest of drawers by Piet Hein Eek, and a handmade Tunisian rug provide bursts of color amidst the overall scheme of white, ecru, and cream.
Project  Marquina / Font Residence Architect 
José Antonio Martinez Lapena
"There are two Ibizas," states practically every guidebook written about the Spanish Mediterranean island. Yet it ceases to be a travel cliché as you leave Ibiza Town, Ibiza's capital. Past the periphery of the city, given over to formulaic holiday apartments and billboards advertising Ibiza's legendary dance clubs, the island's scrubby, gently hilly terrain unfolds toward a coastline of sculptured cliffs cradling sapphire coves. In early spring, pale pink almond blossoms blanket valleys and carob trees fill the air with their pungent, chocolaty scent. Traffic is sparse and the whitewashed roadside bars and restaurants are empty. July brings a different scene, when the island is thronged by millions of tourists in search of their summers of love.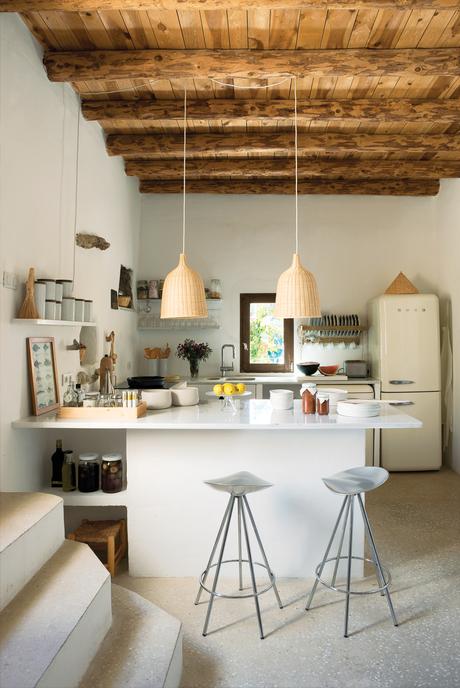 Jamaica barstools by Pepe Cortès for Knoll and two Ikea pendants pair nicely with the plaster walls, restored wooden beam ceilings, and polished cement floors in the kitchen.
It's safe to assume that the majority of visitors know little about Ibiza's complex historical past, the wealth it accrued through trading in salt, and its regular attacks by pirates. Facts such as these come rolling off the tongue of Nani Marquina, the acclaimed Barcelonese designer of magnificent handcrafted rugs, and her husband, Albert Font, as they drive from the airport toward their holiday home on the west coast of the island.
It was Font who was first attracted to Ibiza. He witnessed its heady alternative scene in the 1970s and as a photographer has often been sent here on assignment over the years. Apart from finding its natural beauty alluring, both he and Marquina were drawn to the fact that, unlike on the other Balearic Islands, traditional casas are scattered in isolation and not conglomerated into villages. Whenever Font was on the island, he went house hunting. "I had been driving around looking for a few weeks on one trip," he explains, "and was about to give up when I got a call from an agent telling me that one had just come on the market."
Conversation stops as their four-by-four makes the final potholed descent to their home, known by the traditional name Can Joan des Cocons. (Can roughly translates to "house of" in the Balearic dialect, and a cocon is a waterhole that forms naturally in a rocky surface; they are abundant in this area.) At first glance, it looks like a North African casbah in miniature: three sand-colored cubic structures spread over a natural elevation supported by dry-stone walls. Marquina walks straight to the era, a circular terrace once used for sorting wheat and canalizing rainwater. From here, a magnificent view sweeps down through the pine trees to the Mediterranean, a third of a mile away. "The agent didn't tell us it had a sea view," she says. "When we saw this we pinched ourselves and signed on the spot."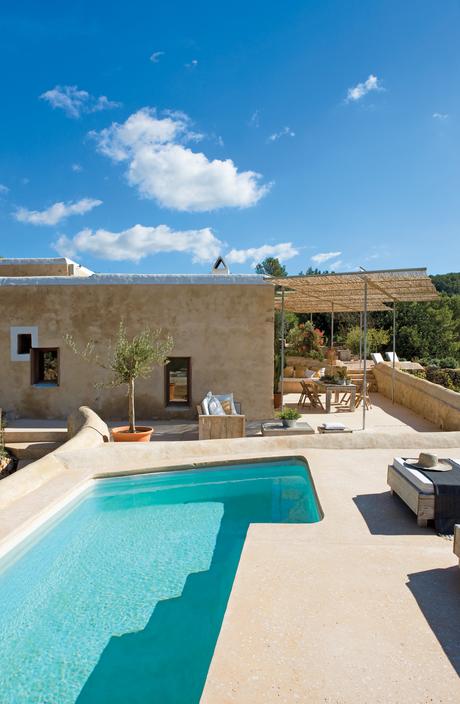 The architects discreetly sunk a pool into the roof terrace of the old corral. In order to shade part of the terrace, the architects designed a freestanding sun shelter. So as not to damage the outer walls of the old building, a galvanized-steel frame is secured to the terrace floor. A bamboo-reed covering projects a soft, filtered light onto the outdoor living area below.
Can Joan des Cocons was built 150 years ago as the rudimentary home of a peasant farmer but had been abandoned for at least 40 years until Marquina and Font bought it in 2005. The three detached buildings—the old living quarters, stable, and corral—are built in the vernacular Ibizan style as flat-roofed rectangular volumes that, like dominoes, could be added on to with carbon copies as the need arose. It is an intuitive architectural language that was admired by the pre–World War II Spanish rationalist architects. These days many of their successors build minimalist, high-tech show homes. However, out of respect for both Ibiza's heritage and the strict laws now governing the renovation of many of its traditional dwellings, Marquina and Font took the opposite approach, contracting the respected Barcelona-based architects José Antonio Martínez Lapeña and Elías Torres to restore their house using largely traditional methods and heritage finishes, without altering the basic structure in any shape or form. "It's probably the most legal home on the island," jokes Font.
The result is an aesthetically benign yet technically challenging modernization. In the spirit of conservation, the original ceiling beams of sabina (a local wood) were removed, sanitized, and restored, then placed back in the same arrangement. The exterior walls were returned to their original color using a mixture of whitewash and earth from the surrounding terrain, while the floors were rendered with polished cement combined with chips of marble from the neighboring island of Formentera. A water source was found with the expertise of a local diviner using a pendulum, and power comes from a generator. "Sometimes the previous owner sits and stares at the house from across the ravine," says Marquina. "And he has told us that he is so happy to see his home back to the way it was many years ago."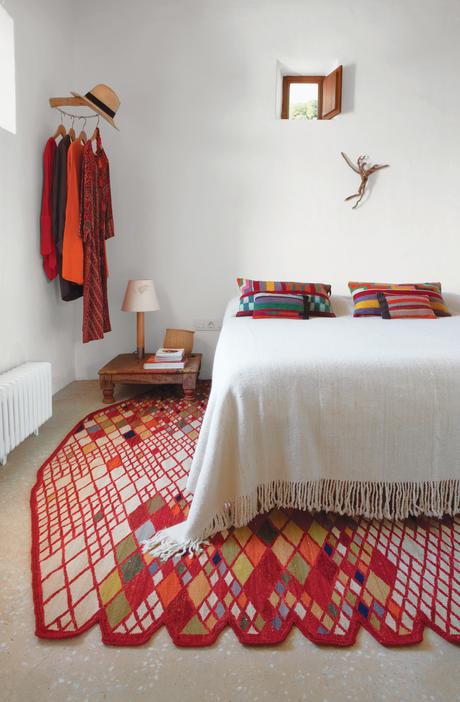 A Losanges rug by Ronan and Erwan Bouroullec, part of Marquina's 2011 collection, anchors the master bedroom. The Básica Mínima bedside lamp is from Santa & Cole, and the kilim pillows, available online and in Marquina's Barcelona shop, are by Philippe Xerri.
Font largely oversaw the reconstruction while Marquina took care of the interior. Constrained by her new home's humidity (its foundations are built on rock, which conducts water) and the cost of transporting goods from the mainland, she sourced stripped-back wooden furniture from the Ibizan shop Sluiz. Other pieces were sent over from her shop and showroom in Barcelona, including two dazzling kilim-covered armchairs, made by the French designer Philippe Xerri, that sit in the living room. But it's the small details that speak volumes about Marquina's love of crafted objects, a passion that is obvious in her work. Scattered throughout the house are stacks of little straw baskets made by local women, rattan cushions from Cameroon, tiny clay candle pots used in Indian purification ceremonies, and clusters of hand-carved wooden cooking tools, all bearing witness to her travels and eclectic predilections.
Despite the lovely interiors, Marquina spends most of her time outdoors, taking a siesta on the terrace or puttering about the property's fragrant landscape. "Look at this," she exclaims, caressing a bud on an almond tree. "For a city slicker like me, this is the most amazing thing about a place like this. Whenever I come back I see that life has gone on without me."
Marquina's Greatest Hits
Since founding her rug and textile company in Barcelona in 1987, Nani Marquina has produced 180 rug collections notable for their unconventional colors and textures and sustainable and ethical manufacturing processes. Here are some of our favorites.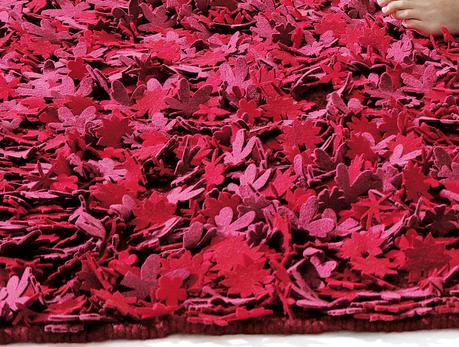 Little Field of Flowers, 2006, designed by Tord Boontje.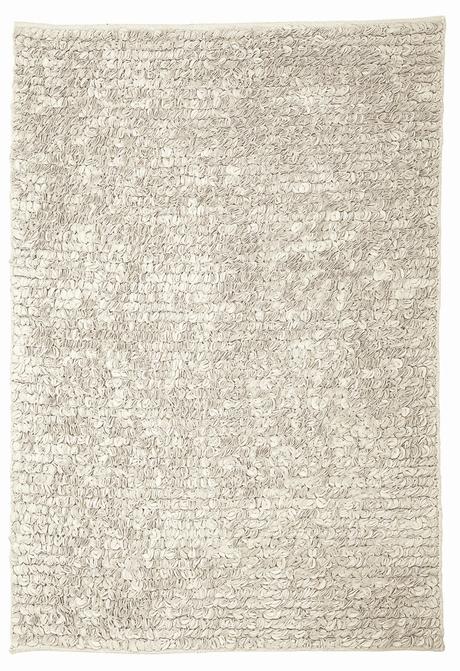 Dolce, 2007, designed by Martín Azúa and Gerard Moliné.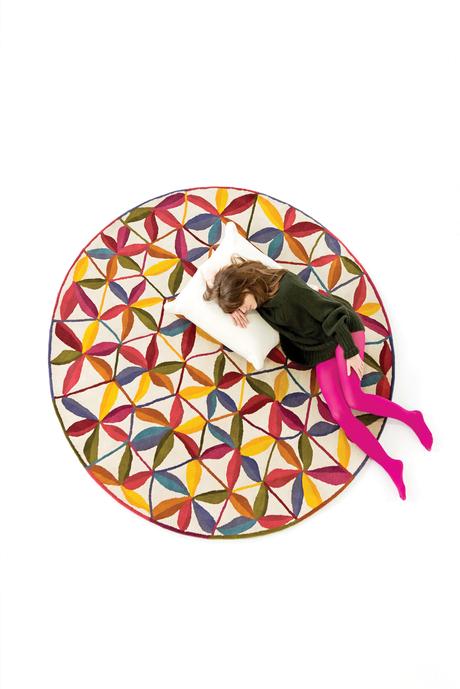 Kala, 2009, designed by Nani Marquina and Care and Fair.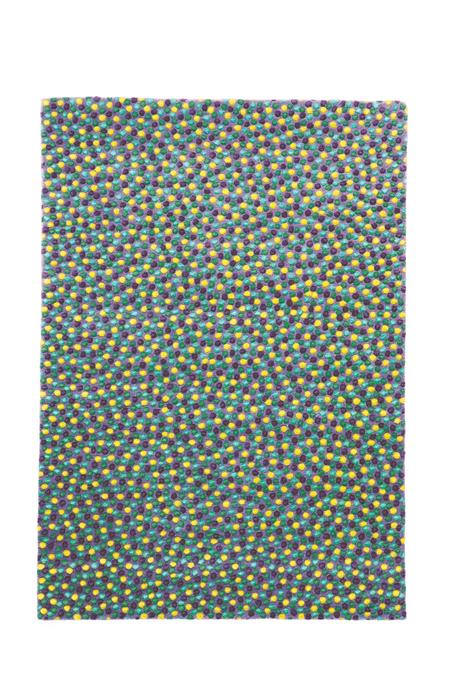 Topissimo, 2008, designed by Nani Marquina.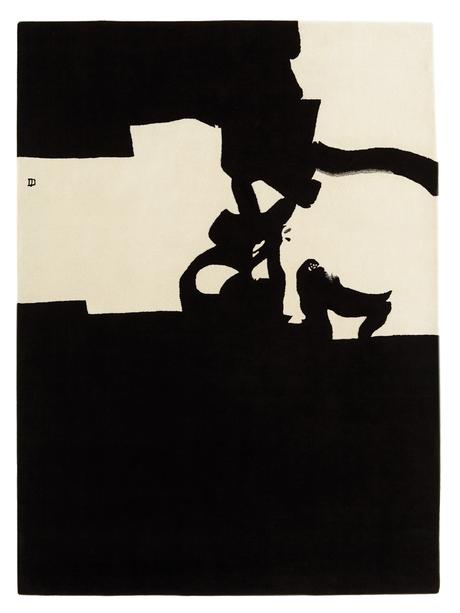 Collage 1966, 2012, based on artwork by Eduardo Chillida.
Log in or register to post comments