Here is the final 'My Coronavirus Travel Plan', I will leave things here for the time being. Through this final crusade I'm still looking for adventure post-Rona, I'm trying to pull myself out of this pandemic whilst I keep looking for wonderland, or some other land! Malaysia, France, post-Soviet Europe with select focus on certain places encompassing the wide Pacific Ocean. Go!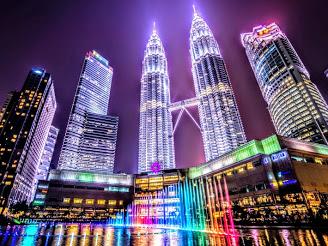 The borderline with Malaysia stood very close during my 2019 visit to Singapore, after experiencing the exotic blend of cultures of Singapura I plan to visit Malaysia when it is possible. As a former colony of the British Empire, Malaysia will likely share the English language that was spoken widely in Singapore. First hitting up Kuala Lumpur, I would love to marry the night with a up close view of the KL Petronas Twin Towers. Seeking something different I wouldn't pass up the chance to visit Batu Caves to add something different to my city experience. Leaving other foods for another day, I sure would love to eat all of the Malay cuisine I could find and with a cost conscious campaign I'll be tight with those coins. Kampung Baru will be the place I'll look for those dishes! Calling upon some colonial wonder, I will be sure to check out KL's Merdaka Square to catch a glimpse of some British history in real time, sure KL!  
Penang Island would be my next gig along my Malaysian adventure, making Penang Island home I would seek to find George Town. Another colonial reminder, I already know the places that are on my list! Finding some solace at Kek Lok Temple will take me to where I need to be! Fort Cornwallis will give me the view I need from that bulletproof vantage point. I have so much to see but this blog can only be a certain length! Before returning back to China, getting the bus down to Malacca has to be done! Getting to know that multi-faceted post-colonial spice trading post has to be done! Finding another prayer at Christ Church I want to the heart of Malacca's own Dutch Square. When the lights go down its going to be an evening spent at Jonker Street Market to be at one with those evening lights. Rollin' on the Malacca River will be the one, I have to snatch every moment during this future Malaysian mission. Clapping back to Miss Rona, I do not see her in my future but I do see Malaysia!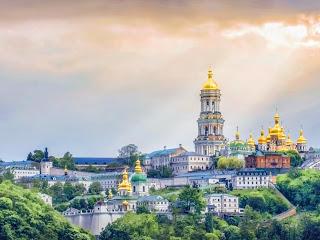 When this world pandemic goes away I'm going to be twirling on down to Ukraine & Belarus. I don't have nine-lives so I'll be on my best behavior in those post-Soviet nations! Touching down into Minsk, Belarus, for starters I'm going to be all up in Victory Square to see the grandeur of that Belarusian city center mark. Going to the river, I want to see how Minsk's Svislach River flows. Near the river I will only have one shot to capture the essence of the Island of Tears, I wonder what emotions I will feel? It's a given that my stomach will be filled with rich Belarusian food and vodka, no worries! Crossing the border into Ukraine, category will be Kiev city realness! No hesitations, Kiev's Pechersk Lavra will be seen and appreciated for all of its grandeur. Independence Square will have a place on my self made itinerary, I don't foresee any tour plans because Kiev looks like a place free from restrictions. I'll be fine, I'll be good! OK!
On the Black Sea, Odessa will be my final Ukrainian city of the trip with a few places in mind, I am doing my research with much care and consideration. Walking up the Potemkin Stairs will hopefully give me a view from a higher point of view, will they? I love the imperial opulence of Ukraine's past, searching for a diamond in Odessa, the area around the Statue of the Duc de Richelieu will give me what I want, for that reason I always get what I want! I don't mean that in a spoiled or bratty way but my hard earned money will pay for this trip, I cannot miss one single thing out! Feeling hungry, I want to try the foodie delights of Privoz Market in Odessa. Prymorsky Boulevard will hopefully take me to the Black Sea? Backtracking to Kiev, I plan to take a private tour to Chernobyl to see the radioactive site where people lived. In a place called Pripyat, I will do my damnedest to see all the focal points that were once thriving hubs of life and community. I'm ready, I am so very ready! Fly!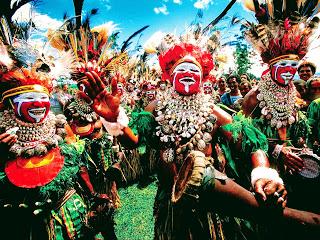 Working on something that I don't need permission to do, the feeling to cut loose always comes naturally to me during a trip but I'm looking for a beach to relax upon. My intentions are always good but I always find myself running around a new city, returning to China with no energy at all. Promising to take it easy during one future trip will be something that I'll consider. Calling upon Young Pioneer Tours for their Papua New Guinea and Bougainville Tour for seven days will take me to a land that I have only dreamt about. Getting to know Port Moresby will sure be something but I am longing to see the traditional performance from the islanders during that tour. The vibrancy of their national wear gives me life even thinking about it! Money cannot be taken with us when our time is up, I don't care how much that séjour will cost, that's just not important to me! PNG, let's get this right because I'm over 2020! I am P! 
Thanking my stars my U.S tourist visa doesn't expire until 2029, the likelihood of spending two weeks or so on the beach on one of the Mariana Islands with Guam or Saipan as my entry or exit point. One of my friends from Beijing spent some time on holiday on Saipan, needless to say that I would be more than Ok with the prospect of relaxing to the max with a strong drink in hand, catching a tan! Fiji could be another island within the South Pacific that could be the one, there's always one man to wash out of my hair! No, there's always more than one man in my case! The flights might well be manageable from the China Mainland but I know for a fact, from my native England the journey down to those Pacific islands would take over one day with a lengthy stopover to boot! Not knowing how far that I'll go, I will be going back to the water no matter if a city calls me, that'll be after my Pacific island pursuit. Rolling with my role on the island of my choice, I'll want to learn more! Oh, let's fly!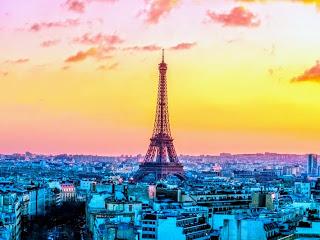 France might be a twelve hour flight away from Shanghai but I can't get a flight from my home country with Air France on their larger aircrafts, from the East to the West it shall be! Yes, Air France it shall be and with no other airline I would fly with! No! Paris, taking me by the hand I have so many places that I would allow the city to take me to discover. I'm not one for heights so the Eiffel Tower will be seen from the ground up. Art found in the Centre Pompidou will take me to the future, whilst the Mona Lisa has to be viewed from the legendary Louvre. The Seine River will have me following its every ripple in hot pursuit to find the Notre Dame Cathedral. Second from Montreal's I will take the time to venture inside, I didn't take care of that business during my visit to French Canada. The Moulin Rouge will be enjoyed with a dinner theater experience planned. I plan to see as much as I can within a four day stay. Sacré bleu! Allons-y! 
Going hungry during my Parisian stay will be very difficult because I plan to devour all the wines, cheese and meats I can find! Yes, for my sweet tooth I know I'm going to get my cakes and bakes from Au Petit Versailles within the Gay friendly Le Marais neighbourhood. Paris, I'm ready for something lovely and something equally gritty! Away from the capital city, I would live for some time spent in Marseille and Nice. From Nice I would love to cross the borderline into the principality of Monaco to be at one with the elite of Monte Carlo, darling! Not having the funds won't deter me from at least having a look! Monaco's old town looks nice, whilst I envisage a visit to Frontvielle Port to see the pricey vessels docked. 2020 might be going down the pan but I have to keep the faith on a daily that my traveling life will make a comeback because I can't live a life that is stationary or sedentary. Leaving things here, I hope to comeback with a 'This Departure Lounge...' that presents a solid travel itinerary! 
I'm Tired, I Need To Travel! 
Joseph Harrison