If life resembled a departure lounge things would be pretty shambolic, with cancellations and mounting chaotic situations. With doubt growing due to the worldwide COVID-19 lockdown that has altered our lives! 2020 needs a slap in the face, the only thing that keeps has been the thought of future travel plans that will be in the near future! Corona, I need my life back!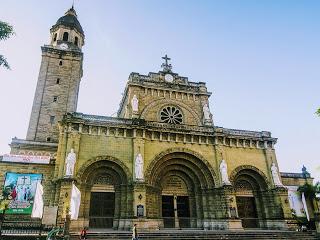 2018s Chinese New Year saw me wading through some hectic sights in China's Xiamen City, taking things into another stratosphere for 2019 I went over to the Korean Peninsula to some select North Korean cities. Somewhere in the pipeline a proposed CNY 2020 trip was in the works to the Philippines with my friend Chanel. I had already had my marching orders to visit the former Spanish archipelago country, those Filipino-American friends had captured my heart and soul with their warm smiles and kind hearts, I had no choice but to have more fun in the Philippines. Life happened, I secured a new job in a different city and Chanel had her own enterprises that continue to flourish, a red light flashed! Aside from life, the more that I looked into the Filipino delights that awaited me in Manila and beyond amazed me! Fate was pushing me into another direction, after NYE 2020 I would be saying 'Salamat!' Pero, no! I cannot!
Through my pre-Philippines exploration I will seek adventure around Rizal Park along the Manila Bay, on my way I will get lost within the ruins of Intramuros, taking a Jeepney ride because I just want to! I already know what I want, yes those drop dead gorgeous Filipino men will be on my radar, I know I'll be under one serious spell! Taking the bus down to Batangas County within the wider Manila area, I will find the colonial town of Taal. I will do my best to find the Minor Basilica of Saint Martin of Tours, known as the largest church both in the Philippines and in Asia! Taking a flight over to Puerta Princesa for some city views and sights away from Manila, I know something beautiful and real will find me. Through the correct means I plan to take transport up to El Nido, island-hopping as if my life depended upon it, I know those paradise like views will make everything seem like a bad dream. One truth is that the world is a dark place right now, I want to look forwards! Pipili ako ng Pilipinas!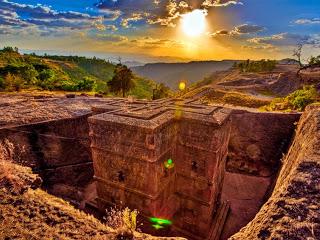 Back in Beijing, China during my extended hotel residency, I watched as the world started to change, I still had travel on the brain if nothing else I held that close to my heart. I challenged myself, looking out of the box for my travel choices I looked towards the African continent. Being an aviation geek I had become familiar with Ethiopian Airlines large expansion into Mainland China, with many African colleagues I had heard nothing but rave reviews. Seeking something different for 2020/2021, Ethiopia looked like a royal choice. Teaming with Amarhic tones and religious wonders, I looked towards Addis Abada to start my Ethiopian trip. With a supercool monastery in Lalibela, I will see where the Coptic Christian's make their prayers. The coffee culture in Ethiopia had me paying attention during that pre-lockdown time, I had to keep the faith because the world would be ready. I will see Africa when the time's right!
Learning about a former Italian colony close to the 'Horn of Africa' I just had to know more! I had vaguely heard of Eritrea before I quit the United Kingdom, that Eritrean reference was due to the burgeoning community that was building in England. Being within a short flight from Addis Ababa, I looked into the possibility of taking a flight to the Eritrean capital, Asmara. With itineraries readily available from Young Pioneer Tours, the North Korean style African country could become a reality, certain visas had to be sourced. Taking in the capital Asmara, that tour also made short stops in Keren and Massawa. Something Ottoman Empire would be waiting for me! I definitely look forward to soaking in the former Italian culture, to see the former European style buildings because I'm a sucker for anything colonial. From the confides of my then China hotel room, I had big plans for the future even though the world was changing fast! Africa looked amazing! Ethiopian will help me!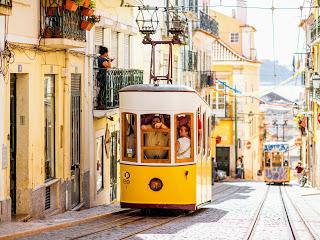 After my Spanish weekend to Benidorm, Alicante and Altea was cancelled due to the outbreak of COVID-19 I looked towards revisiting something Portuguese after my comeback trip to Newark's Ironbound District. Putting things into perspective I looked towards flying into Lisbon with the intent to see where the Ferry Street nature all started. During my early lockdown research period I found out about the rail network from Lisbon to neighbouring towns. With easy access I plan to split my time outside of Lisbon to visit Sintra, Cascais and Setúbal. I once shared a flat with a lovely Portuguese girl called 'Filipa' who hailed from Cascais, she told me a lot about her beautiful fishing beach town. I can trust my Portuguese friend from Lisbon to see what's worth seeing, Inês could you help me out? Spain needs to happen, I'll make it happen! Finding myself back in Europe during 2020 wasn't part of the initial plan. It'll work out!
Through my extra time back home I delved further as to how I could get from Lisbon to Madrid, during my previous Spanish trips I had never chosen to visit the capital but with the mounting exposure coming from the Spanish capital before its lockdown gave me some ideas. By plane or train I will be able to make it from Lisbon to Madrid! To recreate my cancelled Spanish weekend, after Madrid I plan to visit Alicante, Altea and Benidorm for a raucous and culture filled few days. With a lengthy summer holiday on the cards I definitely want to recreate my cancelled Jet2 flight I plan to fly from Alicante to Birmingham to try again, my weekend to Sheffield had to be abandoned due to the impending UK lockdown in March 2020, that I will go back and do! Getting to the Kelham Island Museum was what I wanted to do, I'll make that happen and I'll have my Yorkshire cream tea for sure! I will snatch views of the rolling fields and find some redbrick Sheffield terrace houses. Yes!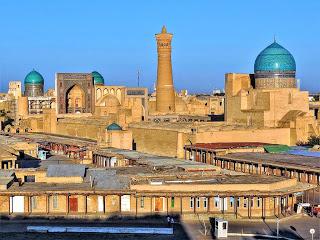 Into the early stages of the UK lockdown I revisited one of the countries that has caught my attention. Kazakhstan had me transfixed by its post Soviet charms, governed by a leader who changed the name of the second city to his surname, that had me sold! Astana and Nur Sultan had me sold, it was something different! Teamed with places in-between Astana and Nur Sultan showed me Lake Balkhash, of course I found a worthy itinerary with a reputable tour agency. Knowing full well that my extended involuntary stay in England wouldn't have a clear end date, I kept my post-Coronavirus plan close with every intent to bounce back into the world whenever soonest! I definitely think that being grounded within the lockdown in the UK has been a sobering experience, I keep hold that I have these plans that I will slay. Kazakhstan attracted me so, I had met some Kazakh people when I went to China's Xinjiang region. Yes!
Captured above is the ancient Uzbek settlement of Bukhara, through my research surrounding the Kazakh tour I saw a place called Turkestan that intrigued me so. Looking closer I saw that over the borderline from Kazakhstan, Bukhara in Uzbekistan oozed much more Silk Road Arabian realness! Through my time listening to world music on YouTube, I found a music video by Hulkar Abdullaeva called 'Khiva'. Hulkar's 'Khiva' music video took me on a tour through ancient Bukhara, more so her music of a 'Turkic' nature has reminded me of my time spent in China's Xinjiang Uyghur Autonomous Region! I need those minarets and opulent domes back in my life, an eastern promise will do me the world of good! Along with Bukhara, the tour would also take me to Tashkent, the Uzbek capital would show me something more and act as a larger hub to fly back to China from. No world pandemic could put out my fire, travel will set me free! Miss Rona, I have places to discover, it's time for you to sashay away!
No Mistakes!
Joseph Harrison