Photo Post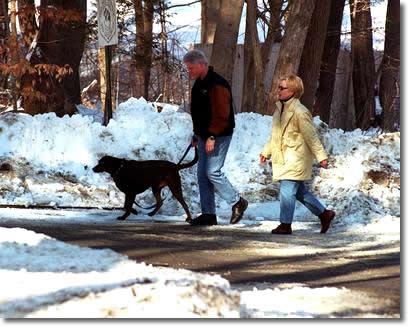 This article about Bill and Hillary Clinton in Chappaqua, where I grew up, really touches my heart. Because as most people who live in the town know, the Clintons are very visible in the community. Bill goes in for sandwiches at the deli where my little brother worked. Hillary dresses up to vote at my high school. You see them at the movie theater, and at Starbucks.
When he was President, they would shut down all of the highways leading into the town, and the media would flock in the thousands to the parking lot of our local grocery store. Today, his presence is quiet, marked by a Suburban at the end of his road.
I see them the most walking on the road where my parent's live, usually hand in hand. People say the Clintons are only married for political reasons, but if you were to catch them in such a state, alone except for the team of Secret Service that trail them no matter where they are, you'd see their affection for one another.
My favorite Bill Clinton moments are these:
1. Walking down the driveway with my two adopted sisters when they were babies, and running into Bill Clinton. "Those are some beautiful girls you have there," he told me.
"Thank you, Mr. President," I said to him.
2. My little brother, only 6-years-old, engaging in a 25 minute conversation with him about tae kwon do competitions at the local fire station. 
3. My mother and father walking behind them for awhile one winter morning. 
"We saw the Clintons earlier today," my mother told me later.
"Where?" my dad barked.
"We were walking behind them for like 10 minutes. You said hi to them," my mother told him.
"That was the Clintons?!" my dad barked.
That's when I knew he was getting old.
I hope that they don't move out of Chappaqua. 
(And as a side note, this picture, which I pulled off Google, was taken at a diagonal to my parent's driveway. The town recently condemned the house behind them, a modern sort of shamble, I assume for being an eyesore.)