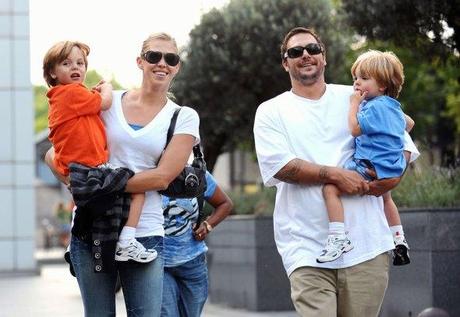 Photo Courtesy: http://www.celebitchy.com
That's right, Kevin Federline has tied the knot again. He married his long-time lady Victoria Prince this past weekend at the Hard Rock Hotel in Vegas…typical.
The pair has been an item since 2008. They also have a child together… a little girl named Jordan Kay. I knew that, but I forgot because K-Fed has children sprawled out all over the U.S.A. He has two children with ex Shar Jackson and two with Britney Spears. I still curse the day those two met each other.
Anywho, can someone send me K-Fed's address? I'd really like to send him a wedding gift. I'd also like to send him the 17-page strongly worded letter I wrote to him back in 2005 of all the ways he is a life ruiner.
While I wait for the address, I'd like to share this piece of K-Fed memorabilia. It's his super cool rap music video for "Lose Control."
Please note the following lyric: Don't hate 'cuz I'm a superstar and I married a superstar 
K-Fed, I still curse the day you were born.