This guest post was written by Jennifer Williams.  She's just beginning her start into writing and publishing.  Since Thanksgiving is only a few short weeks away I thought her article was a great start to thinking about Thanksgiving and those recipes we will be making.  And she had me at "dessert."
Be honest. You can't deny that your favorite part of Thanksgiving dinner is dessert, a vital part of every Thanksgiving menu. Even people who have stuffed themselves past the point of no return won't turn down a slice of pumpkin cheesecake. And just like the abundance of choices on the dinner table, there should also be choices on the dessert table. That might mean dusting off the recipe box or surfing the internet for new Thanksgiving dessert recipes, but it's worth the extra effort.
There's nothing wrong with the standard, traditional pumpkin pie recipe. It's certainly a favorite and people expect at least one on the Thanksgiving table. But holidays are the perfect time to step outside the box and treat your family to something new. Go ahead and make that pumpkin pie, but serve it next to a towering chocolate peanut butter cake or a tray of layered dessert garnished with caramel and apples to give guests some choices to be thankful for.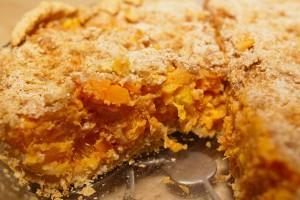 http://www.flickr.com/photos/sackton/6769004099/sizes/z/in/photostream/
Sweet Potato Pie
Using a 40 oz. can of sweet potatoes (drained and mashed) instead of cooking your own is a time-saver for this tasty pumpkin pie alternative.
Ingredients
50 vanilla wafer cookies, divided
1/3 cup butter or margarine, melted, divided
2 Tbsp. sugar
4 oz. (1/2 of 8-oz. pkg.) cream cheese, softened
1-1/4 lb. cooked sweet potatoes (about 2), peeled, mashed
1/3 cup sugar
1/4 cup dark corn syrup
2 eggs
1 tsp. pumpkin pie spice
1 tsp. vanilla
1 cup miniature marshmallows
Directions
Heat oven to 325°F.
Crush 40 cookies to form fine crumbs; place in medium bowl. Add 1/4 cup butter and 2 Tbsp. sugar; mix well. Press onto bottom and up side of 9-inch pie plate. Coarsely crush remaining cookies; mix with remaining butter. Reserve for later use.
Beat all remaining ingredients except marshmallows with mixer until well blended; pour into crust.
Bake 50 to 55 min. or until knife inserted in center comes out clean. Top with crumb mixture and marshmallows; bake 5 min. or until marshmallows are puffed. Cool completely. Refrigerate until ready to serve.
Caramel Apple Delight
Few combinations say autumn better than caramel and apples. Dip your apples in a cup of water with a tablespoon of lemon juice mixed in before using them in this recipe to keep them from turning brown.
Ingredients
60 vanilla wafer cookies, finely crushed (about 2 cups)
1/3 cup butter, melted
1 pkg. (8 oz.) cream cheese, softened
1/4 cup sugar
3-1/4 cups milk, divided
1 tub (8 oz.) non-dairy whipped topping, thawed, divided
2 pkg. (3.4 oz. each) vanilla flavor instant pudding
1/2 cup caramel ice cream topping, divided
1

each

red and green apple, chopped
1/4 cup cocktail peanuts, chopped
Directions
Mix cookie crumbs and butter; press onto bottom of 13×9-inch pan. Beat cream cheese, sugar and 1/4 cup milk with mixer until well blended. Stir in 1 cup whipped topping; spread over crust.
Beat pudding mixes and remaining milk with whisk 2 min. Stir in 1/4 cup caramel topping. Spoon over cream cheese layer; top with remaining whipped topping.
Refrigerate 5 hours or until firm. Top with apples, nuts and remaining caramel topping just before serving.
Chocolate-Peanut Butter Layer Cake
This delicious and nutty cake is the perfect way to slip some chocolate into the holiday. Melting the chocolate is simple: just microwave it in a glass bowl on high or 1 minute then stir until smooth.
Ingredients
1 pkg. (2-layer size) chocolate cake mix
1 pkg. (3.4 oz.) vanilla flavor instant pudding
1 cup cold milk
1/2 cup creamy peanut butter
1/2 cup dry roasted peanuts
2 squares semi-sweet chocolate, melted
1-1/2 cups thawed non-dairy whipped topping
Directions
Heat oven to 350°F.
Prepare cake batter and bake as directed on package for 2 (9-inch) round cake layers. Cool in pans 10 min.; remove to wire racks. Cool completely. Meanwhile, beat pudding mix and milk with whisk 2 min. Add peanut butter; mix well. Refrigerate until ready to use.
Mix nuts and melted chocolate until nuts are evenly coated. Drop by tablespoonfuls onto waxed paper-covered baking sheet. Refrigerate 10 min. or until firm.
Stack cake layers on plate, filling with 1 cup pudding mixture. Gently stir whipped topping into remaining pudding mixture. Spread over top and side of cake. Decorate with chocolate-nut clusters.

http://www.flickr.com/photos/vegan-baking/4788772055/sizes/z/in/photostream/
Tiramisu Parfait
Make this elegant yet easy dessert just a little more special by making individual portions in clear glass cups or tumblers.
Ingredients
1 pkg. (8 oz.) cream cheese, softened
3 cups cold milk
2 pkg. (3.4 oz. each) vanilla flavor instant pudding
1 tub (8 oz.) non-dairy whipped topping, thawed, divided
48 vanilla wafer cookies
1/2 cup strong brewed coffee, cooled
2 squares semi-sweet chocolate, coarsely grated
1 cup fresh raspberries
Directions
Beat cream cheese in large bowl with mixer until creamy. Beat in milk and dry pudding mixes. Stir in 2 cups whipped topping.
Line 2-1/2-qt. bowl with 24 cookies; drizzle with 1/4 cup coffee. Top with half

each

of the pudding mixture and chocolate. Repeat all layers.
·   Top with remaining whipped topping and raspberries. Refrigerate 2 hours.
Entertaining and Presentation Tips
Have a pot of coffee brewing when people arrive. The aroma is warm and inviting and will instantly make your guests comfortable. Sprinkle 1/2 teaspoon of cinnamon over the coffee in the filter basket before you start brewing the coffee for an extra-special treat.
It's always hard to decide on which one dessert you want. Make it easy for everyone by portioning out half of each dessert into mini sizes. Guests will be able to have one of everything without over doing it.
Make use of lovely seasonal fruits and beautiful fall leaves to create a pleasant dessert presentation. Scatter the leaves randomly over your dessert table before arranging apples, pumpkins, pears and gourds next to the goodies.
Disclosure: This guest post was written by Jennifer Williams.  All photos provided were through the use of Creative Commons