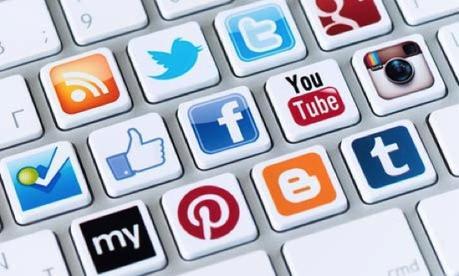 The best thing about October? October baseball. Naturally, it's even better when your team is World Series bound. Multiplied by a thousand when your team has defeated your director of content operations' team in order to get there. The only complication for me is that I grew up with dad who's a rabid Mets fan,
I've likely mentioned before that I'm a transplanted New Yorker, living in the Midwest a long time now. Contrary to my expectations, I have grown to love this amazing city located in the middle of the country. This morning someone shared with me an Open Letter to America from Kansas City, Missouri Mayor Sly James that pretty much echoes my sentiments about Kansas City, and why so many of us love it here (and of course, love our Royals) …. and I'll share that with you:
I have to believe one reason the Kansas City Royals are so popular is because of their charm. Those guys are hardworking, friendly, classy, edgy, and fun. How could all of that rolled up in a single package not be charming?

The same can be said about our City. I love being Mayor of Kansas City because we don't pretend to be something we are not. We are hardworking – not needy. We are friendly – not cold (although our winters would suggest otherwise). We are classy – not pompous. We are edgy – certainly not boring. And we are fun – as evidenced by our propensity to combine good music and good barbeque whenever possible (and people flocked here during prohibition, so what does that tell you?).

Above all, we are real … and being real resonates.
So many things I've thought about as I've considered why this community suits my personality, and yes, we are very real. If you've not yet visited our fair city, consider this an open invitation to do so. Whether you're rooting for our team or the other one. We'll always show you a good time.
Now, for the stuff you might want to know this week that doesn't involve baseball….
Today's Shoppers Demand Personalization
According to an April 2015 study by Magnetic and Retail TouchPoints, the most important element of the shopping journey is making sure the online experience is easy—and relevant. Eighty one percent said they simply want to find what they're looking for, be able to see product reviews and recommendations, and buy the product when and how they want.
June 2015 data from 2015 VB Insight also found that email was the top digital channel where marketers worldwide deliver personalized content. Although email is resonating, consumers expect promotions in their inbox to be personalized and that customization is not quite there yet. Something for marketers to work on for 2016.
For Clothes and Electronics, Shoppers Prefer to Buy Direct, Sort of
According to BrandShop, in some instances, consumers prefer to bypass third-party retailers and buy directly from brands, but it all depends on what they're shopping for–and it's not an overwhelming majority. In an April 2015 survey of U.S. digital buyers when it comes to clothing/apparel and electronics, slightly more than half of those surveyed (57 and 56 percent respectively), said they prefer to buy directly from brands. That leaves the remaining 40+ percent being perfectly fine buying from a third party retailer. And when it comes to household, consumer goods, or food products, a whopping majority are totally fine buying from a third party retailer. I buy from Amazon, Zappos, and other third party retailers all time – do you?
Millennials
Millennials Love Their Smartphone Cameras
A September 2015 Mitek study conducted by Zogby Analytics indicated that 72 percent of Millennial smartphone users in the U.S. said their device's camera function was very important to them. It's so important that almost a 33 percent of respondents said they would get their smartphone camera fixed immediately since the device is practically useless without a functioning camera. Additionally, 38 percent admitted to taking a selfie at least once a day. I'm not a Millennial (by age, anyway) and use my phone's camera multiple times daily—my phone would be exponentially less worthwhile to me without that functionality. You?
Facebook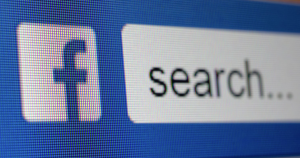 via Search Engine Journal
Facebook Introduces Universal Search For Public Posts
In a continued move toward search domination, Facebook has made its entire index of public posts searchable, according to an announcement by the company this week. Before this week's announcement, a search on Facebook would only return results from friends, family, Pages you like, and other affiliated sources.
The company made it clear that search results are unique to each person, which means the possibility of devising a strategy to rank in Facebook search is not likely. Today, anyway. These updates are rolling out now in the U.S. (in English) on the iPhone, Android and desktop
Facebook's Instant Articles Now on iPhone 
Facebook has just announced that Instant Articles will now be available for all iPhone owners, with an Android beta rolling out starting this week. An Instant Article link will have a lightning bolt icon at the top right corner.
As was announced earlier this year, Instant Articles are designed to load instantly and often feature rich media like videos and photos. Facebook says it has dozens of publishers on board including CNET, CBS News, Business Insider, Hollywood Reporter, Mashable, Huffington Post, and Vox Media.
According to Facebook's Chris Cox, one of the reasons Facebook is so excited about Instant Articles is because it makes the mobile experience much better. Instead of waiting for a page to load, the story will be right there. Check it out, let me know what you think.
Google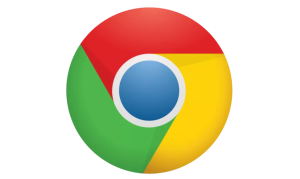 via Venture Beat
You Can Now Mute Tabs on Chrome, Finally!
Chrome for Windows, Mac, and Linux finally lets you mute audio of individual tabs. Just right click a tab that you want to quiet and click "Mute tab." You no longer have to decide between opening the tab to figure out what's playing and just closing the tab outright. The ability to mute individual tabs has been available as browser add-ons and extensions for a while, but now it's built into the browser.
YouTube
Google Introduces a Commercial Free YouTube Subscription Plan 
This week Google is rolling its Play Music on-demand service into a new $9.99 subscription for ad-free viewing across all of YouTube that will launch October 28th in the U.S. and globally soon. iOS users will be charged $12.99 to cover Apple's in-app purchase tax. YouTube Red won't be its own app, just a tier on existing YouTube and Google accounts.
Google will split YouTube Red subscription revenue with content creators and owners. According to a YouTube executive, YouTube is paying out "the vast, vast majority of revenue." They'll need to, in order to keep their creator base loyal. This is a win for creators as much as it is for Google/YouTube.
YouTube also announced a new YouTube Music app dedicated to music-related video streaming coming sometime soon. It will be free with ads, or ad-free as part of YouTube Red. YouTube says the Music app will lead users through a "personalized journey" through the YouTube music catalog.
With YouTube Red, you'll be able to save videos and playlists to watch offline, and even have YouTube make you an Offline Mixtape based on your content preferences. YouTube Red will also offer Background Play, so you can close the app while continuing to listen to the audio as you use your phone. 
Twitter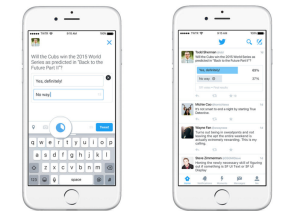 via Engadget
Twitter Makes Polls Available to All Users
In what could be an interesting tool for brands, beginning this week, Twitter is rolling out its poll feature to iOS, Android, and on the Twitter.com website. Users can now embed two-question ballots into their tweets. Each poll is open for 24 hours and all votes are secret. When the poll expires, everyone who participated can receive a push notification of the final results. Those alerts could compel users take an additional action.
Twitter has been adding more and more features lately, including an updated retweet function, which automatically embeds a quote of the tweet and allows you to add a comment to maximize your 140-characters.
Instagram
Instagram Introduces a New Looping Video App Called Boomerang 
This week popular photo sharing service Instagram has launched another standalone mobile app, called Boomerang, which lets you "turn everyday moments into something fun and unexpected."
Available for Android and iOS, Boomerang lets you click once to capture a rapid-fire series of ten photos. It then stitches into a one-second GIF-like moving video that plays in a loop. Tapping a single button creates the loop, which you can then share to Facebook (which owns Instagram) or Instagram. It also lets you save the video as a 4-second skit to your camera roll.
Miscellaneous
Halloween Light Show 2015 – Ghostbusters (Ray Parker Jr) 
Photo Credit: Public Images Ltd via Compfight cc