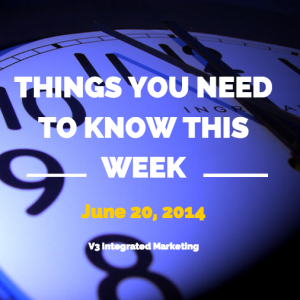 How did it get to be Sunday already? Hope you've had a fabulous weekend. I'm watching the World Cup and drinking a cold beer, so now is as good of a time as any to get this post published, right?  A bunch of things happened this last week — Amazon announced they're getting into the phone business, new apps from Facebook and LinkedIn made their appearance and OK Go finally saw the writing on the wall. Let's get to it, then.
Industry
By 2018, Video Is Predicted To Be 79 Percent of Online Traffic
If you haven't gotten on the video bandwagon yet, you may want to consider getting on board.
According to a recent study by Cisco, 79 percent of all Internet traffic will be video-related by 2018. That's up from the 66 percent share that video traffic claims today. And by 2018, the amount of people online and the amount of devices that are Internet-enabled will grow exponentially, too.
"Those devices can leverage faster broadband speeds and because it's providing more convenience, people are able to do more things with it. And more often than not, they are turning to video." Cisco notes that the average broadband user's speed will increase from about 13 Mbps today to 42 Mbps in 2018. This will allow the average user to stream 4K and UHD (Ultra High Definition) video from nearly any device online.
Finally, the study predicts an increasing number of devices other than computers connected to the Internet — the so-called Internet of Things — in coming years. These include smart printers, other office equipment, video surveillance equipment and utility monitors, connected home devices – all of which are increasingly coming online.
Technology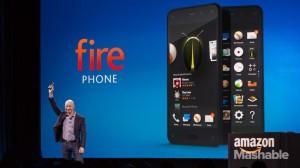 via Mashable
Amazon Comes Out Blazing With Its New Fire Phone
As rumored, Amazon's CEO Jeff Bezos introduced a new smartphone at a media event this past week in Seattle. Exclusive to AT&T, the Fire Phone will launch on July 25.
As far as the hardware is concerned, it's pretty standard — sporting a 4.7 inch screen running a custom Amazon version of the Android OS. Each phone comes with one year of Amazon Prime, the membership offering which includes free two-day delivery of most items along with an extensive library of streaming movies and now music.
One of the standout features of the Fire Phone is that it offers free, unlimited photo storage on the Amazon Cloud (videos are not included) for pictures captured by the 13-megapixel camera. Amazon is clearly leveraging its strength in cloud services to its smartphone photo experience. Add in Amazon's Firefly feature, the Fire Phone is designed to make it drop dead easy to buy anything and everything you need from Amazon simply by taking a picture or scanning a bar code.
It's pretty clear that Jeff Bezos sees the advantage of offering a complete ecosystem of goods, services and media. Time will tell if he can effectively compete with Apple, Google and even Microsoft. Toss in the fact that Amazon has apparently tossed out a $5K per app incentive to developers to get them on the bandwagon and who knows where this will go.
What do you think? Are you at all interested in checking out the Amazon phone? I'm not gonna lie, I kind of want one. But then, I want every gadget, so I'm not really a good role model.
You Can Make Billions Saving People from Having to Do This One Thing
That one thing? Making phone calls of course. Enough that to avoid making one we'll gladly hand over our credit card, location, and medical data to startups. While each of the below companies creates real value for its business-side clients (restaurants, doctors, and drivers), they essentially save the end user one thing: a potentially awkward conversation with a fellow human being. As it turns out, there are billions to be made letting people tap instead of dial. This app is definitely work taking a look at.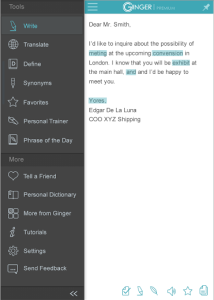 via Venture Beat
Beyond spell check: Ginger's new app will make you a better writer
Finally – an app that helps with spelling and grammar on mobile devices. People – if you are communicating from mobile devices and are less than confident about your writing skills and/or if you're in the business world at all and want to make sure you always put your best foot forward (or if you just don't want to take a chance on looking like a dummy) download Ginger Page. Please. Available for iOS, Android and in the browser, Ginger Page is a new spin on grammar correction apps. Even better? Along with the usual spell checking your spelling, Ginger can also suggest better ways of phrasing entire sentences.
"We see ourselves as trying to raise the level of English from the pre-mobile days," said Ginger CEO Maoz Schact in an interview with VentureBeat. "We're able to make you look good on your mobile with minimal effort." Ginger Page, I love you.
 Overswipe: Give your iPhone to friends and display only the photos you want them to see
Ever want to show someone a photo on your iPhone but don't want them snooping (or swiping) through all your photos? Not that they shouldn't already know that that's bad form, but some people just can't resist being snoopy. Now there's an app that'll allow you to show people just the images you want to show them and nothing more. Overswipe for iPhone lets you choose which photos are visible and which remain hidden.
Overswipe isn't going to change the world. But it's a pretty simple idea that fixes a problem many people have, creating an instant, siloed photo album that's separate from the rest of your images.
Social Media
LinkedIn
LinkedIn Unveils New App Dedicated to Job Searches
LinkedIn added another new app to its collection on Thursday introducing a standalone job search app. The app is designed specifically to do one thing well: help users find and apply for new jobs.
The app includes job search filters like seniority level, industry and location, and both searches and individual jobs can be saved for a second look down the road. The Job Search app will also recommend positions to you based on openings you've viewed and saved job searches. You can also set up notifications and alerts for jobs you're keeping tabs on.
LinkedIn says that applicants who reply to a posting on the day it goes up are 10% more likely to actually get the job. Wow.
This Job Search app is part of LinkedIn's conscious decision to "unbundle" different features from the main LinkedIn service into standalone mobile apps. Part of that stems from the site's growing mobile audience; 41% of LinkedIn's traffic comes via mobile, and the company expects that number to move past 50% by the end of the year.
Facebook
Facebook Launches Slingshot As An Alternative To Snapchat
Facebook has launched its Snapchat competitor, Slingshot, a photo messaging service that works like Snapchat but the photos and videos have a longer shelf life. Instead of disappearing after a few seconds, Slingshot photos can be revisited until the recipient deletes the feed. Then the photos are gone for good.
Also unlike Snapchat, Slingshot uses curiosity to encourage engagement. It won't let users see a photo that's been sent to them by a friend until they respond with another photo. Users can type or draw on top of the photos too. I've gone on record any number of occasions about how I loathe Snapchat, mostly because of the dangers it poses for kids who don't know any better. I don't love this for all the same reasons, but I'm pretty sure kids won't care.
Miscellaneous
The Writing's On the Wall
I'm a huge OK Go fangirl. And the alternative rock band known for its creative viral music videos is at it again. This time with a mind-bending creation featuring a series of optic illusions all shot in a single take.
Pretty cool huh? Get a look at the making of this fun and creative video below:
As we head into the new week, I leave you with this thought: what if Bruce Lee decided to become a bartender instead of a martial arts legend? I'm glad you asked.
Things You Need To Know This Week – June 20, 2014 is a post from: V3 Kansas City Integrated Marketing and Social Media Agency