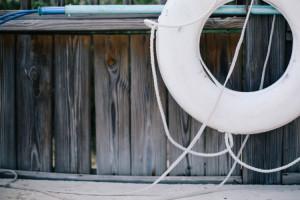 I've been at the beach on vacation with the kids for the last week, and have another week to go. So far, I've managed to not kill them, although with eight-year-old girls you can always count on a fair amount of whining, which is the one thing that drives me over the edge. Tossing them in the ocean and feeding them ice cream at regular intervals, however, seems to combat that fairly well. This pretty much constitutes the longest vacation I've ever taken in my life and I'm not gonna lie, it's awesome. It's also shown me that I need to check out and disconnect more often – and that long vacations are exponentially more fun than short ones. I still manage to work a bit, although admittedly not much, but here are some things happening online this week that I thought you might want to know about.
Industry
B2B Video Marketing Increasing According to Demand Metric
Brands have long recognized the importance of using video in the B2C marketing to build awareness and grow audience. Lately video has started to gain a foothold with B2B marketers as well. Hooray and it's about time!
A recent survey by Demand Metric indicates the B2B video trend is likely to continue and will deliver a healthy ROI for those brands that overcome initial obstacles and effectively implement video marketing. According to the survey results, 82 percent said their video marketing efforts have been successful, demonstrating the importance of video as part of the marketing mix.
Video marketing in the B2B space has come a long way in recent years and there's still a long way to go for a lot of brands. I look at this as a significant way for B2B companies to create a competitive advantage in the marketplace and this is a huge area of focus for me and our B2B clients.
Technology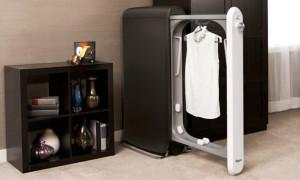 via engadget
The Swash: A New Kind of Washing Machine
Procter & Gamble and Whirlpool have unveiled Swash, an appliance that freshens your clothing one piece at a time. The device uses the combination of heat and special cleaning solution (Swash pods) to eliminate wrinkles and odors in your clothes, all in about 10 minutes. Since it doesn't require water, it can handle delicate materials like cashmere and lace.
While all that sounds awesome, actually using the Swash doesn't come cheap. The machine itself goes for $499 and the cleaning solution pods are $7 for a package of twelve. It sounds like a lot, I know, but take a look at your dry cleaning costs on an annual basis. If you've like us, with two people wearing business clothes on a daily basis, you likely spend a bunch on dry cleaning. This seems to me to have been developed as a substitute for that – so do the math before discounting this as too expensive. You might be surprised.
If you're still interested, you'll be able to buy a Swash of you very own at Bloomingdales when the units debut in September.
Social Media
Google
Google Hangouts On Air Gains a New Showcase Feature to Help Brands Promote Products
This week Google unveiled "Showcase," a new feature of the popular Google Hangouts On Air that makes it easy for brands and content producer to promote content and offer products for sale. Hangouts On Air have become a popular way for brands to connect directly with their customers and fans and now "Showcase" takes that engagement to the next level.
Following up on a series of "shoppable" Hangouts produced with partner brands starting last October, the ability for all content producers to "showcase" their products has been made available to everyone. The new Showcase app will now allow any marketer to set up a sales-oriented live event (although any payment and sales process still needs to be set up in Google Wallet or third-party site.) Love, love, love this and see tons of great applications here.
LinkedIn
LinkedIn Direct Sponsored Content Allows Marketers To Target Their Promotions
Marketing messages are a lot more effective when they're targeted and LinkedIn now offers a solution with Direct Sponsored Content. It basically allows you to create custom content and make it visible only to a specific group of people. This gives you a way to test and personalize content without it showing up your public feel. Look for more on this early next week as we dive in in greater detail.
Twitter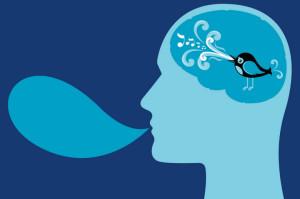 via VentureBeat
Twitter Improves The Handling of Direct Messages Across The Web and Mobile
Twitter is tweaking the way users can manage their direct messages making it possible to delete messages more consistently across web and mobile, Twitter confirmed this week.
The update will synchronize conversations between web and mobile interfaces. "We're also making an update to the Twitter iPhone and Android apps that will allow you to access your entire DM history," according to Twitter support.
It's questionable whether this latest move by Twitter to bolster its DM platform will cut into the growing popularly of WhatsApp and other third party messaging apps.
This recent update is more about making users feel like they have control of their personal conversations within the app. Though it's not exactly a full-fledged private messenger, it's certainly a step in that direction. Too little, too late or a welcome move?
Facebook
Facebook Is Now Worth $190 Billion
After hitting an all-time high of $75.13  a share Facebook has effectively doubled in price since its IPO back in May 2012. That means that Mark Zuckerburg is now the 16th richest person in the world, edging out Google's Sergey Brin and Larry Page. Yowzahs.
Facebook's market capitalization is now around $190 billion, which is well above Amazon's market capitalization of $165 billion and a prime example of a tech company that has performed very well since going public.
Facebook is a much different company than it was when it first went public in 2012, when most users interacted with the social network on their computers and laptops. Now, mobile devices are how the vast majority of users are accessing Facebook and mobile ads are starting to perform well. I think Facebook still has a long way to go on improving their mobile interface, what about you? With over 1.3 billion active users, Facebook doesn't appear to be going away any time soon, in spite of the bitching we all do.
Foursquare
Foursquare Refocuses With Personalized Local Search
This week Foursquare unveiled a new look and logo as well as a new focus on personalized local search. Think about it like this: "Why should two very different people get the same recommendations when they visit Paris? Or the same list of places when they're looking for a bar?"
In a few weeks that's apparently all going to change as a new Foursquare rolls out. By telling Foursquare what you like, it will show you places that that suit your particular taste. Starting July 24, all your Foursquare checkins will be moved to its new Swarm app along with all your friends, photos, and check-in history. I just had a conversation with my daughter, Katherine, about this last night at dinner. Even longtime Foursquare users (as we both are) are confused about Foursquare and Swarm and if or why we need both and the like. Are you a Foursquare user? What do you think about the changes?
According to Foursquare, thoughts on the new logo and revised "vision": "We designed it to be a mix of map pin and superhero emblem. We've always thought of Foursquare as giving you superpowers to explore your city, and our new logo reflects that vision. It's coming soon to a homescreen near you."
With personalized local search, no two people will have the same Foursquare experience. The app will be completely customized to your tastes after getting to know you. "This is the beginning of the 'personalized local search' future we've been talking about since we started," Foursquare said in a statement. It went on to explain that this couldn't be done without its 50 million members.
While I think this is interesting, I also just read this morning about Google rolling out a similar feature in Google Maps, which is just about everyone's go-to resource for directions. When you think about convenience and trust, why not use the resource that already tells you where you're going to tell you what's nearby? If you're a Google Now user (and if you're not, you're missing out), when you're using the search or directions interface you're signed in through your gmail account. As a result, Google knows where you are and sends you real time weather and traffic information, as well as other local details. It also remembers where you've gone, so if you're using it for directions, it's super sweet. Here's more on this new functionality from ReadWriteWeb, but for me, this might just be the Foursquare killer, at least when it comes to apps I'm using on my phone. What do you think?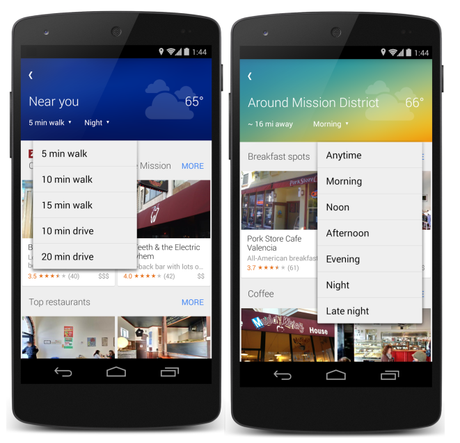 (image courtesy of ReadWriteWeb)
Miscellaneous
Worst Vacay Ever!
What Do You Think of Apple's New iTime Smart Watch?
Star Trek: The Human Lens Flare
STAR TREK: The Human Lens Flare from Luke Knezevic on Vimeo.
That's it for me for the week – here's wishing you a great weekend!
Things You Need To Know This Week – July 25, 2014 is a post from: V3 Kansas City Integrated Marketing and Social Media Agency