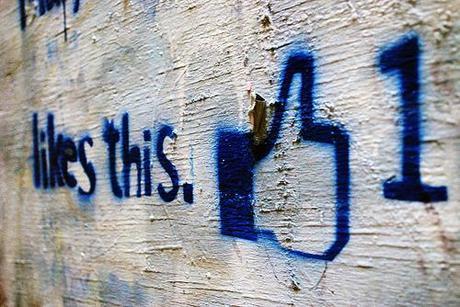 If you're like me, you're still marveling that another year is almost coming to a close. Even though we're in the midst of the holiday season and all the year-end craziness that inevitably ensues, there's still lots of things going on that you might want to know about. Let's get to it.
Industry
Internet Advertising to grow 15 percent in 2015
According to a new report from ZenithOptimedia, global advertising spending is predicted to be over $545 billion dollars in 2015. While that may sound like pretty good growth, it's actually a bit less than what it was in 2014, although this may be due to a lack of blockbuster global events in 2015 as compared to the events of this past year.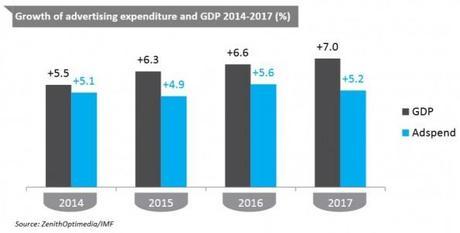 via Marketing Pilgrim
Of all advertising mediums tracked, not surprisingly, the Internet was the fastest growing in 2014 at 16.9% and is forecast to grow an additional 15% over the next two years. A decade ago, Internet accounted for only 4% of total global advertising spending, now it's 24%.
An opportunity for folks paying attention is that mobile ad spend hasn't kept up with the demand for mobile media, so if this isn't on your radar screen for 2015, it should be. Programmatic is playing a huge role and social networks appear to have figured out how to effectively integrate advertising into their news feeds. Lots happening here and the report mentioned here is definitely worth downloading and thinking about as we move into 2015.
Grow Launches Data Dashboards Targeted at Mid-Sized Companies
Utah based start-up Grow is launching a new data product offering business intelligence dashboards. According to VentureBeat, Rob Nelson, Founder and CEO, said he got the idea for the dashboards when he was running his previous company.
"What we found was there were a few entry-level companies that provided [some status data], then there was a huge gap, and then there were enterprise BI providers," according to Nelson. A data dashboard can be set-up in less than 30 minutes. The target client company has annual revenue of $1 to $50 million and between 10 and 30 employees.
Templates for KPIs can be dragged and dropped onto a dashboard, which will then populate the KPI with appropriate data. Users can access the data in their Salesforce, QuickBooks, Google Analytics, MailChimp, and nearly 24 other tools simply by entering their logon credentials into Grow, allowing the platform to pull data via the API.
In addition to its launch announcement, Grow is also announcing that it has raised $1.5 million in seed funding. Nelson said the funding will be used to build out marketing/sales and service integration teams and to define the product. We think this is all kinds of awesome and are looking forward to checking it out.
IBM Watson is Offering Business Analytics for Free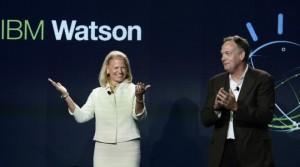 via SmallBizTrends
IBM has announced the public beta introduction of IBM Watson Analytics, eventually turning into a freemium app where users will be able to pay to get access to more data and take advantage of more Watson services. The IBM Watson Analytics beta is available as an iOS or Android mobile app, or on the Web. Unlike the supercomputer, it's designed to provide companies with data that helps them make predictions about the future and present day data.
Watson is capable of reading documents and spreadsheets and providing data back to users in easy-to-read graphs, charts, and infographics.
IBM explains, "As part of its effort to equip all professionals with the tools needed to do their jobs better, Watson Analytics provides business professionals with a unified experience and natural language dialog so they can better understand data and more quickly reach business goals."
Technology
Fee Free Stock Trading App Robinhood Launches
Robinhood, a new stock-trading app that eliminates trading fees has launched for iOS. Aimed at Millennials, the new minimalist app will look to generate revenue from margin lending and other brokerage services.
Robinhood's founders, Vlad Tenev and Baiju Bhatt are looking to build a mobile-only solution for stock trading and use the iPhone's Touch ID fingerprint scanner or a password to authenticate the user.
Buying or selling stock is simple. Just select or search for any U.S.-based stock or exchange-traded fund, select the number of shares, review, and confirm your transaction. About 80 percent of Robinhood's beta testers are 18-29 years old, with an average age of 26, the company said.  "We think that for people our age group, investing in tech companies is a great way to do it," said Tenev. The service's lack of account minimums and trading fees will also appeal to young people with less cash. What do you think? Something worth checking out? I'd love to hear from the Millennial mindset folks among you as to whether or not this would be of interest.
Social Media
Instagram
Instagram Tops 300 Million Users, Adds Verified Accounts
Photo sharing app Instagram just surpassed Twitter, hitting 300 million users. Growth has been steady, with 100 million users in 2013, 200 million earlier this year, and now 300 million.
With its ever-increasing popularity, Instagram plans to do "everything possible to keep Instagram free from the fake and spammy accounts that plague much of the web" by installing a verified badge system.
According to Instagram, the accounts with verified badges are some well-known public figures, celebrities and global brands, and they've been given verified status to prevent impersonation by the wide variety of losers and copycats who tend to inhabit the social media space.
Much like Twitter, there's no way a brand or individual can request verification, so we'll have to rely on Instagram to reach out to celebrities and other accounts of famous people and brands.
What could affect marketers is Instagram's new aggressive stance on eliminating spammy accounts. Up until now, they've simply deactivated spam accounts, but starting this week, they're going to delete those accounts. I've seen some accounts in the newsfeed of this happening, so be sure you take this into consideration if you're a marketer using Instagram.
LinkedIn
LinkedIn Adjusts InMail Policy
LinkedIn has announced some important changes to its InMail policy making it even more attractive (one would assume) for users to use InMail. Of course, InMail is something that you can either purchase individually or which comes along with paid accounts, so the rationale here is pretty obvious. More benefits to using InMail, the more people will pony up the dough to pay for either the ability to send individual InMails or go whole hog and get a paid account. There's a reason LinkedIn has long been a profitable social network, and it's because of regular tweaks like this to the interface, making the platform more attractive as a new business development network. Here are the specifics:
InMail credits will be returned for every response, rather than for no response: InMail messages that get any response (Reply or Not Interested) from a recipient within 90 days will be credited back to you. If you don't get a response within 90 days, however, the InMail credit will not be replaced.
More monthly InMail credits: Each month you'll get five InMail messages (versus three before) so you can reach more people.
InMail accrual: Unused InMail credits will continue to accrue for 90 days so you can choose the right time to reach out.
LinkedIn says it wants to reward people who are writing the most effective messages and getting responses by crediting InMail messages back to their accounts. Basically, they want to reward loyal InMail users and folks they can see are doing it right. That makes sense to me. What do you think? Are you an InMail user? What kind of results do you get from InMail?
Facebook
Facebook Introduces New Tools And Features For Publishers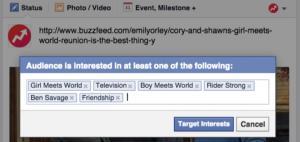 via Search Engine Journal
Facebook has announced a new set of tools and improvements to insights and analytics. These include:
Interest Targeting
Facebook is making it easier for Pages to target posts better. Similar to how you can target ads and boost posts based on specific audience interests, Facebook is now including organic posts.
Post End Date
While posts will still be live on your page, you can set an expiration date on your posts to stop them from being displayed in peoples' news feeds. This keeps dated content (think special offers that have expiration dates, etc.), from showing up and causing problems down the line. Makes sense to me.
Smart Publishing
This new feature will automatically display your most shared content in the news feeds of people who like your page. This feature is currently available to a limited number of media organizations.
Improved Insights
More accurate and actionable analytics include a new Top URLs section, which displays URL-level reporting. It also includes segment data based on specific time frames, including hourly insights.
Facebook Finally Launches Keyword Search
Facebook has introduced the ability to search for posts by keyword on the desktop or iOS app. Based on feedback from my rather large group of friends, this isn't really working very well yet, so we'll reserve judgment on this until Facebook gets its act together on search.
Supposedly, this new search feature will be especially helpful if you follow a lot of people and want to look up a particular post without having to scroll endlessly through a specific timeline. This will also make it easier for your Facebook "friends" to find specific posts in your timeline as well.
If you want to learn more, you can check out this information from Facebook which explains the new search option in greater detail and also covers how it impacts your privacy.
Miscellaneous
Christmas Surprise Traffic Stop with Lowell Police
photo credit: Ksayer1 via photopin cc
Things You Need To Know This Week – December 12, 2014 is a post from: V3 Kansas City Integrated Marketing and Social Media Agency