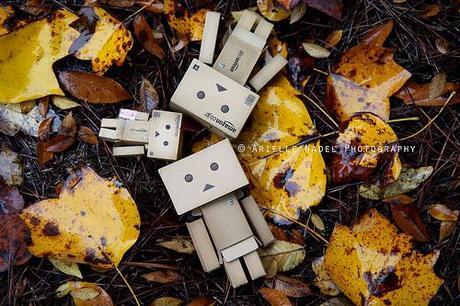 Labor Day. Last holiday of the summer, for some, the last weekend before school starts again, and definitely a weekend for firing up the grill or heading to the water and enjoying the last of the summer. I love this weekend, because it also usually means that fall is just around the corner. We are on the "no plan plan" this weekend, which means we'll just do whatever we feel like it, whenever we feel like it. Whatever is on your agenda, here's hoping it's a terrific weekend. If you feel like reading (and I don't blame you a bit if you don't), here are some things my team and I think you might want to know this week:
Industry
Amazon moves in on Google AdWords, and pretty much everybody else in the retail world
Along with offering immediate gratification with same day delivery and developing its own mobile platform with the Fire mobile phone, Amazon may be trying to make a move into the online advertising space dominating by Google. And why wouldn't the retail behemoth want a piece of that pie, when it has its fingers in so many other lucrative pies?
The online retailer giant is now producing software for placing ads online, much like Google does with its AdWords product. This follows Google's move just a few months ago of boosting its AdWords program with a new tool that allows companies to attach images to search-engine based advertisements.
What would this potential Amazon online ad venture do for digital marketers? As Karsten Weide, an analyst at IDC, told the WSJ in an interview on this topic, "Marketers would love to have another viable option beyond Google and Facebook for their advertising." Insiders reported that the new placement platform would be called "Amazon Sponsored Links."
This could be huge. Think for a minute about what Amazon's recent moves mean. Rolling out the Fire phone means that they are making it easy for customers to shop from their phones—and there's data that goes along with that. There's grocery store delivery from Amazon, a restaurant delivery service, same day purchase delivery, the augmented reality Flow app that lets you see a product in a store (or anywhere) and buy it on Amazon (which has never worked right for me, by the way). This is yet another move by Amazon to own the world of retail.
Technology
Jawbone reveals how many UP users were woken up by the Napa earthquake
This was cool. Jawbone, creator of the UP fitness tracker, released data this past week indicating the number of users who were woken up in the middle of the night by the 6.0 earthquake that rattled the Napa Valley in California this past Sunday.
The graph (below) visualizes the percentage of UP band wearers who were awake between 9pm and 9am. No surprise that users in areas that were further away from the quake epicenter were barely affected, while those in regions closer to the epicenter registered the largest amount of activity. Well, of course.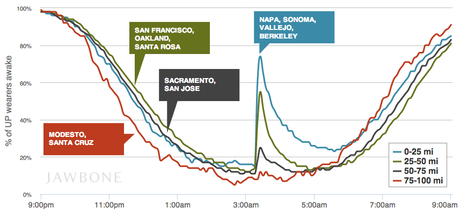 "Once [awake], it took the residents a long time to go back to sleep, especially in the areas that felt the shaking the strongest," Eugene Mandel, a Senior Data Engineer for Jawbone said. "In fact, 45 percent of UP wearers less than 15 miles from the epicenter stayed up the rest of the night." I probably would've been up all night, what about you?
While the data isn't all that surprising considering the circumstances, it's a clear illustration of the kind of data companies such as Jawbone are able to collect from their users. Then remember some of those sci-fi movies you've seen about people's movements being tracked everywhere and monitored and controlled by the evil leaders of society. Well, you get my point.
Verizon's Voice over LTE rollout means video calls, HD voice, and Alaska
Verizon Wireless subscribers, with certain handsets, will be able to make high-definition voice and video calls over the carrier's LTE network stating in the next few weeks. This begins a long-awaited move away from traditional cellular technology in a transition to an all data LTE based network.
VoLTE, or voice over LTE, will offer quicker call setup, make voice conversations sound better and let users jump into a video chat just by tapping a button on the screen, Verizon says.
VoLTE turns phone calls into packets and sends them over the same network that carries data from apps and the Web. It's a more efficient way for mobile operators to deliver voice service and lets them devote more bandwidth to calls, allowing for higher quality sound: seven octaves, versus just four on circuit-switched 3G networks, according to Verizon.
While this all sounds awesome, there is one major issue for users of this new technology: If a call starts on LTE and one participant leaves the LTE coverage area, the call will drop and have to be restarted.
Starting up Verizon's new service won't cost subscribers anything, but the packet-based voice calls will count against their minutes if they have time-limited plans, and the video part of the calls will count as data use.
All the major U.S. carriers are expected to use the same standard for VoLTE and work together to make sure customers can make VoLTE calls to their friends who use other service providers. But the migration will take several years. T-Mobile and AT&T have introduced VoLTE in parts of their coverage areas. Sprint offers HD Voice service today over 3G, but hasn't said when it will introduce VoLTE. Verizon is the first carrier to switch on VoLTE across its entire LTE footprint. Are you a Verizon customer? Does this make you happy?
Social Media
Facebook
Facebook Test Lets Users Search Old Posts by Keyword
In an it's about time move from Facebook, the social network is rolling out a test on mobile that lets users search through old posts by keyword. For instance, if you remember that Shelly Kramer posted about going to the Royals game and you want to stalk her photos from that night, you'll be able to find the more easily since she shares a ton of content. Or, if you remember that Danny Brown shared some content on the topic of Facebook privacy but you don't want to dig through his Facebook page for an hour in order to find it, you (supposedly) will be able to find it more quickly using keyword search.
Beyond the convenience this affords, notice that this is Facebook creeping ever more into search, which, as Google knows, is where the money is. Watch this—we'll see lots more of this kind of thing.

via TheNextWeb
Facebook Now Lets Pages Create News Feed Ads To Promote Events On Desktop and Mobile
Facebook announced a new ad format available to Page owners looking to promote their Events on Facebook. Previously brands were limited to creating ads to be displayed only in the right-hand column on desktop. With this new update, brands can now create ads to be displayed in the Newsfeed on both the desktop and mobile.
As part of this new ad rollout, Facebook is also letting Event hosts view insights directly in the right-hand column of an Event page. They will see the number of people who have seen a link to the event on Facebook, data on who has viewed the event, as well as the number of joins, saves and maybes the event has received.
Facebook says these insights are "the first step" to help Pages understand which event promotions are working and which aren't, but it wouldn't say what else it has planned.
Facebook To Mobile Users: Get the Facts About Messenger
Lots of people hate Facebook's Messenger app. Not news. The social network's Peter Martinazzi [Facebook Messenger team] tries to calm people down and clarify:
Like most other apps, we request permission to run certain features, such as making calls and sending photos, videos or voice messages. If you want to send a selfie to a friend, the app needs permission to turn on your phone's camera and capture that photo. We don't turn on your camera or microphone when you aren't using the app.
Many Facebook users are not happy with having to download and use a separate app just for Messenger. I would venture a guess that they're not using, nor have they ever tried to use it, because it's easy and way better than Facebook messaging has been in the past [my opinion]. Martinazzi continued:
We're committed to providing a fast, reliable and fun messaging app that anyone in the world can use to reach the people who matter to them. That's why we're focusing just on Messenger and moving messages out of the Facebook app. People usually respond about 20% faster when they have Messenger, and we think they'll find both apps useful in different ways. We hope you'll try out Messenger and enjoy everything else you can do with the app, like chatting with groups and sending stickers.
Bottom line, if you want to use Facebook for messaging, which is the "easy button" for a lot of people, you're going to have to use Messenger. Period. As mentioned before, I've been using it for a long time now—many months—and really like it. In fact, I'm seeing a huge trend, even in my own group of friends, of moving to IM (and in many instances using Messenger) and texting over email. And these people are oldies.
Instagram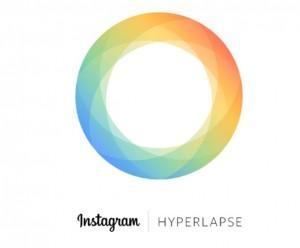 via Marketing Pilgrim
Do the Locomotion With Me:  Instagram Launches Time-Lapse Video App
Now you have that song in your head, don't you? Well, if you're old enough you do. With time lapse video being all the rage, Instagram introduced a cool new new app called Hyperlapse to make it easy for users to create some awesome time lapse videos using an iPhone. What makes it so special is an epic stabilization tool that allows you to record a ride down a hill on a skateboard as smoothly as if you were standing still. (Click here to see a comparison video.)
But is it easy to use? According to Instagram:
We designed Hyperlapse to be as simple as possible. You don't need an account to create a hyperlapse. Instead, you open up straight to the camera. Tap once to begin recording and tap again to stop. Choose a playback speed that you like between 1x-12x and tap the green check mark to save it to your camera roll. You can share your video on Instagram easily from there.
Not quite that easy. . . With Hyperlapse, you can shoot up to 10 minutes if you have an iPhone 4, or up to 45 minutes if you have an iPhone 5. But Instagram only allows 15 second videos. So that's some major compression. It works out to be. . .
Hyperlapse allows you to choose different speeds. By default, videos are set to 6x. A 6x speed means that your Hyperlapse video will be 6 times faster than its original recording. For example, a 60-second video at 6x would end up being 10 seconds long after it's sped up.
Luckily, Instagram isn't your only option. The videos save to your camera roll like any other video, so you can upload them to YouTube, Vimeo, Facebook or other video site.
Judging from the number of Hyperlapses I've seen in my Facebook feed this week, I think this will be something people will be experimenting with for awhile. And marketers and brands are already trying to figure out cool applications.
Miscellaneous
Some videos are great. Some are so ridiculously awesome you can't stop watching. Like these.
13 Things Only Siblings Understand
Little Boy Goes Off On His Mom For Getting Pregnant
If Geek Girls Acted Like Geek Guys
Angry Dogs in Cute Costume
Have a safe and happy Labor Day Weekend!
photo credit: Bunnyrel via photopin cc
Things You Need To Know This Week – August 29, 2014 is a post from: V3 Kansas City Integrated Marketing and Social Media Agency