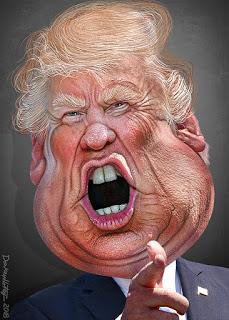 (This caricature of Donald Trump is by
DonkeyHotey.
)
The biggest thing Donald Trump never expected to happen was his winning the 2016 election. He was just trying to improve his business enterprises -- especially in Russia. But once he won, he was surprised at a whole list of other things.
The following is just part of an op-ed by Jennifer Rubin in
The Washington Post
:
Remember that Trump never thought he'd really get elected — and then all this would come out. And once he got elected, he failed entirely to appreciate that he could not control investigators, witnesses, the press and even former associates. Cohen is right when he says that "the pressure of the job is much more than what he thought it was going to be. It's not like the Trump Organization where he would bark out orders and people would blindly follow what he wanted done."
Trump seems to have gotten a bunch of things wrong:
He thought former attorney general Jeff Sessions would shut down the Russia probe;

He thought the bullying and lies and congressional allies would impede investigators;

He thought Cohen would never flip and would never have tapes and other evidence;

He never thought Trump Organization chief financial officer Allen Weisselberg or American Media executives or David Pecker would cooperate with authorities;

He never thought his tweets and public outbursts were helping to incriminate him;

He never thought the shady operation of his foundation would draw the attention of the press, and in turn of New York state authorities;

He never thought his pardon power would be so useless (If he pardons associates, the dam may break in Congress; if he tries to pardon himself it likely would be ineffective);

He never thought he'd have to answer prosecutors' questions, or that his written answers may have locked him into answers that could be disputed by multiple witnesses;

He never thought he'd face Democrats in Congress with subpoena power; and

He never thought his media circus would be entirely ineffective in stopping skilled prosecutors.
Trump's presidency, his financial empire and even his freedom are at risk. (Presidents can be indicted after leaving office and cannot pass out pardons for state offenses.) He can be angry at Sessions or Cohen, but he is solely responsible for his own fate, which right now looks awfully bleak.