Reading the Bedecked and Beadazzled newsletter this month I was reminded of just how fun it is to work with DMC Memory Thread!  The "Technique of the Month" for November is applications with Memory Thread and you should definitely check it out (if you haven't already), click here. 
This is the first project where I used Memory Thread, on my Floating Hearts canvas.  This was a featured project in the May 2010 of Needlepoint Now. I needed to "clean up" the edges of my hearts because of all the compensated stitches and Memory Thread couched around the hearts fit the bill perfectly!  As you can see, you can couch it singly or with two or more strands side by side.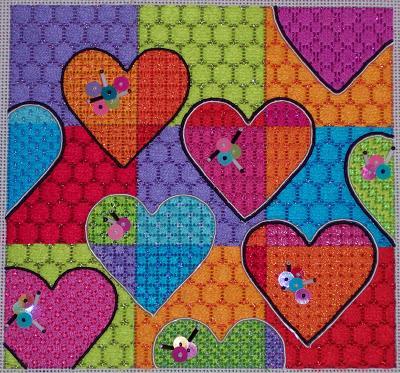 It worked fabulously for the smaller companion design, Floating Flowers as well!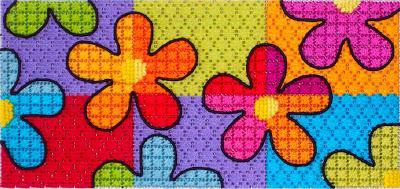 This is a detail of a flower from my Wedding Cake Slice, where I used Memory Thread for both the outside edge and for four of the petals too: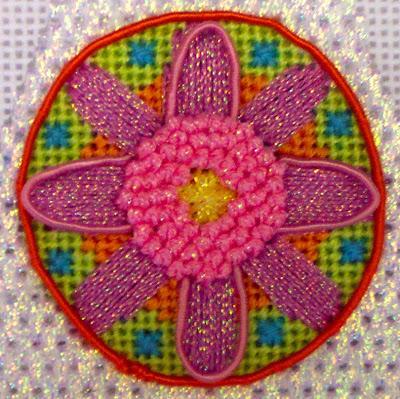 The Cake Slice as completed: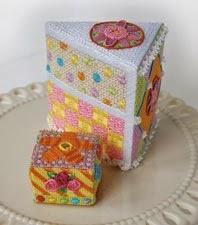 Leave it to Ruth Schmuff to find a really innovative use for Memory Thread rather than just outlining with it-- she used it to pad the candy canes on my CandyLand Christmas canvas.  Here is the first layer: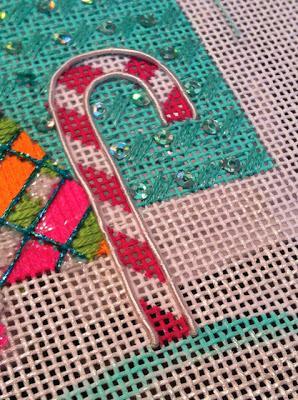 And here is the final layer with the Frosty Rays stitched over the top of the Memory Thread: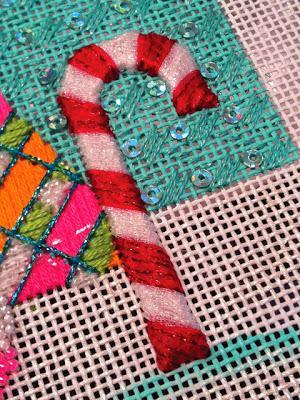 Great effect, right?  I love how it makes it both dimensional and gives it that nice, clean edge as well.  See more of the magic Ruth worked on this canvas here.Hope this has been informational and inspirational too!  Until next time, Happy Stitching!