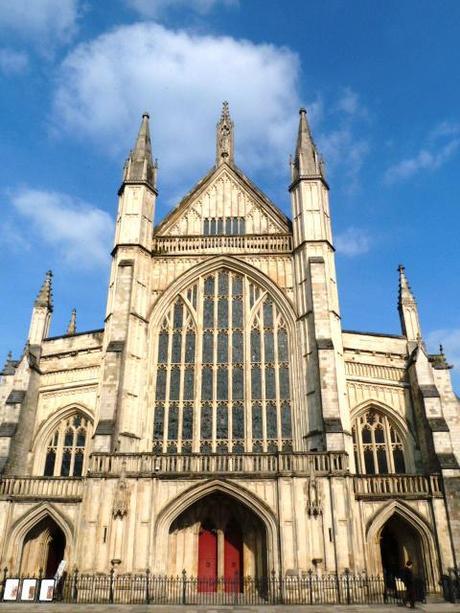 Although I had never heard of Winchester until recently, after spending 2 days there I'm convinced that Winchester should be on every visitor to England's agenda.  Winchester is a historic city dating back to pre-Roman times and is only an hour southwest of London.  While I enjoy the energy of London, I found myself relaxing and slowing down in Winchester and the slower pace of the city.  Not that there is a shortage of things to do in Winchester -in fact it's just the opposite, but yet it still maintains a feeling of tranquility.  Here are a few of my favorite things to do in Winchester:
Visit Winchester Cathedral.  Winchester Cathedral is Winchester's most famous landmark and it is truly breathtaking dating back more than a 1000 years.  Winchester Cathedral also has the claim to fame of being Europe's longest medieval cathedral.  Although Winchester Cathedral is spectacular in itself, it really comes to life through the 1000 years of stories its walls hold.  There is a free children's trail in which I saw the most enthusiastic children I've ever seen in any cathedral, so what they were doing obviously held their interest.   For adults I would highly recommend either the guided tour or the self guided audio tour in which you can hear some of these stories for yourself, like how Bishop Samuel Wilberforce got the nickname "Soapy Sam."  Jane Austen lovers will also be interested to learn that she was buried in Winchester Cathedral and you can visit her grave here.  For more info on Winchester Cathedral see the official website of Winchester Cathedral.  To enjoy a view of Winchester Cathedral dine at Wessex Restaurant or have a drink in the King's Lounge, both located in the Mercure Winchester Wessex Hotel where a fine selection of international food is served.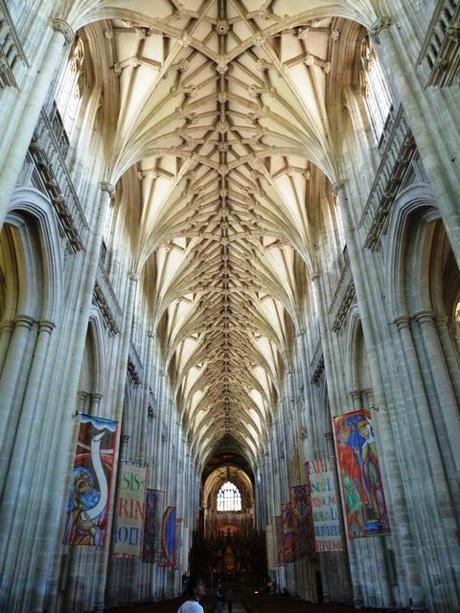 Winchester Cathedral is the longest medieval cathedral in Europe. I couldn't stop saying "wow" as I explored the cathedral.

Go Back to School at Winchester College.  Who knew that school was so much fun?  Winchester College is England's oldest continuously running school in England, dating back to 1382.  It's an exclusive school for boys aged 13 – 18.  Scholarships are available to the top students, called scholars who live at the College and are distinguished by the long black robes they wear even in hot weather.  The other students must pay their own way, with tuition at £30,000 (~$49,000 USD) per year and live just outside the College.  I wasn't sure what to expect about a tour of a college, but I found it fascinating.  Besides the tour itself of medieval buildings and chapels, I was pleasantly surprised to see how little has changed.  In the dining hall, even the benches are original!  Winchester College may also look familiar to Harry Potter fans as two of the buildings were used in the films (well part of the buildings, the tops were transplanted onto other larger buildings).  While I likely won't be sending any future children I may have to Winchester College, I thoroughly enjoyed the tour and our guide, Chris was lively and humorous as she told us about the history and the surviving medieval traditions.  Entrance to Winchester College is by tour only.  See:  Winchester College for more info.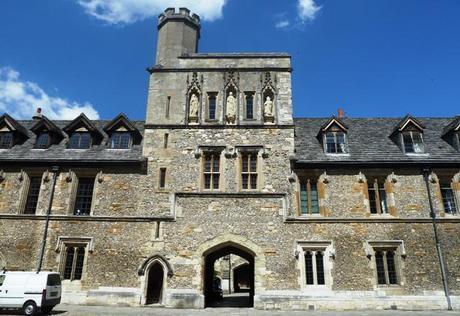 Part of this tower from Winchester College was used in the Harry Potter movies.
The Great Hall and King Arthur's Round Table.  The Great Hall is the finest preserved Great Hall in all of England today and is one of only two buildings remaining from Winchester Castle.  It dates back to 1222 and is in pristine condition.  In the Great Hall visitors will also find King Arthur's Round Table.  After seeing so many movies that focused on King Arthur, I found it exciting to actually see the original Round Table.   It's impressive with a diameter of 5.5m, and weighs  1200 kg.  The last time it was taken off the wall was in the 1970s, not an easy feat I would imagine.  I also love King Arthur's idea of the Round Table – that at a round table all of his knights would be equal.  Admission is by donation.  See The Great Hall and Round Table, Winchester for more info.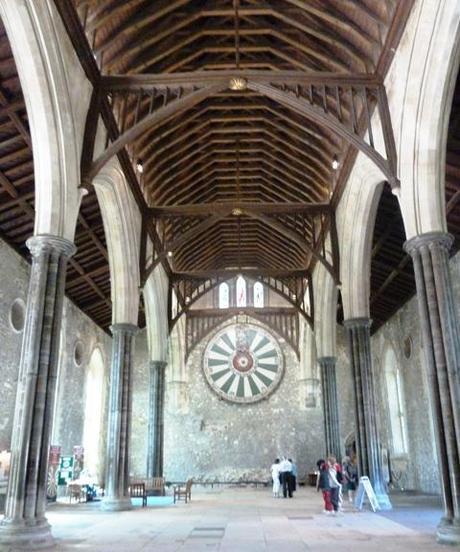 City Museum.  The City Museum takes visitors through Winchester's history starting on the third floor with the Iron Age, as you work your way down.  It's a small but interesting museum and I really enjoyed the models of the town, showing how it had changed over the ages.  There were lots of interactive activities and the kids we saw seemed to be enjoying themselves.  It was here that I also learned that Winchester was the first capital of England.  Admission is free.  See the City Museum for more info.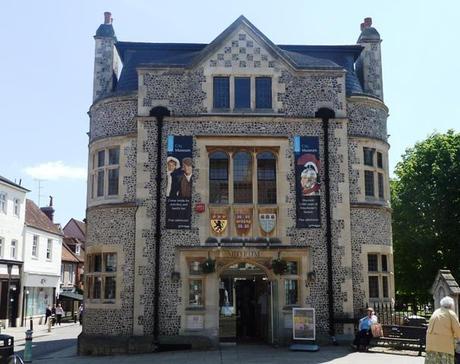 The City Museum in Winchester does a good job of explaining the roots of this historic city.
The City Mill.  The Winchester City Mill is a rare example of a surviving city mill.  Sitting over the Itchen River, it was built in 1744, at the same site as an earlier medieval mill, closed for 90 years and then reopened again in 2004.  We were fortunate enough to see flour being made and the machines in action (flour is made on Saturdays and Sundays).  From a volunteer miller we learned that it takes anywhere from 45 to 75 minutes to produce one bag of flour.  The City Mill is very kid friendly with lots of interactive activities.  Besides the milling, one of the highlights for me was seeing footage of otters that sometimes hang out near the waterwheel.  I also enjoyed the gift shop, filled with many books and I couldn't resist buying one on otters.  For more info see:  Winchester City Mill.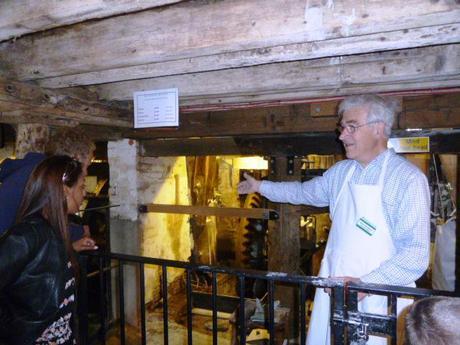 The flour making demonstration at the City Mill in Winchester.
Walking in Winchester.  Another thing I loved about Winchester is that it is compact enough that you don't need a car.  We arrived by train and walked every where we went.  There are also a couple of themed walks of interest to   visitors including the Keats Walk, in which you can retrace the footsteps that the English Romantic poet, John Keats took during his 1819 stay in Winchester.  Or for couples there is the Sunset Walk through the most romantic parts of Winchester including along the Itchen River and up to St. Giles Hill to watch the sun set.   Romance was definitely in the air, everywhere we went we saw couples holding hands.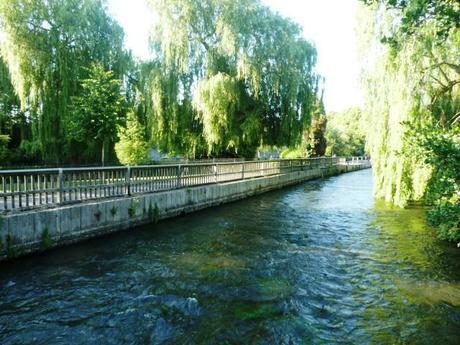 Winchester offers many walking paths and is easily explored on foot due to its compact size.
Talk to Locals. Or Wintonians as they're called.  During my short time in Winchester I met some of the friendliest people I have met anywhere, and I loved the community pride that showed up in so many ways from well maintained houses and gardens, to helpful locals.  I was also impressed by the number of volunteers that we met, from our friendly greeter Chris who greeted us at the train station and gave us an orientation to Winchester (more in an upcoming post), to the helpful volunteer at the City Museum to the Volunteer Miller who entertained visitors while milling flour.
After two days I left Winchester feeling rejuvenated, content and wondering when I will return.
Have you been to Winchester?  What were your impressions of it?
This trip was made possible by Visit Winchester, Mercure Winchester Wessex Hotel, and Old Vine but all opinions expressed are my own.  You may also be interested in following King Alf on Twitter for all the latest on what's happening in Winchester.