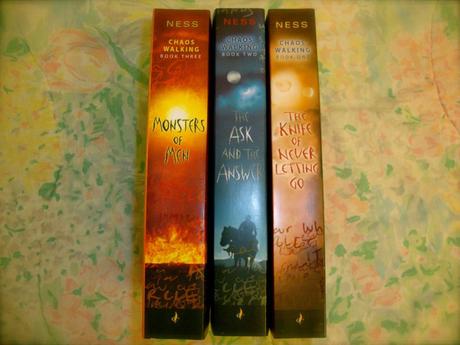 The Chaos Walking Trilogy 
(
Goodreads
)To give you an idea on what the series is about, the first book 
The Knife of Never Letting Go, 
follows the story of Todd – a 12-year old boy on the brink of manhood in a town where are no women. One day Todd comes across something during his trip through a swamp that sets in motion a chain of events that makes Todd run for his life as fast as he can.I've been hearing a lot of good things about this series and I can't wait to see what the fuss is about!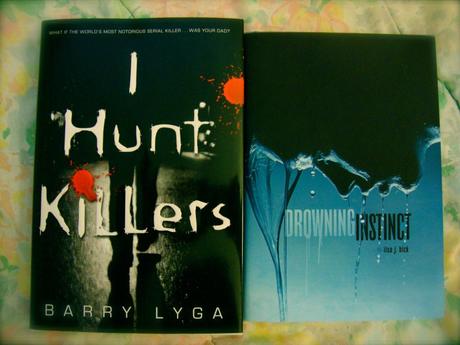 I Hunt Killers 
(
Goodreads
)
What if the world's worst serial killer…was your dad?
Jasper (Jazz) Dent is a likable teenager. A charmer, one might say.
But he's also the son of the world's most infamous serial killer, and for Dear Old Dad, Take Your Son to Work Day was year-round. Jazz has witnessed crime scenes the way cops wish they could–from the criminal's point of view.
And now bodies are piling up in Lobo's Nod.
In an effort to clear his name, Jazz joins the police in a hunt for a new serial killer. But Jazz has a secret–could he be more like his father than anyone knows?
Drowning Instinct 
(Goodreads)
There are stories where the girl gets her prince, and they live happily ever after. (This is not one of those stories.)
Jenna Lord's first sixteen years were not exactly a fairytale. Her father is a controlling psycho and her mother is a drunk. She used to count on her older brother—until he shipped off to Iraq. And then, of course, there was the time she almost died in a fire.
There are stories where the monster gets the girl, and we all shed tears for his innocent victim. (This is not one of those stories either.)
Mitch Anderson is many things: A dedicated teacher and coach. A caring husband. A man with a certain…magnetism.
And there are stories where it's hard to be sure who's a prince and who's a monster, who is a victim and who should live happily ever after. (These are the most interesting stories of all.)
Drowning Instinct
 is a novel of pain, deception, desperation, and love against the odds—and the rules.Both of these books just came out recently and checked them out on Goodreads and knew just from the synopses of that they're going to make for really interesting reads. I went to Barnes and Noble last weekend and I was so happy to see that they're already available!