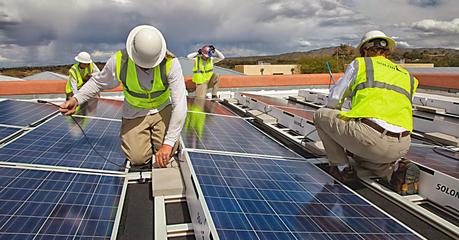 The output of the photovoltaic modules is proportional to the amount of solar radiation that is received. The modules produce electricity when the photons pass through silicon cells and excite the electrons which creates voltage and current. When photons hit the PV cell, some electrons get excited thereby generating incremental amount of electricity. Where obstacles such as trees or other roof structures cast shadows on the panels, energy yields are reduced - sometimes close to zero until the shadow has passed.
Hence, businesses which want to install a solar PV system on their rooftop, should first note that anunobstructed exposure to sunlight all through the year is vital. Any obstruction in its way is going to create a shadow. Small or partial shading of solar molecules can also cause a significant reduction in the output.  Modern micro inverters or DC controllers can alleviate the impacts, however a reduction in yield still occurs.
The installer will have to select a proper site with minimal or no shading or have to be up front about yield losses if he/she finds some shading that can't be avoided.
Other risks include structurally unsuitable roof types which cannot safely withstand forces or 'loads' which the panels will exert through its weight and wind loads.
To reduce the risk of sub-optimal system design, a good approach is to have an independent solar assessment undertaken by an expert solar consultant. The consultant will identify the best location within your roof for the solar panels, and exclude unsuitable areas. 
You can contact a professional solar consultant in Australia like Enhar to undertake a thorough assessment of your rooftop, prior to inviting solar installers to quote and install. A solar consultant can check your site for the shading obstacles and recommend the best location for the solar panels to optimize energy yield through the whole year. 
Evaluating the shading profile at the installation site is an essential part of solar design as well as installation. Actually, the entire system's performance may be greatly diminished & investment of home owners considerably undermined if shading effects are underestimated.
Today, a lot of Australian PV developers are conscious of the shading issues and many manufacturers are even making use of bypass diodes.
However, if you have a solar photovoltaic system installed and a neighbor proposed for constructing a new structure, which may impact your site, you must be able to object formally based on a reduction in your income from the solar array.
Again, a solar consultant can assist you with a shading impact assessment so you can seek suitable compensation for any yield lost through shading from newly constructed neighboring buildings.