Permits to build new homes rose sharply in may, suggesting a beginning housing recovery remains on track.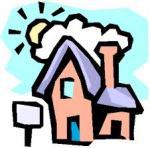 The Commerce Department said on Tuesday that although groundbreaking on new homes dropped last month, upward revisions to data for March and April put starts above 700,000 for five straight months, a first since 2008.
This means a big turn of events is under way: while the broader U.S. economy appears to be losing steam, housing is gaining traction and has become a relative bright spot. Homebuilder sentiment has risen to a five-year high.
"The incipient recovery in housing market activity, in short, seems not to have been affected by the recent softening in much of the other economic data," said Ian Shepherdson, an economist at High Frequency Economics in Valhalla, New York.
Starts for single-family homes, which account for most of the market, increased 3.2 percent.