Before having a baby, I never knew all this. Just to caveat, this is not really a "tradition". Both the Hub's parents and my own never did that for us. It is probably an IG trend thing. But we did it cos I:
Love eating Ang Ku Kueh, the one we got only cost like $13 per pair (which was quite reasonable) 
Needed a pair of nice shoes and IMM is not that far
Created our Zhua Zhou Kit which we will share on a separate post. 
These giant ang ku kuehs are called "脚龟". To step on it
symbolises a smooth journey in life
. We do come from a traditional family it was prayed first before we did the stepping. Tip:
Wrap the kuehs up in food film
so that it is cleaner logistically and you can eat it too after the meal. 
However, I do think most people are doing it for "trend" or "IG". We got ours from
Kueh Garden
at $13 a pair, it actually even
tasted yummy
, we finished it up after the shoot! There are even rainbow 脚龟 available in the market at an eyepopping $40 (including delivery).
Note:
Our baby refused to put his feet even on it (maybe cos of the texture). Just these 3 photos took a lot of coaxing and patience.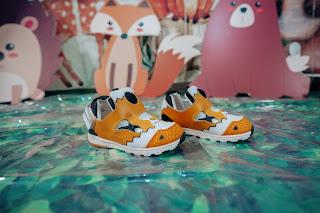 We put a lot more thoughts into his shoes because we reckoned he is going to wear it for his first walk and that might effect his development. We decided to go for
traditional shoemakers
instead of some unknown brands. Heard from some Mummies that
IMM has the best prices
so we went there and got this Gudetama piece from Reebok at $40 (more than half price off!) There is even a
button on top that will squeak when you press it
. 
The only grouse would be that the
design selection is quite limited
. For a budget of $50, this was the only piece which caught my eye even after going to all the shoe shops. The first pair of walking shoe is usually
gifted by the maternal grandmother
(don't know why). My Mum was quite kind to let us choose the design because LOL I am very particular about such things. :P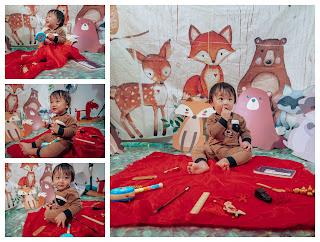 Zhua Zhou (抓周) gives you a quick peek into your child's future. Usually a list of items which represent certain careers will be placed on a red mat and the first item/ 2 items that the kid pick will be his/ her future career. This set was provided by Bite Size Affair. You just have to top up an additional $10 to include it in your photoshoot ($250)
You can either buy ($20+ onwards) or rent ($8 onwards/ free) if you intend to do yourself. We did a DIY one too! But to be very honest, you will only use it for 15mins max but it can be fun for the parents and child. :P***Bite Size Affair is currently having a 10% discount in Oct. Quote "ba13yg" for an additional 10% off! On normal times, you can quote and get 10% off.