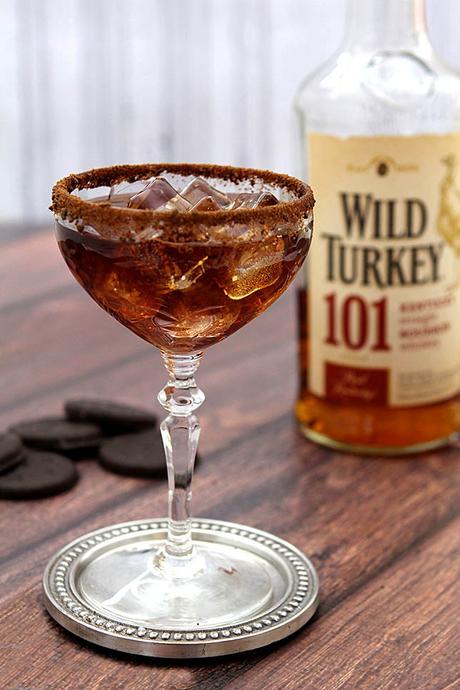 It's Girl Scout Cookie Time! Not that this news is surprising to anyone I'm sure; it is their time of year to swarm. I do wish the Girl Sprouts (my personal term of endearment) would give us a pin that says, 'I bought' much like those we get during an election that say 'I voted.' I buy from girls I've never seen that come door to door in my neighborhood and then feel compelled to buy a couple of more times when I'm at the grocery store. I've been there. I've been the girl selling those cookies and I've been the mom of the girls selling the cookies and I've even been the Troop leader of those girls and I know all that is involved. So I'm supportive but there is a crux. There can be a glut of cookies if I'm not careful!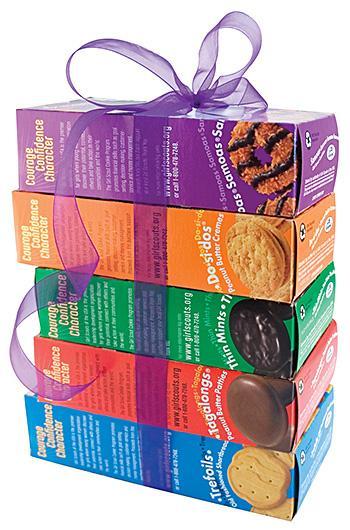 Luckily last week I got word that my neighbor who so regularly swings his ATV with a blade up my driveway when it snows was in desperate need of some cookies. That settled one buy. But Tagalongs are not my thing; for me it's always been Thin Mints and Samoas. True confession? I believe I can (OK, have) eaten a whole box in one sitting. Of course now that the boxes are shrinking that's not quite as bad an admission as in years past. Thank goodness...because while I want to help the cause, I also can't justify 10 boxes of them just for me!
So, I've got my Thin Mints in hand and had this notion I would make a cocktail. I've probably seen a few posted in years past but to be honest, sometimes the cocktails that people come up with make my teeth hurt with the SWEET factor. It's like they're desperately trying to disguise the fact that there is actually booze involved; their audience must be 18...oops I mean 21 year olds! Not having decided on what to do, I saw a virtual friend post a Thin Mint Julep cocktail he had made a few years ago that seemed right up my 'OMG how I love mint juleps alley.' If you don't know Sean you should. The brains behind both Punk Domestics and Hedonia, he's someone who has always been after my own heart. Canning and charcuterie and cocktails...some I'm more expert at than others but if I'm not sure about a technique I'm betting on Sean to have some information that can help. I'll probably embarrass him too but I just think he's sweet. Sweet goes a VERY long way in my book; as long as it's not overdone in a cocktail.
And speaking of sweet...this cocktail has some sweet elements, sure, but it is BOURBON forward. Like a Julep should be. That being said...I have some friends (OK, Sandy) that I will have to tone it down for. I've done a great job of having her see bourbon in a new light but I know this would be too much for her. Depending on your love for whiskey; temper how much you include too. Sean has 3 oz per cocktail; I would start with 2 oz and work your way up to be safe.
Funny too, for all the homemade things that Sean does how prophetic it is that this cocktail should include both my own chocolate liqueur and peppermint schnapps. I make chocolate liqueur just because; it's not something I see available anywhere and I love it. In a cocktail, in coffee, on ice cream...yep, it's love. The Peppermint Schnapps. Well, I wanted to make this cocktail and had none and I don't use that liqueur enough to buy any so I made some. And I'm glad I did; I see far more value for me to have a cup of Schnapps than a whole bottle (I even cut the recipe indicated in half); it's not something I think of using a lot. Easy too. Probably should age just a bit more than mine...as in a couple of days. Mine only had a couple of minutes. But since it was being mixed with bourbon and chocolate liqueur I didn't think I would notice the nuances and I'll test later but nothing came across harsh so I was all good to go!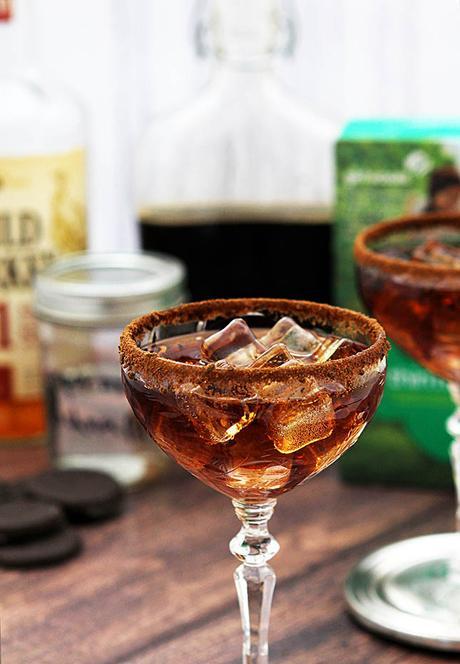 Sean gives a mixture for rimming the glass; simply combining some cocoa and fine sugar. Or he suggests if you have Thin Mints on hand that you could cut away the chocolate exterior and crush the cookies for use as a rimmer. No need to; I blended up the whole cookie and I loved the bits of chocolate; easier too!
Make this drink, Scouts Honor you will love it. (And be sure to support the Scouts too and grab a couple of boxes of cookies!)

2 Thin Mint Cookies ground in a blender (or mix 1 Tbsp cocoa and 1 Tbsp fine sugar)
¾ oz Peppermint Schnapps
¾ oz dark Creme de Cacao (I used homemade chocolate liqueur)
2-3 oz bourbon
Mint sprig (optional)
Pour a small amount of the Peppermint Schnaps onto a shallow plate. Add an equal amount of the Creme de Cacao and mix. Dip the rims of each glass into the liqueurs and then into the ground cookie (or cocoa) mixture.
Fill a cocktail shaker with ice; add the Peppermint Schnapps, Creme de Cacao and bourbon. Shake until ice cold and pour over more ice in the rimmed glasses. Garnish with a mint leaf if desired.