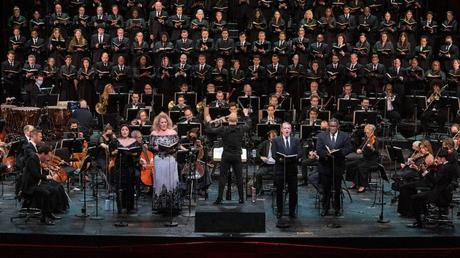 What 2021-2022 Will (Hopefully) Bring
You heard it here, folks! The Met Opera is back - in full force and with a vengeance. Or, rather, it WILL be back. Bigger and better, is our hope.
The official start date will be Monday, September 27th. As a warm-up, however, the Met Opera Orchestra and Chorus, led by their dynamic music director Yannick Nézet-Séguin and chorus master Donald Palumbo, offered bereft audiences a special live performance of Verdi's Requiem on the twentieth anniversary of 9/11. The featured soloists were soprano Ailyn Pérez, mezzo Michelle DeYoung, tenor Matthew Polenzani, and bass-baritone Eric Owens.
Broadcast on the PBS Network as well as via live streaming, this one-of-a-kind event was well-attended and well-received by an opera public starved for fine singing and quality playing. The packed gallery of attendees that gathered - most of them left in the lurch by a continuing pandemic of historic proportions - rose as one in a prolonged and highly-merited ovation for Maestro Yannick and his soloists.
Chief among the participants was the emotionally charged and uplifting work of Ms. Pérez (superb throughout and positively ethereal in the concluding "Libera me"), along with the equally responsive chorus (their massed and hushed voices were a balm to the soul) and the sublime orchestra.
At the work's conclusion, there was a quiet calm. Nézet-Séguin, who slowly but gradually took in the moment for what seemed an eternity, stood silent and motionless. One could not help feeling that this performance would never come to an end. Yet, with the camera fixed firmly on his person, Yannick, his eyes closed, the sweat running down his face and neck, serenely and ever-so-deliberately put down his baton. As the maestro lowered his arms, the audience broke out in staggering acclaim for what can only be deemed as an historic moment.
Considering the circumstances under which Verdi's "Mass for the Dead" was last performed (see the following link: https://josmarlopes.wordpress.com/2017/12/10/quid-sum-miser-verdis-requiem-and-the-end-of-a-met-opera-career/), it was no surprise to learn that on this occasion all eyes and ears were focused on the work itself and NOT on the individual leading the Met Opera forces.
Back in 2017, disgraced maestro James Levine, the former music director and driving force behind the company's past accomplishments, was pummeled in the press by revelations of sexual misconduct over the course of his long career. Consequently, a flummoxed Met management summarily dismissed Mr. Levine. He was replaced with a younger and less intransigent colleague, Mr. Nézet-Séguin.
General Manager Peter Gelb's faith in Maestro Yannick's initiatives and vision has not only been tested and confirmed, but stands as an essential vote of confidence. It is also symbolic of a new direction that may bring opera, as a viable art form, closer to everyday reality; one that would capture the essence of what the future may hold for opera in North America and beyond.
A cursory look at the Metropolitan's resuscitated and award-winning Live in HD series for 2021-2022 boasts a lineup of extraordinarily topical operatic fare. Not just well-worn favorites - the proverbial outmoded wine in shinier bottles - but completely refashioned revivals and reworked originals, not to mention several Met Opera premieres.
A bold investment in the company's future? We certainly hope so!
Leading the list is an October 9, 2021 revival of Stephen Wadsworth's production (in the original 1869 edition) of Mussorgsky's Boris Godunov, with German bass René Pape as Czar Boris, tenor David Butt Philip as Grigory/the Pretender Dimitri, bass Ain Anger as the monk Pimen, tenor Maxim Paster as Prince Shuisky, baritone Alexey Markov as Shchelkalov, bass Ryan Speedo Green as Varlaam, and tenor Miles Mykkanen as the Holy Fool, conducted by Sebastian Weigle.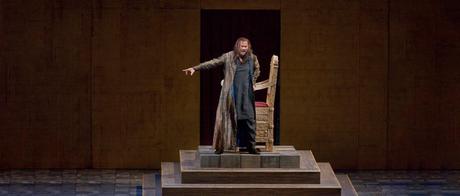 The opera was previously reviewed by yours truly in the later revised version (see the link: https://josmarlopes.wordpress.com/2020/11/08/mussorgsky-in-the-raw-the-mets-boris-godunov-an-opera-for-our-time/). Readers should make note that the original Mussorgsky adaptation of Pushkin's play lacks the so-called Polish Scenes. That is, no female love interest (the Princess Marina) and no rogue priest (the Jesuit Rangoni). Also missing will be the Kromy Forest sequence, replaced in the original by the St. Basil episode in which Czar Boris is confronted by the Holy Fool. What the Met will make of their original production (and its use of the same sets and costumes) is worth exploring.
Story-wise, the opera is a timeless tragedy of power's corrupting influence and the pernicious effect it exerts on the protagonists - none of whom can be deemed outright "good guys" or "bad guys" in the generally accepted terms. For instance, Boris, the title character, harbors the best of intentions, but is unloved by the people. They blame him for the famine, in spite of his efforts at mitigating their losses. Along comes Grigory, a young monk who disguises himself as the usurper Dimitri. Suddenly, Mother Russia believes in this "hero," one she can love and look up to, or so she THINKS.
Things do not end well where politics gets in the way of progress.
Next up, on October 23rd the Met will bring the company premiere of jazz trumpeter and composer Terence Blanchard and librettist Kasi Lemmons' Fire Shut Up in My Bones, the first EVER work by a Black American composer to grace that stage. Based on the memoirs of New York Times graphic artist and journalist Charles M. Blow, the opera stars baritone Will Liverman as the older Charles, Walter Russell III as Baby Char'es, soprano Angel Blue (fresh from the Met's 2019 Porgy and Bess) as Greta and the dual Destiny/Loneliness characters, soprano Latonia Moore as Charles' mother Billie, Chauncey Packer as Spinner, Chris Kenney as Chester, and mezzo Cierra Byrd as Bertha. Yannick Nézet-Séquin presides.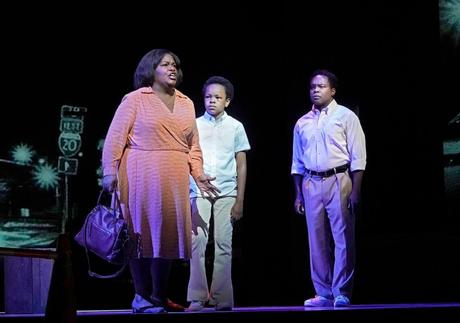 For details concerning the opera's background, see the New York Times and the September 2021 issue of Opera News, which includes an extensive interview with Mr. Blanchard. Incidentally, Blanchard is well established as a film composer. His scores for director-writer-producer Spike Lee's Do the Right Thing (1989) and especially Inside Man (2006) are particular favorites of mine.
As for Mr. Blow's memoir, Fire Shut Up in My Bones, Columbia Law School Professor Patricia J. Williams has described his work as a jeremiad, a "lengthy lamentation, cresting in a battle of polarities - classically between spirit and flesh - and ending with the triumph of one over the other." It's a harrowing story of mistreatment by others, of sexual abuse, and of boundless self-exploration, ending in a quasi-emotional and spiritual compromise. And, above all, you'll learn that this Black life matters and, most emphatically, that we're all-too-human under the skin.
Another Met debut, on December 4, will be a new opera, Eurydice, by American composer Matthew Aucoin with a libretto by Sarah Ruhl. Adapted from her 2003 stage play, the work is a modern re-imagining of the Greek myth of Orpheus, but from lost love Eurydice's point of view. The production, by Mary Zimmerman, features coloratura soprano Erin Morley singing Eurydice, baritone Joshua Hopkins as Orpheus, countertenor Jakub Józef Orliński as his alter-ego, bass-baritone Nathan Berg as the heroine's father, and tenor Barry Banks as Hades, Lord of the Underworld. Maestro Nézet-Séguin again conducts. This thrice-told chronicle of love lost and love found, then lost again, has been adapted and performed since time immemorial. In fact, there are more operas on this one subject alone than possibly any other. Can this latest edition prove to be as long-lasting?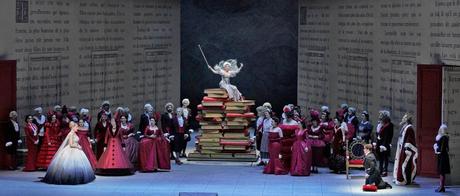 And now, for some lighter fare: a retelling of Cinderella will be given special treatment on New Year's Day. It's an all-new English translation of a 90-minute abridged presentation of Massenet's delightful Cendrillon, with mezzo-soprano Isabel Leonard as the heroine "Cindy," mezzo Emily D'Angelo as her Prince Charming, perky soprano Jessica Pratt as the feisty Fairy Godmother, the formidable mezzo-soprano Stephanie Blythe as Cinderella's mother, and dependable bass-baritone Laurent Naouri as the girl's doting father. Emmanuel Villaume will conduct. If you would like to read more about the opera's background, please see my earlier review: ( https://josmarlopes.wordpress.com/2018/07/15/massenets-cendrillon-a-fairy-tale-wish-comes-true-at-the-met/).
In this, and in ALL such versions of this timeless bedtime story, the title character's goodness and decency eventually win out over her deceitful relations. How truthful is that in real life?
Verdi's ever-popular Rigoletto, in an Art Deco-style that takes place in decadent 1920s Europe, will be given a reworking by Bartlett Sher (direction) and Michael Yeargan (sets), with costumes provided by Catherine Zuber. In the cast is Hawaiian-born baritone Quinn Kelsey as the hunchbacked title character (a role debut at the Met), with soprano Rosa Feola as his daughter Gilda, and Polish tenor Piotr Beczala as the duplicitous Duke of Mantua. Maestro Daniele Rustioni will lead the Met forces in a performance slated for January 29, 2022.
We don't know how much this latest incarnation of Verdi's masterpiece will succeed over the earlier Michael Mayer-directed 1960s Las Vegas casino production. It's the one where the Duke doubles as a Frank Sinatra-style lounge singer, and his courtiers are all part of the Rat Pack, with parallels to such personalities of the era as Don Rickles, Dean Martin, and Shirley MacLaine. Whatever the outcome will be, you can be sure that Verdi's music will survive the transition.
Star of the moment, the sensational big-voiced Norwegian soprano Lise Davidsen, is scheduled to sing on March 12, 2022, in the late Elijah Moshinsky's production of Strauss' Ariadne auf Naxos, Marek Janowski conducting. Davidsen will take on the dual role of the Prima Donna in the Prologue and the abandoned Ariadne in the opera proper. Her colleagues will include soprano Brenda Rae as the spritely Zerbinetta, mezzo-soprano Isabel Leonard as the passionately involved Composer, and tenor Brandon Jovanovich as the Tenor and the god Bacchus. (For additional background and appreciation, please see my review of the Met's older production: https://josmarlopes.wordpress.com/2021/04/10/stream-for-your-supper-after-dinner-treats-with-met-opera-on-demand-part-four-opera-out-of-the-norm/).
Here's some interesting news: maestro Nézet-Séguin will be presiding over the Met Orchestra and Chorus in a brand new staging, by director David McVicar, of Verdi's five-act French version of Don Carlos. This will be first time the composer's original will be presented in full. A first-rate cast should do justice to this mighty epic - in that, the Met will not disappoint. Tenor Matthew Polenzani will tackle the role of the emotionally disturbed Don Carlos, soprano Sonya Yoncheva is Elisabeth de Valois, and baritone Étienne Dupuis will assume the part of Rodrigue (or Rodrigo) the Marquis of Posa, with mezzo-soprano Elīna Garanča as the haughty Princess Eboli, and bass-baritones Eric Owens and John Relyea appearing as King Philippe II and the Grand Inquisitor, respectively. A grand time will be had by all this coming March 26!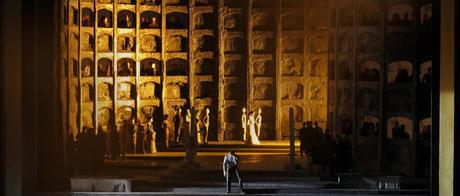 This longest of Verdi's output (with the earlier I Vespri Siciliani, in its Gallic guise as Les Vêpres Siciliennes, coming in a close second), Don Carlos has finally assumed its rightful place as one of the Bear of Busseto's finest efforts, superseding his own Aida in the epic vein. And why is that? For over a century and a half, Aida had been looked at as the "be-all" and "end-all" of what grand opera aspired to, especially by the Italians. Well, for one thing the years have not been kind to poor old Aida. She's been misused and mishandled by artists as far afield as Elton John and Tim Rice. For another, the ersatz storyline - about a Black slave and secretly disguised Ethiopian princess Aida, who falls in love with white-Egyptian army captain Radames, who is also loved by a white Princess Amneris, has fallen into disrepute of late as stereotypical and inauthentic.
Personally, I believe it has more to do with opera house budgets (or the lack thereof) than any underlying racial issues. Don't get me wrong, there are points to made, both pro and con, with regard to ethnicity problems. To this point, the inability of singers to do justice, vocally and histrionically, to the various roles, in particular that of the tenor taking on Radames, is a huge factor. Historically, not since the larger-than-life voices and/or outgoing personalities of Messrs. Domingo, Giacomini, Vickers, Corelli, Tucker, and Del Monaco has the part been sung with anything like the heroic quality that these artists brought to the Met and elsewhere. I'm afraid the situation has not improved to any noticeable degree.
The same goes for Puccini's Turandot, which returns to the Met stage in Franco Zeffirelli's grandiose, overblown production, to be performed on May 7, 2022. Big-voiced Russian diva Anna Netrebko should live up to the advance publicity as she tackles the titular "ice princess." Attempting to thaw her out will be Korean tenor Yonghoon Lee, one of those big tenor voices who should be able to withstand the vocal onslaught, along with soprano Ermonela Jaho as the slave-girl Liù, and Italian basso Ferruccio Furlanetto as the blind Timur. Marco Armiliato will mount the podium for this one. Make way for the paparazzi, people! Why Turandot has remained in the Met's repertory and Aida has been closeted and mothballed away is a problem that defies resolution, at least for the foreseeable future.
A brand new staging of Donizetti's Lucia di Lammermoor will be on tap for May 21st. It will be the work of Australian film and theater director Simon Stone - so one can expect a multimedia extravaganza, from all reports. Riccardo Frizza will lead the Met Orchestra and Chorus. Soprano Nadine Sierra, no stranger to stratospheric vocal assignments, will sing the hapless heroine Lucia, with Mexican high-note specialist Javier Camarena as her lover Edgardo. Also in the cast is baritone Artur Ruciński as Lucia's bully of a brother, Enrico, and British bass Matthew Rose as her spiritual advisor, Raimondo.
One of Donizetti's most popular pieces, Lucia has been and will forever remain a much adored favorite among singers. All vocal categories, whether male or female, simply love, love, love this work. The original plot, taken from one of those Romantic-era, Gothic-type ghost stories - in this case, by Scottish author Sir Walter Scott, he of the historical Ivanhoe and Rob Roy, and the narrative poem The Lady of the Lake -dramatizes the plight of the financially strapped Lady Ashton to marry her daughter Lucy off in a loveless arrangement to the rich Francis, Lord of Bucklaw. Listening to the informative Met podcast, "Aria Code," I learned that women, in the eighteenth-century, notably upper-class girls of marriageable age, were treated more or less as chattel, as bargaining chips for their parents' use and abuse. No wonder Lucy went mad!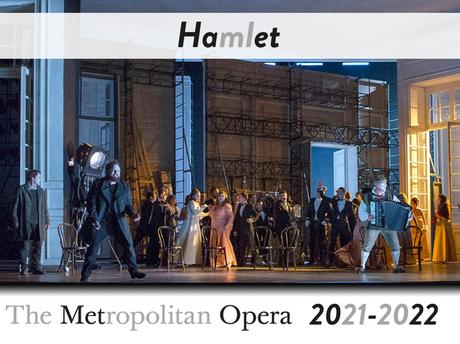 Brett Dean's 'Hamlet' to premiere at the Met in 2022
And finally, the North American premiere of Australian composer Brett Dean's Hamlet will take place on June 4, 2022. With a libretto by Matthew Jocelyn and adapted from Shakespeare's most famous play (and one of his longest!), the opera premiered at the 2017 Glyndebourne Festival in England to positive reviews. Neil Armfield is credited with the staging and Nicholas Carter will pick up the baton. According to advance publicity, most of the original cast will take part, to include tenor Allan Clayton as Hamlet, soprano Brenda Rae as Ophelia, mezzo Sarah Connolly as Gertrude, baritone Rod Gilfry as King Claudius, and British bass John Tomlinson, a worthy Wotan and Hagen in his day, as the ghost of Hamlet's dearly departed parent whom, as we know from reading the Bard in high school English class, was murdered by his own brother. Phew, talk about family values!
Are you not entertained? Is this not an ambitious program? Oh yeah! But the bigger and more pertinent questions are these: Can the Met really pull these huge rabbits out of a continuously shrinking hat? And can this new, bold initiative bring in the overflow crowd back home? Or has the company bit off WAY more than it can chew? And will this premature re-opening have that flowing red carpet pulled from under it?
Will Live in HD survive? Or will it crumble into Met Opera memories? We'll soon find out, won't we?
Copyright © 2021 by Josmar F. Lopes