Corbello, Italy, 1947. A woman and a little boy stagger into the ruins of an old house deep in the forest, wild roses overwhelming the crumbling terracotta walls. Since the war, nowhere has been safe. But they both freeze in shock when a voice calls out from the shadows...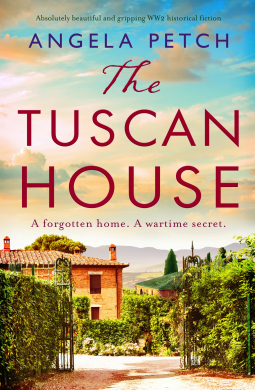 For young mother Fosca Sentino, accepting refuge from ex-British soldier Richard - in Tuscany to escape his tragic past - is the only way to keep her little family safe. She once risked everything to spy on Nazi commanders and pass secret information to the resistenza.
But after a heart-breaking betrayal, Fosca's best friend Simonetta disappeared without trace. The whole community was torn apart, and now Fosca and her son are outcasts.
Wary of this handsome stranger at first, Fosca slowly starts to feel safe as she watches him play with her son in the overgrown orchard. But her fragile peace is shattered the moment a silver brooch is found in the garden, and she recognises it as Simonetta's...
Fosca has always suspected that another member of the resistenza betrayed her. With Richard by her side, she must find out if Simonetta is still alive, and clear her own name. But how did the brooch end up at the house? And with a traitor hiding in the village, willing to do anything to keep this secret buried, has Fosca put herself and her young son in terrible danger?
***
I follow the young woman into the little church of San Martino. PROLOGUE
***
(@Bookouture, 7 April 2021, 400 pages, ebook, #ARC from the publisher via # NetGalley and voluntarily reviewed, #BlogTour 7 April)
***
***
I've read and enjoyed other books by the author set in Tuscan so was looking forward to The Tuscan House. This book was everything I hoped it would be. I really enjoyed the writing in the book, the author writes beautifully and I was impressed by the research clearly taken into Tuscan during the era the book is set in and the culture and people. These really bring the book to life. The book does contain a love story but there's so much more going on as we get to know the people impacted by WWII. I really connected to Richard, a pacifist suffering from PTSD due the sights he saw as a volunteer during the war who decides to return to the town which triggered his PTSD for reasons that gradually become clear. I really enjoyed this book.