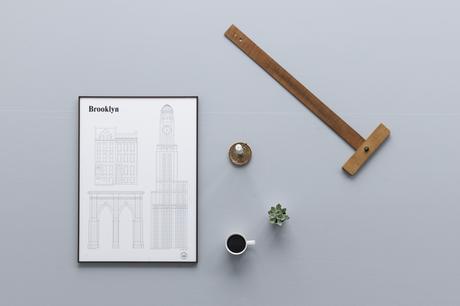 In studio esinam's Landmark series, the architects celebrate three landmarks from famous cities all over the world. The Brooklyn Landmarks Architectural Print includes architectural drawings of three iconic places in the city including buttresses from the Brooklyn Bridge, the tower of the Williamsburg Savings Bank Tower, alongside examples of classic brownstone townhomes. Each print in the series is artfully printed on brilliant white, environmentally friendly acid free paper, and is available in an unframed version or with a thin maple frame—in a natural wood finish or modern black or white.
As native Swedes, Josefine Lillljegren and Sebastian Gokah have focused several of their prints on Swedish cities like Gothenburg and Stockholm, as well as European capitals including Berlin and Paris. The architectural series also include portraits of Tokyo and Brooklyn, rounding out the global series. The intricate prints can be used as standalone wall art, or combined with other prints in studio esinam's Landmark and Elevations series to create an homage to one's favorite cities and architectural marvels around the world.
studio esinam has partnered with the Dwell Store to launch these limited edition prints in the United States. Each print is available unframed or as a framed version—a natural maple finish, painted black, or painted white frame are offered.