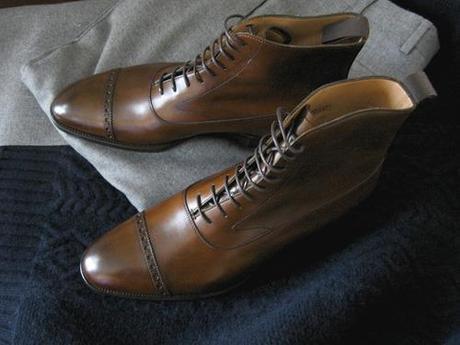 Leffot delivered me my first pair of made-to-order dress boots last week. They're Edward Green's Shannons, a discontinued design from one of Edward Green's old catalogues, now only special ordered by people who spend too much time on clothing forums. I asked for mine to be made from their 89 last and built from their Dark Oak Antique calf leather. The 89, originally custom made for Ralph Lauren's Purple Label collections, is a shapely round toe that derives from EG's 808. Since I wanted this to look like a regular dress oxford in every way except for it being a boot, I asked for a single leather sole instead of double, and had blind eyelets put all the way up the shaft. Thus, these only reveal themselves to be boots when I sit down. That's when my 2" cuffed, gray flannel trousers slide up my leg like the sexy napped woolens they are, and you see the flash of smooth brown skin that is English tanned leather. It's then that you feel hot as your face blushes from excitement (presuming you're an observant man who happens to know an uncanny amount about shoes). "Shannon? Is that you?," you whisper to yourself. Yes. Yes, it's Shannon. You admire until you feel your wife tapping you on your shoulder, at which point you turn around, only to catch her disapproving glare. She's again upset that you sneak glances at well-dressed men in the way that some sneak glances at women. 
My order took seven or eight months to deliver, but I'm not the type to worry over deadlines. In my opinion, part of the pleasure of ordering things custom is the process, and if you spoil it with a lot of impatience, you're kind of missing the point. I also don't expect good things to be delivered immediately, just as I don't expect good food to come out of a microwave. So long as the final product is beautiful and the person on the other side is honest, I'm happy.  
So now, I'm already thinking of my next custom project. At the top of the list is a single monk strap chukka to be worn with corduroys, moleskins, flannels, jeans, and chinos. Basically just about every kind of leg covering you can think of short of jeggings. Alden makes a model that I thought was kind of interesting, but it doesn't have the same kind of refinement that I think would be necessary for something other than jeans. Paul Stuart also has a boot, but I dislike pointy lasts in the same way I dislike skinny clothes and fake pick stitching. The perfect one, I think, is Edward Green's Olney. I think the cross over strap is more appealing, and the overall design somehow strikes the perfect balance between being both rugged and refined.
Leffot has a ready-to-wear pair, but it's in navy suede and built on the sleeker 888 toe. I'd like mine to be made from brown leather (likely Dark Oak Antique again) and be less sleek, but I haven't yet figured out the last. That might take six months to decide, which means I won't get these Olneys probably until next year.
In the meantime, I have my dress boots. They are MTO for walking, and that's just what they'll do.