According to an interesting study on Chicago drinking trends by Bevspot, a popular national beverage industry blog, our city has some pretty unique habits in beer and spirit consumption. Even though we're one of the most populous cities in the country and have a very active and influential beverage culture, the study shows some interesting overall divergences from national trends.
The study is comprised of 2016 data from the Chicago metro area, focusing specifically on beer and spirit brands. Check out the charts to below to see how the rankings played out.
Most Ordered Beer Brand in Chicago: Miller
Chicagoans tend to stick to Miller, while Coors is the runner-up. The national favorite? Bud Light.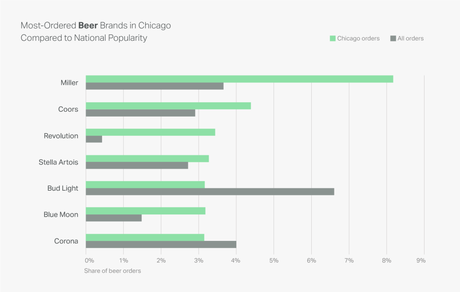 Photo Credit: Bevspot
Most Ordered Spirit in Chicago: Whiskey
Vodka ranked in at a close second.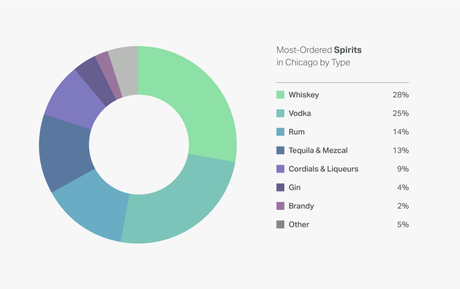 Photo Credit: Bevspot
Most Ordered Whiskey Brand in Chicago: Jack Daniel's
The second most popular whiskey brand in Chicago was Jameson, even though it ranked first in the nation as a whole.
Most Ordered Vodka Brand in Chicago: Tito's
Tito's as the top choice in Chicago also follows the national vodka trend. Absolut took second in Chicago, while Ketel One took second in the nation.
Most Ordered Rum Brand in Chicago: Appleton Estate
Interestingly enough, Captain Morgan, predictably the most popular in the nation, only took second place in Chicago.
Most Ordered Tequila Brand in Chicago: Patron
Tequila trends in Chicago closely followed national trends, with Patron also being the national favorite and Don Julio as the local and national runner-up.
Most Ordered Gin Brand in Chicago: Tanqueray
Gin was also one of the most infrequently ordered spirits in Chicago, ranking in at only 4%. Hendrick's was the national favorite but took second place in the city.
The study goes on to note Chicago's strong presence in national cocktail culture and the state's significant contribution to the craft beer phenomenon. To see the full study including charts, click here.
Speaking of craft beer, check out our definitive ranking of Chicago's local brews, and let us know your thoughts!