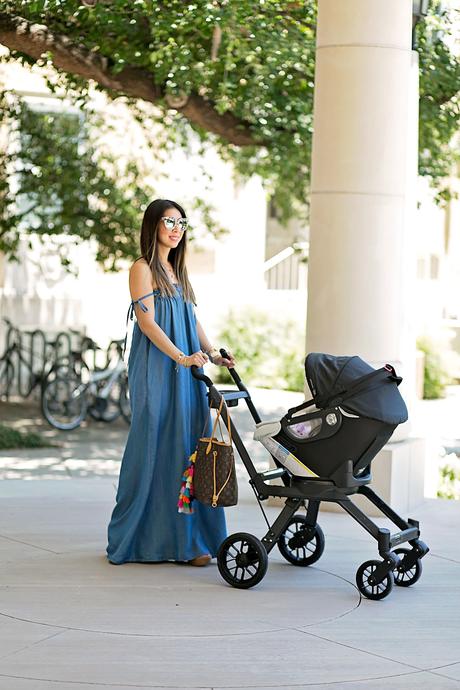 When the baby cries ( Motherhood)
When I need jewelry (Michael Kors)
When I'm wondering what to wear (denim Maxi dress)
I simply remember my favorite things, and then I don't feel so bad!
In case you're not familiar, this is a play off the song "My Favorite Things" from the Sound of Music!
M is for MAXI DRESS!
This denim maxi dress was in my cart as soon as I saw it! It is SO EASY! The off the shoulder and smocked neckline dress is perfect for a new mother who is breastfeeding. (For obvious reasons, I'm not!) It's comfy but still "dressy" and looks elegant. It literally requires NO thinking! Just throw it on and go. I especially love that it has pockets for any last minute things that I'm grabbing on the way out.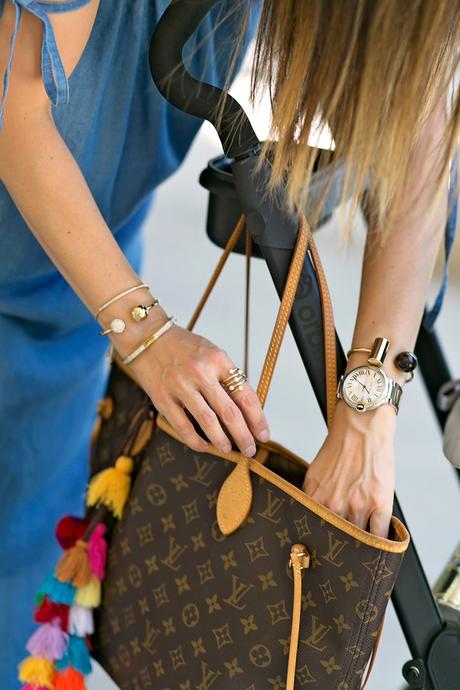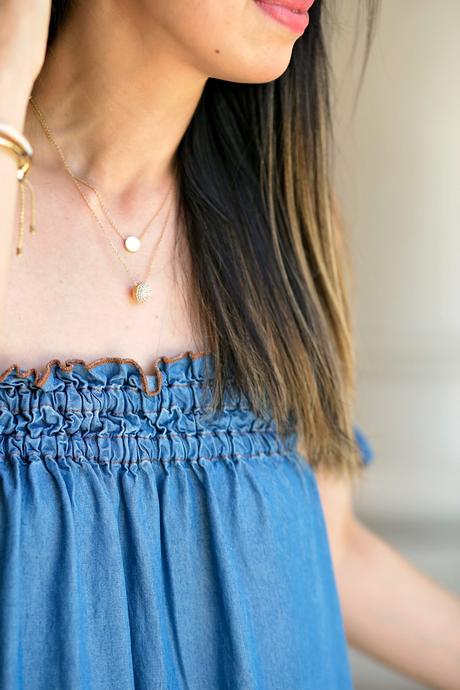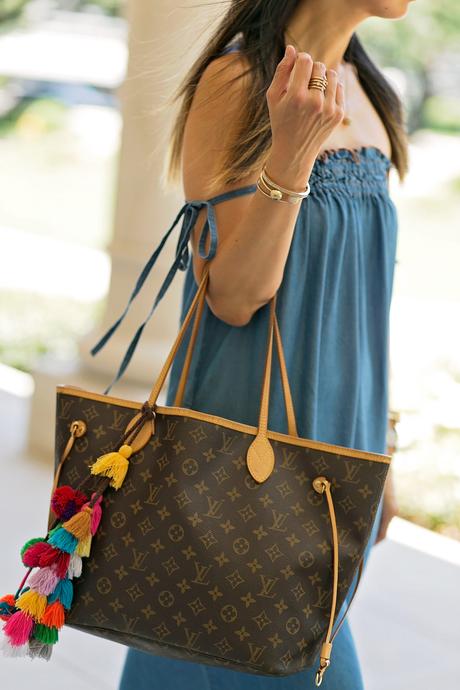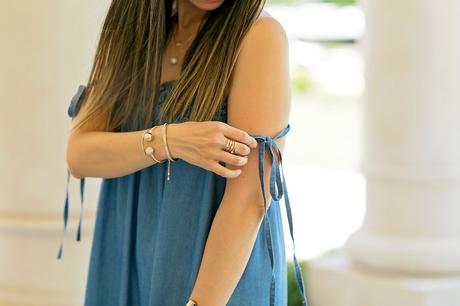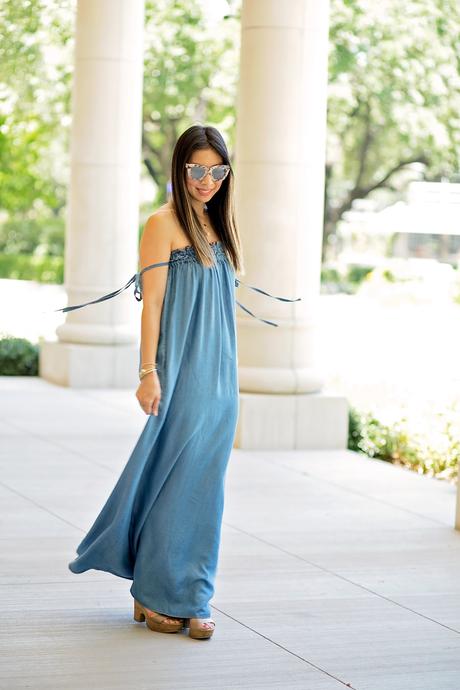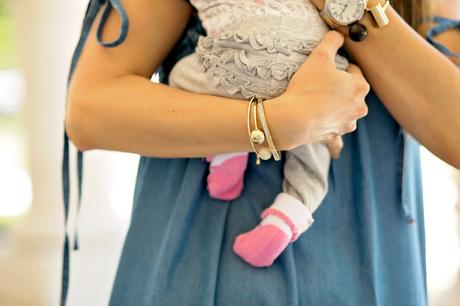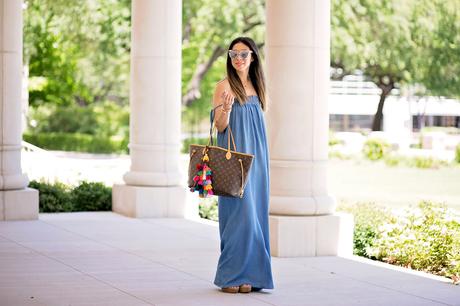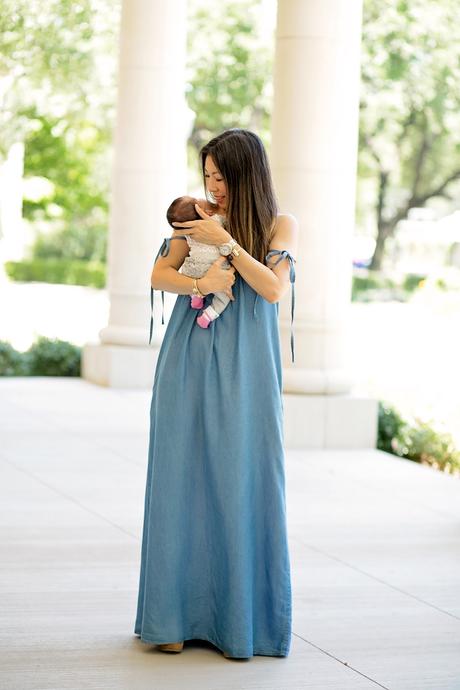 // Photography by Angie Garcia //
M is for MICHAEL KORS JEWELRY!
You know that I LOVE jewelry, especially anything big and bold and that makes a statement. The bigger the better for me! Since Little M is now a "big boy", I'm used to wearing all of my jewelry again be it chunky, bold, pointy, metal, etc. When he was born, I basically stopped wearing jewelry unless I was out without him. It's really hard to give up again now that we have Baby MJ, but I've found the perfect jewelry that is beautiful AND is safe to wear with her.
THE STYLE Rx: It's Summer! Throw on a maxi and go have fun! Elevate the look with a few gold jewelry pieces.
I've been wearing the Michael Kors fireball cuff, hinged bangle, and slider bracelet non-stop since Baby MJ was born. They are dainty enough to be out of the way, but the pave crystals have enough bling to make them noticeable. The double chain necklace and spiral ring each make a statement on their own. I love that it dresses up the simplest of outfits, like a white tee and jeans (another of my uniforms).
Even Little M loves my bracelets. He literally grabbed my arm (when I was taking him out of the car seat) and asked me, "Why are they so shiny?" He's in the WHY phase! He was tickled by the fact that he could see his reflection in the fireball cuff. So cute!
M is for MOTHERHOOD (and Baby MJ)!
This is the first photo shoot since Baby MJ has come along. (Remember this photo shoot with the gals! I forgot my outfit because we found out about her the day before.) She is SUCH a different baby than Little M. Also, I'm probably a different mommy than with Little M (a little less nervous). She is extremely laid back, and I feel like I can take her anywhere! I was worried about the heat because Texas summers are brutal, but we shot in the shade and she was completely zonked out! She even made a little cameo appearance with her little ruffle bottom pants!
We feel truly blessed to have our family. Motherhood has been one of the most difficult but most rewarding things I've ever done in my life. I'm thankful that I have this opportunity thanks to God.
What is your Summer go-to attire? And are you a maxi dress fan? What are a few of YOUR favorite things?
GET THE LOOK
dress CAPULET {also love this one}
ear crawlers STELLA & DOT
necklace, ring, bracelets MICHAEL KORS c/o
wedges ELAINE TURNER
neverfull mm LOUIS VUITTON
sunglasses QUAY