Sinuiju, who? During that February 2019 holiday of a lifetime in the Democratic People's Republic of Korea, it was time for me to board the K28 train at 10:25 from Pyongyang Railway Station. For me, I wasn't heading to Dandong, China just yet because I climbed down from that DPRK at Dongrim Station. The adventure very much continued, I wanted more! 신의주, 누구?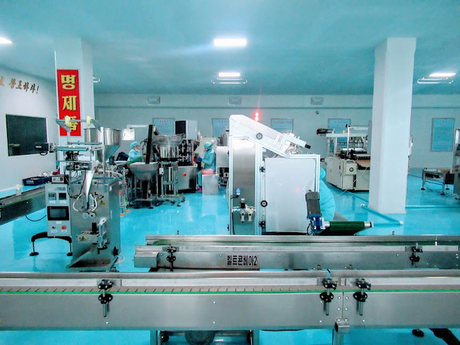 Dongrim housed our residence for the night, after the manic pace of the Pyongyang part of the tour, it was lovely to enjoy a swim and kick back at the hotel. I enjoyed my final DPRK beverages and for good reason, the next mornings drive to Sinuiju had me feeling delicate. The drive to Sinuiju had us transported into a Korean countryside springtime postcard, we then had to get out of the car so we could cross a bridge with all of our luggage at a checkpoint to meet with another vehicle. My phone signal had returned? Yes, as we saw the New Yalu River Bridge appear in the near distance, the mobile signal from China had returned to my phone for the first in about a week! There was something about what? Rocking up at the Sinuiju Cosmetics Factory, I for one didn't know that North of the DMZ the focus on K-Beauty played just the same focus like it does in the Republic of Korea! Really? First time around, the local Korean tour guide informed us that the factory had a deal with Lancôme? Yes! I needed some anti-aging cream, S! 
The frigid temperatures had us wanting to find a warmer place, that we did within the gates of Sinuiju's own Cosmetic Factory. Taking a small tour around the factory allowed us to see the production line, being in the DPRK we were schooled how this house of potions played its part within the beauty industry within the DPRK and also in overseas markets. The showroom had me visually stunted, the brightly lit shelves had a lifetimes supply of lotions and potions that could turn the hands of time back a few fair years! My eyes weren't telling lies! No! Then I was 28 years old and if truth be told, I did not need any cream to make me look any younger but that anti-aging cream came in handy during my 2019 birthday night out that was spent in Seoul, South Korea. That DPRK anti-aging had me getting some serious compliments, with my face snatched back a few years it had been evident the purchase had been worth the pennies spent! Of course, I did not mention to those SK'ers that my secret had been sourced North of the DMZ!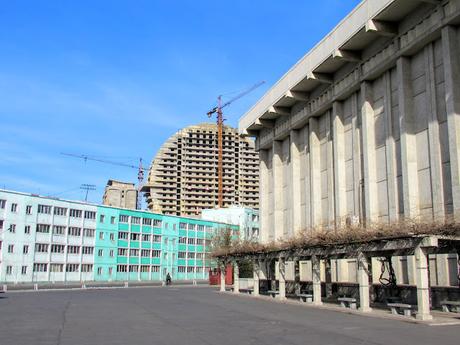 For the final time we visited a 'revolutionary' museum before our passage back to China took place. Arriving at Sinuiju's North Pyongan Province Revolutionary Museum, accompanied by another foreign tourist who had been in our compartment on the Dandong bound train the previous day. Our KITC Korean guide interacted with us well, she was even more curious than our Pyongyang based guides had been with their guests. The accompanying foreigners KITC Korean guide had a slightly different way of communicating, let me just say chewing gum wasn't the right thing to do in that museum, that was a choice badly made. We had been informed by our Foreign guide from Young Pioneer Tours that the Dandong based KITC guides would usually deal with Chinese tourists, a different style of communication would be their norm, not ours. Anyway, the museum gave us everything and more, we could close the final chapter to those revolutionary topics. Sinuiju had something to say? Those construction cranes had me curious! 
That circular shaped construction site had me doing my research, I later found out that the building to be is now a futuristic looking complex of apartments. After more snooping, I have found numerous news reports which have suggested Sinuiju has been earmarked to become something of a 'New' Pyongyang with future projects in the pipeline. During that 2019 moment in Sinuiju it didn't seem like the done thing to ask too many questions regarding Kim Jong Un's upcoming masterplan for Sinuiju, I would watch and see in time. The day so far in Sinuiju had been full-packed with much already covered, from the revolutionary museum and circular construction site, we made our way onto our next destination within the city. Driving through the Sinuiju city streets felt utterly bizarre, things reminded me of Pyongyang but on a much smaller scale, it was really interesting to see another city within DPRK other than Pyongyang. Those Sinuiju times gave me the bug to plan that second visit to the D.P.R of Korea! I'm ready!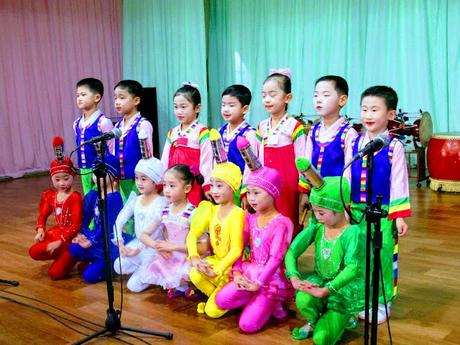 The itinerary was that full packed in Sinuiju that I am struggling to remember the pattern of our day, scrapping the plan I'm going to revisit the kindergarten experience that was showcased to me. Being a kindergarten teacher at that point in 2019, I was super excited to see how the chosen North Korean kindergarten would look like! Naturally, I had watched those documentaries that show the model students who are seen playing musical instruments and dancing/singing in a slick choreographed fashion. All of us were in for a show! Our tour around the Ponbu Kindergarten in central Sinuiju showed us a lot, I was looking for similarities with my then kindergarten in Beijing, China. Would I see any similarities? Our guided tour around the kindergarten showed us the pristine classrooms, elaborate wall displays and even a room which decorated famous and heroic graduates of the Ponbu Kindergarten! Certain aspects of the daily routine and the decorations met with my Chinese work location but the line was drawn there. S!
We were then ushered into the performance space, not long after we had all sat down the show started! The children performed their hearts out! They danced around in their brightly coloured costumes during one segment, adorned with their own missiles. The D.P.R Korean flag was very much part of their act. Moving into another part of their show for us, some of the boys stormed the stage dressed as soldiers, that spectacle gave us a fews laughs because it was so animated! Bringing their Korean drums onto the stage, some of the children played traditional Korean songs and sang such beautiful melodies, their costume changed to the national Korean dress for boys and girls respectively. I have said this before, the whole nature of the performance with its strive for perfection reminded me of the shows my then kindergarten would put on for the parents, especially during Children's Day. Being a teacher to the same age group made me miss my students, the holiday would soon be over and work would resume. Yes, it was such a treat!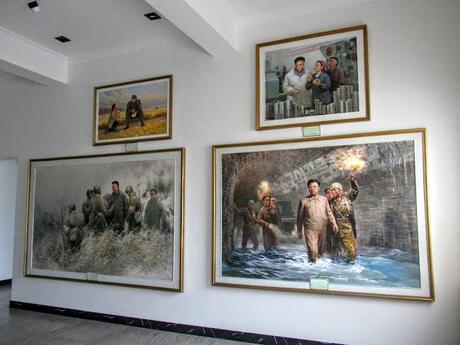 Before our border crossing back over the Yalu River to Dandong, China, we had two more things to accomplish in Sinuiju, DPRK. One being a chance to eat some lunch, early tea and then a visit to the North Pyongan Provincial Art Gallery to see the many portraits of the leaders of the Democratic People's Republic of Korea. We also had the chance to view Dandong from a riverside vantage point, set near the Sino-Korean Friendship Bridge and Yalu River Broken Bridge. During that portion of our Sinuiju day, we learnt that Chinese tourists generally paid a lot less to cross the Yalu River into the DPRK because their visit surrounded shopping. Paying the price, I didn't feel bitter about the higher price of my tour because the experience had been worth every single RMB paid. Where were those portraits at? I was good with the souvenirs that I had already purchased, I wasn't looking for anything more! Those RMB notes could still be spent in China after my holiday concluded in DPRK, they could for sure! Like, portrait, please?
Arrived and ready with my camera, I had to mind those angles because the leaders needed to have their full presence in my photos. The heroic scenarios had me captivated, the local KITC guide schooled me about the situations which had been painted before me, I listened attentively. For me, I wanted to capture the portraits clearly because those brushstrokes looked really realistic and life like, honestly I felt as if I was standing alongside those folks in the many hanging portraits. Looking back at the original 'DPRK: Sent To Sinuiju' blog post from 2019, why did I not mention the visit to the art gallery at all? That was some foolish mistake but with 'There's Something About...' I have been able to give that Sinuiju landmark the respect it deserved now in 2021! I think back to the those paintings, in England we don't have such grand paintings in the same sense, there's no call for the Royal Family to be painted with such adoration. Sinuiju will see me again! Get that New Yalu River Bridge completed already! Bye SJ! 
Sincerely, Sinuiju! 
Joseph Harrison