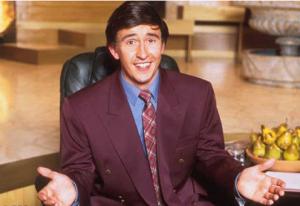 Many moons ago one of our heroes Alan Partridge decided to add a new feature to his show called "Knowing me Alan Partridge, Knowing you another Alan Patridge."
As most people do from time to time at 5.25pm on a weekday to try and kill that final five minutes of work, I Google random things.  Sometimes I Google my own name just to see who comes up.  For a long time it had all been about a solicitor in Bristol, a Tattoist in Peterborough and a Partner in an Australian property firm.  But on my last search a new name came up, and it was slap bang in the same world I live in, working on a football blog that is as cynical about the Premier League as I am.
So never letting someone else's idea get in the way of mine, I bring you "Knowing me Stuart Fuller, Knowing you another Stuart Fuller….part 1″
Morning Stuart. So tell me a bit about Thegoal-line.com. What is the site all about and what role do you play?
Thegoal-line.com is the football website that gives the beautiful game a sideways glance.  In an age when the sport of football increasingly takes itself far too  seriously we take pleasure in giving the beautiful game the occasional poke in the eye! My role is Championship Predictions and a weekly look at what is going on in England's best league.
What is your background? Did you ever thought you would be working in  "football"?
My background as a football fan was falling in love with Italia 90. Cameroon vs Argentina was the first game I sat through as a child. The brutal treatment of Caniggia, the attitude of Cameroon, the dodgy goalkeeping. It had me hooked and I have been in love ever since. I first went to a Norwich game in August 1990 with my uncle and brother (A Watford fan). It was a fantastic 3-2 home victory and I still remember Marco Gabbiadini scoring one of the best goals I have ever seen at Carrow road albeit for Sunderland.
At the age of ten I was a little older than most, but football well and truly grabbed me in the summer of 1990. My working background has little to do with football, as I am in the self storage industry. One guy had stored a seat from the old Brighton Goldstone ground which is about as glamorous as it gets. Most customers will stop and talk to me about football and there is a mix of supporters down here in Sussex. Brighton & Crawley being the main two.
Do you ever get mistaken for a solicitor in Rainham Kent or a learned professor in crop rotation (other Stuart Fuller's)
I do sometimes get mistaken for Stuart Fuller a leader in banking and finance based in Sydney. My boss at work said my football website The Ball is Round looks good. I did not have the heart to tell him it was not me!
Why are you a fan of the mighty Canaries aka Norwich City? Is it simply for Delia's pies?
Well as I stated above, I was taken to my first Norwich game aged 10. It was not long after that I became a season ticket holder at Norwich. Living in Brighton and short on funds means I can not see as many game as I would like now. Twitter, The EDP, The Pink Un and the BBC, especially 5 live helps me in my quest for knowledge on all things green and yellow. My last match was the 1-0 FA Cup defeat against Orient so it is probably best that I stay away for now!
Do you ever get to any Non League games? If so what team?
It has been a while since I saw a non league game (What? Lewes is just on your doorstep !). Back in my youth I saw Worthing play when I could not get to Carrow Road. Now living in Brighton I catch a Seagulls game once in a while. I work most Saturdays now so its harder to see as much live football as I would like. Stuart has since attended a game at Lewes btw.
Last year I was visiting my brother in Libya and watched Alahly Tripoli which quality wise was very non league, but there was a brawl,two sending offs and also a wonderfull overhead kick. Watching football in Libya at the June 11th stadium was a great experience, I would have liked the opportunity to go back but that does now seem unlikely. They are due to host the next African nations cup but again I can't see that happening now.
Do you know any other Fuller's working in football?
There is your good self and I believe there may be other Stuart Fullers around. If we take away the Stuart we have my brother Iain who writes for the Goal line and obviously my other brother Richardo who plays for Stoke.
You can follow Stuart at Twitter.com/Sfulls