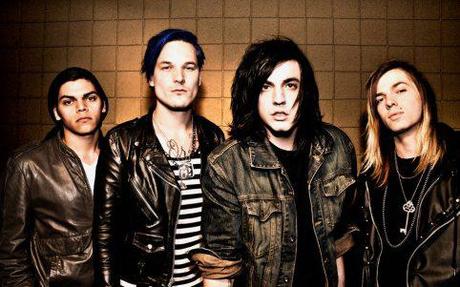 Image from Facebook
Released at midnight EST, many fans welcomed the month of August with "Built For Blame" blasting from their speakers.
Originating in Layton, Utah, Get Scared consists of shock rockers Joel Faviere, Johnny B., Lloyd Iverson, and Dan Edwards. Formed in 2008, the band has seen quite a few changes in membership; most notably, the departure of vocalist Nick Matthews last year.
Get Scared self-released their first extended play, Cheap Tricks and Theatrics, in 2009. Shortly after, the band signed with Universal Motown Records. Subsequently, the self-titled Get Scared EP was released in 2010.
Best Kind of Mess, the band's first full-length studio album, was released through their label mid 2011. Only a few short months later, Matthews announced his decision to leave the band. In response to Matthews' departure, Get Scared self-released Cheap Tricks and Theatrics B-Sides, an EP composed of the band's first recorded but previously unreleased songs.
Taking the change in stride, the band was quick to find current vocalist Joel Faviere. Formerly of pop rock band Dear Chandelier, Faviere has transitioned with ease, quickly connecting with fans via Twitter and Facebook.
January's release of "Cynical Skin" sealed the change in line-up, launching Get Scared into a new era. The band went into the studio late May to begin working on their upcoming album on Grey Area Records, which is being produced by Erik Ron (Panic! At The Disco, Four Year Strong).
Just-released track "Built to Blame" is currently streaming on YouTube, presented in a lyric video format. The video's end reveals that it is the title track of their upcoming EP, Built For Blame, Laced With Shame. The EP will be released on August 28, 2012.