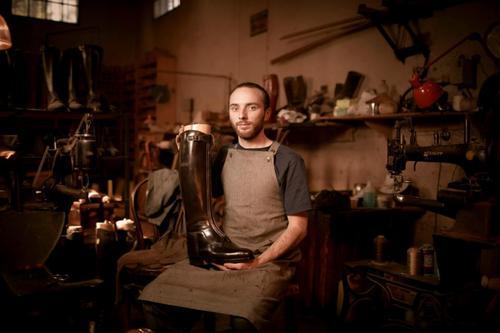 Most of the world's production of high-end footwear takes place in Western countries and Japan, but just outside the city of Buenos Aires in Hurlingham is a small workshop that's said to be best producer of professional grade polo boots. Casa Fagliano, as this Argentinean company is known, is a family owned business that started in 1892. The Faglianos were originally from the Cuneo province of Italy, and when settled down in Hurlingham, Argentina, they worked as cobblers. At first, they repaired country boots for local rural workers, but after a few years, they learned how to make country boots and riding boots. Some of these boots were made for the polo players at Hurlingham Club, which is located just one block away from the workshop.
Though I've never visited myself, reports of the workshop describe it as uniquely old-fashioned. There are apparently no electrical machines in here; everything is made only using hand tools and hand- and foot-propelled sewing machines. The family says that the Durkopp machine they use, for example, dates back to the late 1800s and early 1900s, and it allows for better control over sewing. Plus, in the quantities they produce, they don't need the efficiency of modern sewing machinery.
So, if we can say that such simple tools count for hand-production, then Casa Fagliano's shoes can be said to be handmade. Rodolfo, the oldest surviving member of the family, handcuts each piece of leather after his son Eduardo traces a client's feet and takes their measurements. His other son Germán then stitches the pieces together, and uncle Hector producers the soles. Eduardo then finishes the boot with the aforementioned Durkopp machine, and the finished boots are at last hand polished and buffed. The whole process takes about forty labor hours.
Prices are more or less on par with bespoke shoes from other reputable houses. Each pair of riding boots costs between $2,000 to $5,000, and it takes about six to eight months to deliver after the initial meeting. The wait list is about a year.
All very exciting and good to read about, but I'm not in the market for polo boots. I did, however, find out that the company makes more casual styles, such as the chukkas, Chelsea boots, and monk straps you see at the very end of this post. I called them last week to enquire, and found that the shop is at capacity at the moment, so bespoke for these models is not an option. They do have some ready-to-wear boots though, which are available for $400-500, depending on the model. Sounds great to me, I said, so long as they make the boots, not another company. They confirmed that they do.
Unfortunately, if things should not work out, returning the shoes is not so easy. You apparently have to bring them to Argentina and mail them within the country, or hand deliver them back to Casa Fagliano. At the moment, there's a restriction on all clothing entering the country and they've had problems with boots getting stuck (and then lost) in customs. So, effectively, for $400-500 you can buy some excellently made shoes with some more than impressive provenance, but they are not returnable.
There's always a catch.
(Photos via Hodinkee's Flickr and Casa Fagliano's Facebook. You can read more about Casa Fagliano in these two stories at Hodinkee)