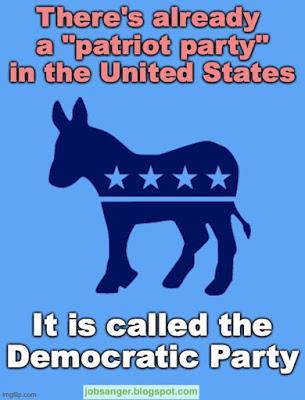 Donald Trump is demanding absolute loyalty from Republicans. And if he doesn't get it, he's threatened to start a new political party (and would call it the Patriot Party).
That would be a huge misnomer. His most loyal followers (those who would immediately join a new Trump party) are those people who believe President Biden was not legitimately elected, who wanted to overturn the votes of American citizens to keep Trump in office, and who participated in or try to justify the attack on our Capitol.
They are NOT patriots. Their actions show them to be closer to traitors -- people who do not believe in our democracy, and would overturn it.
But there is a party for patriots, and it already exists. It is called the Democratic Party!
Here is part of an excellent article in The Hill, written by Jessica Tarlov:
According to the Merriam-Webster dictionary, the definition of a patriot is "one who loves and supports his or her country." It's vague, for sure. What defines love and support? And especially in these trying times, how much significance should be placed on how that love and support manifests itself? 
Considering the insurrection at the Capitol on Jan. 6, a lot of significance is the right answer.
Since it's the stuff of fantasy to think partisans can agree upon a definition of "love and support," I submit that the answer actually lies in public sentiment. For a term that is so malleable naturally, it's logical that what constitutes loving and supporting the country would be up to the people. Through elections, the citizenry directs political decision-making. Their views are what informs campaigns and government decisions.
It follows that making good policy that appeals to the widest swath of Americans is a patriotic act. And by that definition, the Democrats are today's Patriot Party. It's not even close. 
A survey of key Democratic positions makes the case. 
President Biden gets high marks in his first month in office. His approvalstands at 54 percent in the RealClearPolitics average and his signature $1.9 trillion COVID-19 stimulus proposal is favored by 83 percent of Americans. That includes majorities of Democrats, Republicans and independents. Nearly two-thirds of Americans think Biden is doing a good job handling the coronavirus outbreak. When it comes to the vaccine itself, though 60 percent think the rollout has been too slow, 73 percent believe the process has been fair, including majorities of minority and low-income Americans.
Combatting COVID-19 has become the dominant health care discussion, but it is important to highlight that support for ObamaCare has been growing since Biden took office. The latest Kaiser Family Foundation poll finds 55 percent support, the highest rating for the law since it was signed a decade ago. Twenty million Americans have coverage because of the Affordable Care Act and the Biden White House just extended the health insurance enrollment period to give more Americans access to quality, affordable care.
"We're back." Those were President Biden's words last week about his decision to reenter the Paris climate agreement. World leaders breathed a sigh of relief that the U.S. no longer would sideline climate matters, but they weren't the only ones. Americans are relieved, too. Nearly three in five support the move. Two-thirds want the federal government to do more to combat climate change and, crucially, 60 percent see climate change as a "major" threat, compared to just 44 percent a decade ago. The same can be said of Biden's decision to rejoin the World Health Organization.
There's unanimous agreement that a federal minimum wage of $7.25 isn't enough. Eighty-three percent of Americans say minimum wage earners need a raise, with 35 percent supporting $13 to $15 an hour, 29 percent at $10 to $12 and just 13 percent for over $15 an hour. We have yet to see if a hike in wage will make it into the COVID-19 package, and whether it will stay at the $15 level that progressives champion — but the GOP position that the federal minimum wage doesn't need an increase is wildly out of step with Americans.
When it comes to immigration, Biden's policies are aligned with public sentiment. Sixty-five percent support restarting the Deferred Action for Childhood Arrivals (DACA) program, 53 percent want to stop wall construction at the southern border, 52 percent want an end to the ban on travel from some majority-Muslim countries, and 56 percent want noncitizens included in the U.S. census. Further, nearly 70 percent favor a pathway to citizenship for undocumented immigrants and 64 percent support stimulus checks for households with mixed immigration status. 
There are other positions that support my argument, such as support for access to abortion, though with some restrictions, and that the laws covering the sale of firearms should be stricter.
I have long bemoaned the fact that Republicans have successfully portrayed themselves as the party of service and love of country with bunk arguments over kneeling during the National Anthem and the number of flags on stage at an event. There is an evergreen opportunity for Democrats to talk about their service, which they have done more of since the attack on the Capitol. 
But there is an even bigger opportunity to make noise about our patriotism from a policy point of view. It doesn't matter if you stand for the anthem if your agenda hurts Americans' chances of succeeding. That's especially true as we face unprecedented challenges.
The Democratic Party is the Patriot Party. Time to own it and embarrass any Republican, especially Trump, who tries to claim the mantle.