4TET 
Jordan Tice, Brittany Haas, Cleek Schrey & Nic Gareiss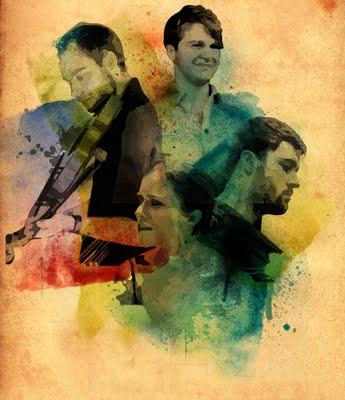 Brittany, Cleek, Jordan and Nic share an interest in the championing of traditional music repertoire, new music composition, and the use of performance in both maintaining and critiquing the conventions surrounding folk music. They follow the work of mentors such as Bruce Molsky, Brendan Mulvihill and Eileen Carson-Schatz, in tandem with careful study of historical sources and inspirations outside of traditional music, and continue the legacy and lineage of traditional music. They're on a quest to probe the expressive and creative potential of fiddle tunes, traditional song, and vernacular dance.
BRITTANY HAAS
Many people know Brittany from her time touring with Tony Trischka or with Darol Anger's Republic of Strings, and some of you saw her when she appeared with Laura Cortese, Mariel Vandersteel and sister Natalie Haas at the Lyceum in Alexandria. But most people know Brittany from her fiddling with old-time group Crooked Still.
Since graduating from Princeton in 2009, she's been taking her 5-string fiddle on tour with Crooked Still and making new fans all over the world, including a recent appearance at the Birchmere, and lately she's been performing in a fiddle duo with Lauren Rioux, including two concerts at IMT. Her first CD, Brittany Haas, was released on Ook records in 2004 and includes guest musicians Bruce Molsky, Darol Anger, Todd Sickafoose, Mike Marshall and her sister Natalie.
CLEEK SCHREY
From Virginia, Cleek fiddles in the string band Bigfoot (winners of the 2010 Traditional Band award at the Clifftop Appalachian String Band Music Festival) and both plays and flat-foots with Footworks Percussive Dance Ensemble. He's in demand for his skill in both the Irish and American old-time traditions, and has appeared at IMT with Stephanie Coleman, the Kitchen Quartet and, with Sean McCommiskey and Donna Long, in the 2011 and 2012 CCE MAD Week Faculty Concerts.
JORDAN TICE
Jordan Tice is a guitarist and composer from Annapolis who currently makes his home in Brooklyn. The son of two bluegrass musicians, he grew up playing with various bluegrass bands around Maryland until he enrolled at Towson University to study music on full scholarship. He has released 3 records of original music and his reputation as a versatile guitarist has lead him to work with the likes of Tony Trischka, Steve Martin, Darol Anger, Mark Schatz and friends, and Frank Wakefield. In addition to the 4tet he is also a member of a trio with fiddler Brittany Haas and bassist Paul Kowert whose debut recording is due out in early 2014.

NIC GAREISS
Described by the Irish Times as "the human epitome of the unbearable lightness of being," and, "the most inventive and expressive step dancer on the scene," by the Boston Herald, Michigan-born dancer Nic Gareiss has performed as a featured soloist with traditional music luminaries The Chieftains, Solas, Darol Anger, Dervish, Liz Carroll, Bruce Molsky, Alasdair Fraser and Martin Hayes.
Nic's work re-imagines movement as a musical activity, morphing dance into a medium that appeals to both the eyes and the ears. He draws from many percussive dance traditions to weave together a technique in service of his love of improvisation, traditional footwork vocabulary, and musical collaboration. Nic holds degrees in anthropology and music from Central Michigan University and recently completed his MA in ethnochoreology at the University of Limerick.
Watch "Going to Hamburg" here.
House concert in Watertown
Wednesday, February 12, 2013
Doors 6:30, concert 7:00
Admission by suggested 
minimum
 donation $20, $15 students. 
100% of the donations go to the artists.
Reservations required.
Email [email protected]