There is Only One King
by Steve Weidenkopf
"For faith is the beginning and the end is love, and God is the two of them brought into unity. After these comes whatever else that makes up a Christian gentleman."
―St. Ignatius of Antioch, Letter to the Ephesians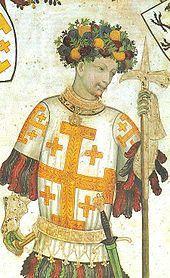 Godfrey of Bouillon, from a fresco by Giacomo Jaquerio, ca. 1420
After traveling several thousand miles, mostly through unfriendly territory, the young German knight finally saw the object of his pilgrimage: the Church of the Holy Sepulchre in Jerusalem. This journey of turmoil and toil was undertaken because of faith and love in Christ. Pilgrimages were popular in 11th century Europe. People would leave home and travel long distances to pray at a shrine of their favorite saint. Young Godfrey's journey was similar but a bit different. He was a warrior, a knight marked with the sign of Christ and one of the leaders of the First Crusade.
Urged to go on pilgrimage by the pope and motivated by faith and love, he sold parcels of his property in order to finance his pilgrimage. Although he didn't know it at the outset, his journey would be full of suffering: disease, famine, physical exhaustion, and even fear of death. Yet he endured out of faith and love and finally found himself praying at the empty tomb of the Lord. Godfrey was a bright, courageous, and well-respected knight. His fellow warriors wanted to make him king of Jerusalem. He recoiled at such an idea. His response is legendary and reflects the heart of a true Christian gentleman, because it is rooted in faith and love: "I will not wear a crown of gold in the city where my Savior wore a crown of thorns."
Action Step
Faith and love are the essential characteristics of a Christian gentleman. Consider how you've seen those qualities (or other important ones) modeled in men you know. How might you provide this kind of example for a young Christian man this week?