The Internet now has over 1 Billion websites, that is according to Internet Live Stats. The website points out, "By "Website" we mean unique hostname (a name which can be resolved, using a name server, into an IP Address). It must be noted that around 75% of websites today are not active, but parked domains or similar. "
Tech Times wrote:
Rejoice! The Internet recently reached more than 1 billion websites, according to the site Internet Live Stats, and they just keep coming. Now you know why it's pretty much impossible to get the exact domain name you want.

This past April marked the 25th anniversary of the creation of the World Wide Web, which most people give Tim Berners-Lee credit for inventing. Around 40 percent of the world's population now has an Internet connection, and the number of Internet users in the world is quickly approaching 3 billion with almost 50 percent of them coming from Asia, according to Internet Live Stats, which tracks and visualizes Internet data in real time.
Read the full article here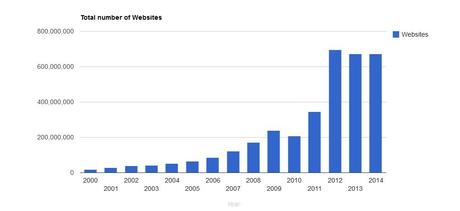 courtesy of InternetLiveStats.com