Thengai Sadam (Toasted Coconut rice)
…
one of my favorite go to meals when home alone is to add different tempering to rice (there is always, always cooked rice at home)
…
this one has completely different flavor than the other Coconut Rice on the blog
…
dump in a bowl, grab a book, and dig in
J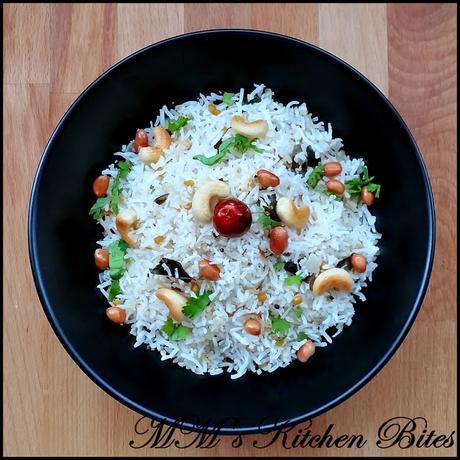 Thengai Sadam (Toasted Coconut rice)
Ingredients:
Cooked Rice, about 2 cups

Coconut, fresh or frozen (thawed), finely grated/shredded, about ½ cup
For tempering:
Black Mustard seeds, ½ tsp

Urad dal/ Split black gram lentils OR Chana dal/ Split Bengal gram OR Both, 1 tsp

Dried Whole Red Chilies, 1-2

Green Chilies, slit, 1-2

Ginger, finely chopped, about 1 tsp

Curry leaves, a few

Heeng/Asafoetida, a big pinch (optional)

Peanuts OR Cashews OR Both, 2-3 tbsp

Salt, to taste

Oil, 1 tbsp
Instructions:
In a pan/skillet/kadhai, toast the coconut till it just begins to change color. Remove and add to the rice with salt. Mix everything well and keep aside.
In the same pan, heat the oil and add mustard seeds. When the mustard seeds start spluttering, add in the dals.
Once the dals start changing colour, add in the green chilies, ginger, curry leaves, heeng, peanuts, cashews and dried red chilies.
Stir well and fry everything on low heat till the peanuts and cashews turn golden brown.
Add in the rice mix to the pan. Stir well but gently to allow the tempering to mix well with the rice.
Switch off the heat once the rice is all warmed up.
Notes:
Traditionally coriander leaves are never added. I add them when I eat this rice on its own and omit when serving with a curry.

Also, when serving with a curry, I reduce the amount of coconut to about ¼ cup.

You can toast the coconut along with the tempering after the nuts turn golden and then add the rice. I find the flavor is better when coconut is toasted earlier and mixed with the rice first (plus the fact that I can toast the coconut in a big batch for a few things in one go)

I also add onions to this at times (finely chopped and fried till it starts going soft with the tempering). I like the texture even though it's never ever used traditionally.

If not serving immediately, I prefer to also fry cashews/peanuts separately and keep aside. Top the rice with the same only when serving or else they tend to go soft and lose that crunch factor.