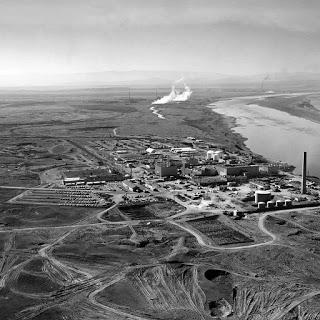 Cleaning Up the Hanford Nuclear Site Mess is Expensive
The Tri-Cities, where I live, consists of three closely linked cities -- Kennewick, Richland, and Pasco -- at the confluence of the Yakima, Snake, and Columbia Rivers in the Columbia Basin of Eastern Washington. If you classify it as one city (it isn't, but that's another story), it's a mid-sized city about 12-minutes drive from the "most toxic place in America," the Hanford Nuclear Site.
The contamination that made Hanford toxic came about as a result of its role in the Manhattan Project -- the development of the atomic bomb. As written in a 1996 Washington Post report, "In their rush to produce fuel for weapons of mass destruction, plutonium makers at Hanford dumped 440 billion gallons of contaminated liquid into the sandy soil, enough to flood Manhattan to a depth of 80 feet." In addition, 61 million gallons of toxic radioactive waste were pumped into 177 underground tanks, at least 68 of which have leaked. The DOE calls Hanford "the single largest environmental and health risk in the nation." An impressive array of contractors have come and gone at Hanford, drawn not to the nasty work, but to the tasty rewards. According to a 2019 GAO Report (GAO-19-28); 
In its fiscal year 2018 financial statement, EM added $82 billion to the environmental liability at DOE's Hanford site, meaning EM's liability increased from fiscal year 2014 through 2018 by nearly $130 billion and, as of October 2018, is $242 billion. 
It Seems Particularly Greedy to Cheat
One can hardly blame businesses for making the most of their opportunities to rake in the money. That's why, after all, they're in business. That being said, when there's so much money -- taxpayer money (our money) -- to go around, it seems particularly greedy to cheat. And yet, they did. The Tri-City Herald reports that, "The companies building the $17 billion vitrification plant at Hanford have agreed to pay nearly $58 million to the federal government to settle allegations that they billed the Department of Energy for fraudulent labor costs." The first assistant U.S. attorney for the Eastern District of Washington said, "It is stunning that for nearly a decade, Bechtel and AECOM chose to line their corporate pockets by diverting important taxpayer funds from this critically essential effort." The Bechtel and AECOM contractors couldn't work out their projects such that electricians, millwrights, pipefitters and other skilled workers had any work during regular hours -- 10-hours per day Monday - Friday -- but billed DOE for idle time and then scheduled overtime on weekends and billed for that. Nice work if you can get it. The Tri-City Herald article points out that, in addition to Bechtel and AECOM, their subsidiary, Waste Treatment Completion Co., is named in the settlement.
Read more here: https://www.tri-cityherald.com/news/local/hanford/article245934540.html#storylink=cpy  This isn't the first time Bechtel and AECOM have run afoul of government watchdogs. In 2016, they agreed to pay $125 million to resolve allegations that they charged the DOE for materials and work that did not meet quality standards for nuclear facilities. According to charges, Bechtel also illegally used taxpayer dollars to lobby Congress for more money. 
At the Vit Plant, we believe in exercising uncompromising integrity, honesty, and fairness in the way we do business. Bechtel and principal subcontractor AECOM are committed to adhering to the highest standards of business ethics. We stand by everything we do.
Bechtel Mission Statement
Greed is Good
In the 1987 movie, Wall Street, venture capitalist, Gordon Gekko made a speech to shareholders in which he said, "The point is, ladies and gentleman, that greed -- for lack of a better word -- is good…Greed, in all of its forms -- greed for life, for money, for love, knowledge -- has marked the upward surge of mankind."
The "better word" Gekko lacked was self-interest. Self-interest underpins capitalism. When self-interest reaches its apex, the people running companies and their subsidiaries/subcontractors like Bechtel and AECOM and Waste Treatment Completion Co. and:
and on and on and on, lie, cheat, and steal. Not everyone gets caught. And that's the rub.
 Under Republican administrations, the regulatory bodies overseeing corporations and financial services, including the IRS, are starved of resources needed to do their jobs effectively. When that doesn't work, the regulatory tools, i.e., regulations and laws, are rolled back and or repealed -- this has been rampant under the Trump Administration. These regulations not only protect against financial wrongdoing, they protect against corporate malfeasance that directly threatens the health and well-being of people around the globe.
We can add Bechtel and AECOM to this list now. Their malfeasance in servicing the cleanup of DOE's most toxic nuclear site endangers all of us. Shame on them!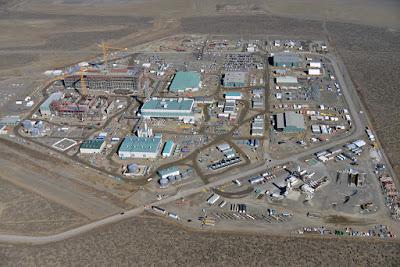 Hanford Tank Waste Treatment and Immobilization 'Vit' Plant