"I want to be free," Rosa said quietly. "Even if just for a few minutes. It might be all I have."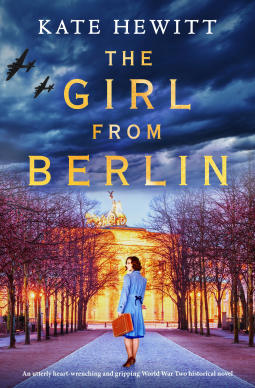 Berlin, 1936: From her beautiful new home Liesel Scholz barely notices the changes to the city around her. Her life is one of privilege and safety thanks to her father's job working for the new government.
But soon a chance encounter with Rosa, the daughter of their Jewish housekeeper, leaves Liesel in no doubt that something isn't right. That the rules this government are making aren't fair and that others aren't as safe as she is. When Rosa begs Liesel to help-pressing her grandfather's golden pocket watch into Liesel's hand-Liesel recklessly agrees. She will help hide Rosa and her family, even if it means risking everything...
Frankfurt, 1946: An idealistic American captain, Sam Houghton, arrives in Germany to interrogate prominent Nazis on trial and to help rebuild a battered country. He hires an enigmatic and damaged woman named Anna as his interpreter. But, as sparks fly between them, the question of what Anna did in the war raises its head.
Because Anna has secrets-ones that link her to the Nazi party, the darkest days in Europe's history, and the story of a golden pocket watch and two girls who became friends even when they were told it was impossible... A compelling and haunting story about courage, love and betrayal set in war-torn Berlin. Fans of The Alice Network, All the Light We Cannot See, and The Nightingale will be not be able to put this down.
***
***
(@Bookouture, 23 February 2021, 350 pages, ebook, #ARC from the publisher via # NetGalley and voluntarily reviewed, #BlogTour 26 February)
***
***
I loved the authors Amherst Island trilogy when I took part in the blog tours last year, so I had to take part in the blog tour for this book. I've read quite a lot of historical fiction set during WWII, so I was in familiar territory. The book runs two parallel storylines, one set in 1936 just when the Nazi's come into power and life starts to change in terrible way for German citizens and the second storyline, only a few years later focuses on the effort after the war to find and punish Nazi's and Nazi sympathisers. I love books that use this kind of structure and I enjoyed flipping back and forth between the two storylines and gradually finding out what the links between both were. I cried like a baby a few times because some of the events really got to me.