1938, Salzburg. A powerful story of hope, forbidden love, and incredible courage, about three sisters who will risk everything-even their own lives-as part of the resistance movement in Nazi-occupied Austria.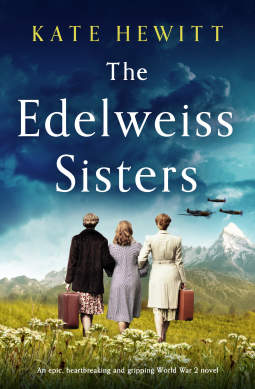 Johanna, Birgit and Lotte Eder have always lived quiet lives, working in their father's clockmaking shop and helping their mother in the house. But like many other Austrians, they find it impossible to ignore the changes in the world around them.
At first Johanna finds it hard to believe the Nazis pose a real threat. But then her father hires Franz to help in his shop. He's kind and soulful, with dark eyes that twinkle with intelligence. But he's Jewish, and as Johanna falls for him, she realizes that loving him puts them all in danger.
Then comes the Anschluss-the reunification of Austria and Germany under Nazi rule. The three sisters' lives have become ever more separate with Lotte joining the convent at Nonnberg Abbey and Birgit's secret involvement with the Resistance. But as Johanna realizes how mistaken she was about the level of danger; she begins to see that it may be down to her to protect the man she loves.
She knows that she can't do it alone though. She will have to turn to the people she trusts the most: her sisters.
The three of them work together to try to get Franz to the safety of Switzerland, and they soon prove invaluable to the Resistance. But they're risking everything. Can three women who would die for each other, also be prepared to die for what is right?
The sisters' subsequent journey from Nazi-occupied Salzburg to the devastating concentration camps of Ravensbruck and Mauthausen will show the strength of human spirit like never before. As, out of the darkness, a tiny seed of hope flowers...
A totally heart-breaking and impossibly powerful story about love, tragedy, and the power of humanity. Perfect for fans of The Nightingale, The Lilac Girls and The Sound of Music.
***
Spring is bursting like a song through the city, a symphony of beauty and renewal amidst the devastation wreaked by war. PROLOGUE
***
(@Bookouture, 8 June 2021, 437 pages, ebook, #ARC from the publisher via # NetGalley and voluntarily reviewed, #BlogTour 12 June, #booksontour)
***
****
I've read and loved other books by the author so was looking forward to reading The Edelweiss Sisters. I've read a lot of books set around WWII though not many set in Austria so this was familiar territory for me. I was impressed by the sense of place the author created in the book, Salzburg is brought to vivid life and I felt like I was there. I enjoyed the way the book explores the lives of the three very different sisters and the different paths their lives take as a result of the war and Nazi occupation.