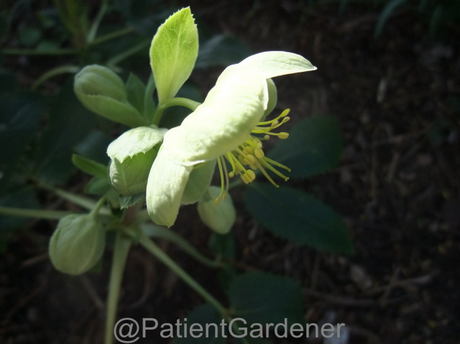 This weekend has been one of those early Spring weekends when you don't know which way the weather is going to go from one hour to another.  The clouds have been scudding along over the top of the Malvern Hills at the back of my garden.  One minute the sky is a wonderful bright blue, warming me and the soil then the clouds appear and everything is gray again.
Heavy rain had been forecast for this weekend and to be honest I would have welcomed it as it is much needed.  Plus a rainy weekend means I get on with some of those boring housekeeping jobs indoors that I neglect so much.  However, Saturday was a dry day so an opportunity to finish revamping the old pond border.
Back last Autumn I decided that the wildlife pond was not working for a whole variety of reasons.  I really think those who advocate wildlife ponds fail to identify the amount of work that is required on a yearly basis.  It is much harder than they say to get a balanced environment which will help prevent it becoming foul.  So the pond has gone and in its place is a bog garden which runs into the border that was originally in front of the pond – the former pond border.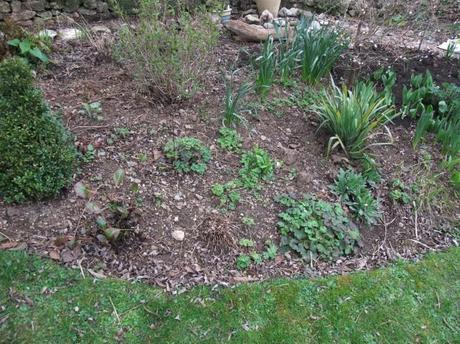 The border isn't that long but one end is bright sunny site where the plants can bake in the summer,  whilst the other end is in the shade and can often quite cool.  I have wondered how to plant it in a cohesive way so the  difference in the situations isn't so obvious.  The sunny end has for a number of years gone quite bright in color with lots  of reds and whites and the rich warm oranges of a ligularia 'Britt Marie Crawford'.  A large clump of lobelia tupa comes midway along the border acting as a sort of full stop to the color.  I wanted to carry on the reds and oranges but was also aware that I needed to choose carefully to find plants whose flowers wouldn't disappear into the  semi-darkness of the shade. The solution has been to add two roses: Lady Emma Hamilton and Jude the Obscure.  These will, hopefully, help to continue and link the color theme.  I have also relocated some euphorbia griffithii 'Dixter' which I see as echoing the colours of the ligularia.  Black hollyhocks have been included to add some height and depth of color and a sharp contrast to the white Japanese anemones.  Finally, when they have bulked up a bit more,. I shall be including digitalis ferruginea which I have about 20 seedlings off, enough to make an impact.  The scheme will be tied together with annual rudbeckia which are growing in the greenhouse. Because of the colours I hope will predominate in this border I am going to call it  the Zingy Border – well for now.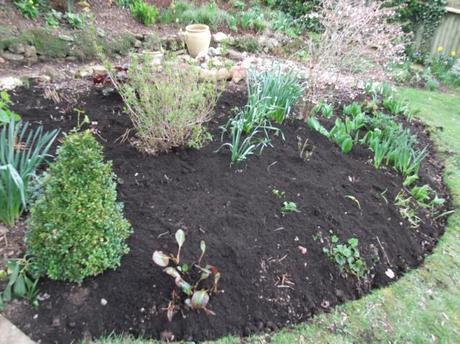 I'm really pleased that this area finally has an identity even if it is only in my head.  I have managed to blank it completely for a number of years now.  This is the last major bit of the garden, if you pretend the front garden doesn't exist, that has needed a sort out and improving. Now its a case of maintaining, monitoring and improving the borders as they develop.
Oh hang on a minute there is that border in the corner which is having an identify crisis – more pondering and thinking required to find a theme/identity. Well there is always next weekend………….!
Note: the top photo is Hellebore foetiduswhich is just starting to display in the Woodland border