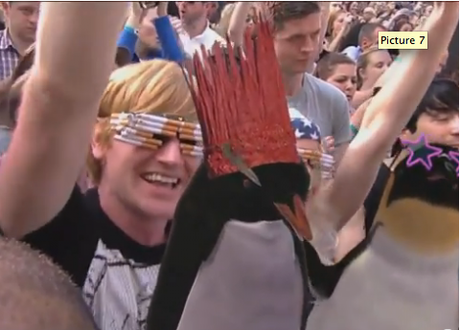 Gay penguins at a Lady Gaga show, apparently. Taken from a Jimmy Kimmel sketch. http://www.youtube.com/watch?v=lnlFHSmA8js
It's been a year of political turmoil, uprisings, natural disasters and economic crises; a royal wedding, a slain enemy, and a deceased leader of a paranoid state. But it was also the year of things that looked like Hitler, including a house and a cat;  the "Batmanning" craze, and sleep texting. Here's a round-up of the best weird stories of the year, as collated by the Periscope team, which has seen alien spaceships, yetis, turtle pigs and gay penguins galore.
Animals! It was a good year for animals: particularly the yeti, or abominable snowman, which researchers led by Dr Igor Burtsev claimed existed. Or at least, that there was a 95 per cent chance that it existed, prompting concerns about how exactly the yeti would be integrated into society. What about their yeti rights? There was also England's answer to the Loch Ness Monster (possibly): the Bridgewater turtle pig. This mysterious beast was apparently seen floating in a river; however like the Glorious Revolution (neither glorious nor a revolution), it was neither a turtle, nor a pig. Nor both.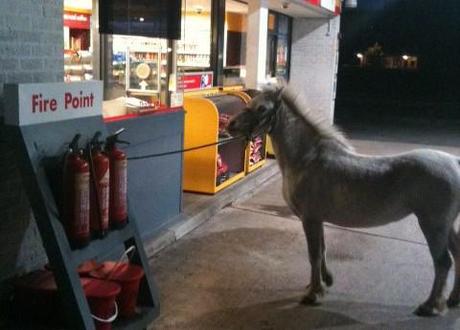 The Wandering Pony of Wrexham, tethered outside a Shell station. Photo credit: Richard Wharburton, Travelling Pony of Wrexham Facebook page
More animals! Animals that actually do exist may also be wondering about their rights – or gay rights, as in the case of Buddy and Pedro, two male penguins who exhibited courtship behavior to each other, and whose separation at Toronto Zoo caused an international outcry – on the internet, at least. Or perhaps their rights to buy drinks in British pubs and ride on trains: "Crazy" Joe Parnell from north Wales was caught on CCTV trying to buy a rail ticket for his pony, after having first brought the pony to a Wrexham pub and to the local Accident and Emergency.
Muppets! Meanwhile, those puppet animal popsters The Muppets were accused of having a liberal communist agenda by Fox News – because their new film features a nasty oil executive trying to close their theater down – although shouldn't we be more worried about the "troubling inter-species relationship" between Miss Piggy and Kermit the Frog, asked Alexandra Petri at The Washington Post?
Penis! It appears that there is a correlation between penis size and national debt – the smaller a country's average penis size, the larger their national debt, said a study of European countries. Britain comes in fairly low, with the French and Hungarians at the top.
Sex strike! Three hundred Colombian women went on sex strike to force local authorities to maintain a road; their husbands retaliated by, er, going on hunger strike. That'll learn 'em.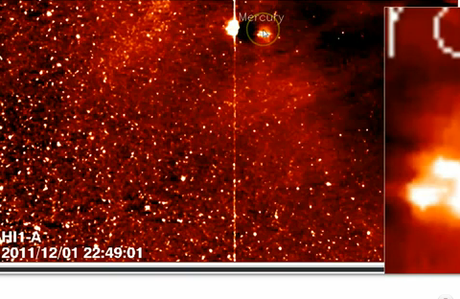 The mysterious object, just to the right of Mercury.
Alien deathstar! There was a moment when it seemed possible that a massive alien deathstar spaceship was parked by Mercury; a fleeting moment, however, as it turned out to be a trick of the light.
Cannibals! Then there were the Dutch presenters who, perhaps going a little too far in the shock stakes, announced that they were going to eat bits of each other on television.
Live births – live! At least Marni Kotak, the artist who gave birth in an art gallery, might approve of the Dutch cannibals' performance art. She ate her placenta, after all.
Pasta! An Austrian member of the Church of the Flying Spaghetti Monster won the right to be shown on his driving-licence photo wearing a pasta strainer on his head on the grounds that it is his "religious headgear" – but only after he produced a doctor's note declaring him "psychologically fit" to drive.
More bizarre »