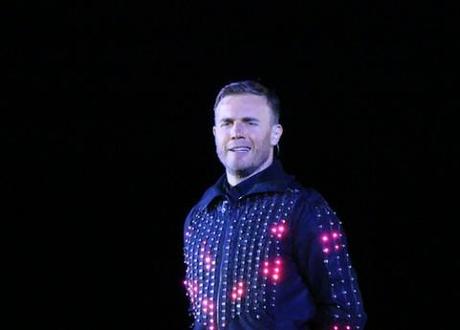 Gary Barlow. Photo credit: vagueonthehow, http://flic.kr/p/9P83Fs
It's time. To face. The music. Or at least, a panel of judges, a baying audience and an increasingly disaffected viewing public. Yes, The X Factor live shows have begun. But in a shocking twist – or "attempt to distract viewers from the glaring hole left by Simon Cowell", depending on your point of view – four acts were eliminated last night by their own mentors. Here's what you need to know.
The eliminated acts: Jonjo Kerr (Over 25s), 2 Shoes (Groups), Amelia Lily (Girls) and James Michael (Boys).
Everybody hurts. Writing for The Sun, Jen Blackburn and Leigh Holmwood described the show as a "bloodbath", containing "shockingly brutal scenes" of a "vicious live cull". While no contestants were actually physically harmed during the making of the programme, there were certainly a lot of tears from the eliminated acts. Even judges Kelly Rowland and Tulisa Contostavlos had a little sob, with Tulisa telling her acts she had been "crying tears" over her decision. Which must have been a huge comfort to the band she booted into obscurity.
These boots are made for walking. And that band was Two Shoes, to much horror on Twitter. Gary Barlow had criticised the Essex duo's performance as "Romford karaoke" on Saturday's show, after they sang Girls Aloud's "Something Kinda Ooh" in a pink car surrounded by gyrating topless male dancers. Apparently, Gary Barlow does not spend a lot of time at karaoke bars in Romford. Ally Farrell at Holy Moly had predicted the demise of 2 Shoes, while admitting: "We love them. Not for their musical talent obvz, they don't have any."
The mentors: Gary Barlow (Boys), Tulisa Contostavlos (Groups), Kelly Rowland (Girls), Louis Walsh (Over 25s).
Crazy.  At The Guardian's X Factor liveblog, Stuart Heritage suggested that former Destiny's Child star Kelly Rowland may well take Louis Walsh's crown as most inane judge. Rowland apparently introduced Sophie Habibis by saying the 19-year-old was about to sing a song "by one of the biggest bands that the UK has to offer". Habibis then sang "Teenage Dream" by American solo artist Katy Perry. However, Heritage admitted that Louis came back strongly with moments of "genuine, sustained idiocy". There can be only one winner.
Teenage kicks. Speaking of (shattered) teenage dreams, Rowland chose to eliminate 16-year-old Amelia Lily from the girls category. Lily exited the stage in tears, reigniting the debate over whether the X Factor age limit is too low. Last week, Gary Barlow told The Daily Mail he felt young teenagers were unable to cope with the pressure of the show, while also insisting that "some 16-year-olds are more mature than others".
Back for good. In between criticising his employers and eliminating wannabe singers, Gary Barlow found time to make his Twitter debut after Sunday's results shows and currently has 281,000 followers, which makes him almost as popular as The Periscope Post. Gary's Twitter feed currently contains such revelations as "Hello everybody. This is my first tweet!" Take That fans will avidly follow his progress and pray that he will continue to Tweet – after all, it only takes a minute, and as a conscientious X Factor judge he will presumably never forget.