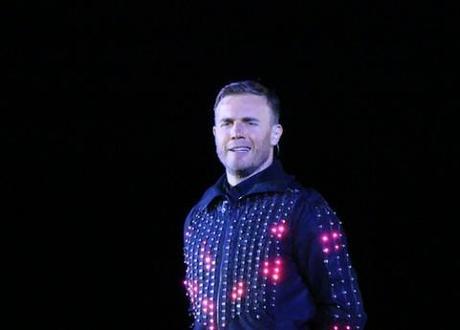 Gary Barlow: Not smiling any more. Photo credit: vagueonthehow, http://flic.kr/p/9P83Fs
Last night's X Factor double elimination saw the show's favorite (read: only) boyband The Risk and helium-voiced Johnny Robinson voted out.
This means Frankie is still in the competition. Yes, Frankie Cocozza still clings on, tight of trouser and bouffant of hair. Writing on The Guardian's liveblog before the result was announced, Stuart Heritage thought the 19-year-old was likely to leave: "Logic dictates that Frankie will go, partly because of how awful he was last night and partly because even the studio audience booed him," he said. Logic did not prevail. Mark Sweney reported for The Guardian that Cocozza's on-screen antics, including swearing on stage, have prompted two Ofcom investigations.
Judges at war (again). Frankie Cocozza was also the catalyst for a bust-up between judges Gary Barlow and Louis Walsh. Viewers saw Walsh criticize Cocozza's performance and tell him he would "never be a rock star", prompting Barlow, the 19-year-old's mentor, to tell his fellow judge to get back in his cage. However, according to The Mirror, the confrontation became more serious when cameras stopped rolling during the ad break: "Sources say Take That star Gary, 40, has lost all respect for rival judge Louis, 59, and they are no longer on speaking terms off air."
Fix factor? #FixFactor was trending on Twitter last night after Cocozza survived the public vote once again. X Factor host Dermot O'Leary tweeted  in response that "talk of a fix is a joke".
From hero to zero. Boyband The Risk, mentored by Tulisa Contostavlos, were once bookies' favourites to win The X Factor but were booted off last night's show after receiving the lowest number of public votes. According to The Metro, Tulisa suspected that last week's reshuffle may been to blame. After The Risk left the stage, Johnny Robinson faced Kitty Brucknell in the sing-off, with the judges opting to save Kitty. The 26-year-old singer allegedly made a racist comment to The Risk member Derry Mensah earlier this week; The Sun reported that she later sent him a "grovelling" letter of apology.