Title: The Writing Circle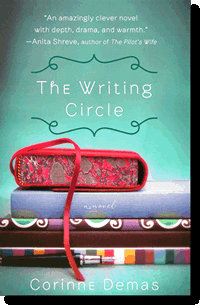 Author: Corinne Demas
Publisher: Voice
Genre: Women's Fiction / Literary Fiction
Length: 305 pages
I loved this book.  It has a slow, steady pace, but one worth indulging in.  Demas has the writing style I was going for when I first tackled the genre with The Bookshop Hotel series.  However, in her prolific career, she has mastered the craft in a way that proves I have so much to learn.
The Writing Circle is a much darker story than it appears to be at first glance, or even in the first half of the story itself.  It chronicles the lives of Nancy, Bernard, Virginia, Adam, Chris, and Gillian as they discuss and critique their craft.  Nancy is a novelist who writes and edits a medical journal by day. Bernard, a biographer. Virginia and Chris are both published fiction writers as well.  Adam is the youngest, an aspiring writer; and Gillian is the most renown of the group, a poet short-listed for a Pulitzer.
A lot of reviews on Goodreads complain about the number of characters and many readers say it was hard to keep track.  I didn't find this a problem at all.  If anything, I marveled at Demas' ability to write a third person limited omniscient viewpoint with so many distinct voices.  She has nailed the ability to travel seamlessly from one character to the next without head hopping, while restricting the inner monolog and recollections to only that which carries the narrative of the specific story she is trying to tell.  The book is brilliant.  I hope my third book displays at least half as much talent and craftsmanship.
I look forward to reading more of Demas' work.  She has a lot to choose from.