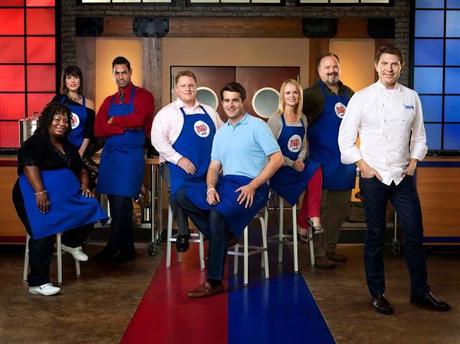 Alex Stein sits front and center with chef Bobby Flay (far right) and contestants on Worst Cooks in America.

Alan Peppard of the DMN, reports that The Food Network has scooped up Dallas-native Alex Stein (who bills himself as "Prime Time 99 Alex Stein") for season four of Worst Cooks in America beginning next month.  It was just last summer, that we first saw Highland Park High School grad Alex Stein get ejected from ABC's The Glass House.
Chef Bobby Flay and the show's undefeated champion Anne Burrell will coach two teams. They will try to turn 14 cooking losers into wunderkinds with a whisk. Now if you'll recall, on The Glass House, 14 contestants lived together hoping to be the last one viewers voted out of the house. The grand prize was $250,000. On Worst Cooks, the prize is only $25,000. (We are talking basic cable versus network.) With his anti-charm, Alex was the first to go from The Glass House. We'll see how he is in the kitchen. The son of Dallas businessman and bail bondsman Rhett Stein might have been playing all of us last summer. "A lot of my actions were influenced by the viewers," he explained at the time. "The viewers told me to be a villain." Turns out that Alex is also a standup comedian. Within days of being bounced from The Glass House, he was spotted doing at set at The Laugh Factory in L.A. 
Set your DVR's. Season 4 of Worst Cooks in America premieres on Feb. 17.