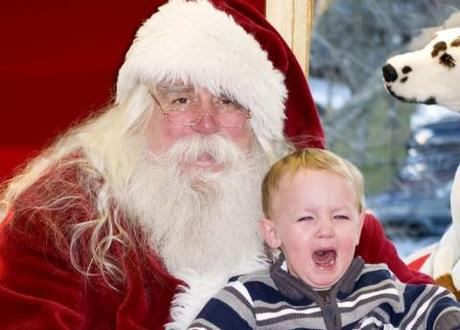 Santa Claus and this kid were listening to "The Christmas Shoes". Photo credit: McClave
It's official – well, as official as these things can get – "The Christmas Shoes" is the worst Christmas song ever. In the history of the world. At least according to the readers of Jezebel, snarky feminist sister site to gossiper Gawker.
For those of you unacquainted with the played-for-tears schlock of the 2000 song by Christian group, NewSong, here's a synopsis: The song's narrator is doing some last minute Christmas shopping. The boy waiting in line in front of him, clad in old, worn out clothes, is buying a pair of women's shoes. Turns out, they're for his mother – she's dying of cancer, that very night, and he wants her to look her best when she meets Jesus. The narrator, appropriately touched, helps the boy buy the shoes and learns the true meaning of Christmas. The song was adapted into a novel and in short order, a made-for-TV movie.
And, said Erin Gloria Ryan at Jezebel, "This song is a zit on the nape of Christmas's neck…. God, you guys, it's so awful. You're so right. It really is the Worst Christmas Song of All Time."
"The Christmas Shoes" is so awful, it even beat out that well-meaning paean to Western imperialism, "Do They Know It's Christmas?" (no, there won't be snow in Africa this Christmas – because it's summer, you tit), and the annoying elder-abuse refrain of "Grandma Got Run Over By a Reindeer".
So, do you agree? Is this the worst Christmas song ever – or do you have a better candidate?
How about this one? Everyone loves Yuletide alcoholism, right?
"Please, Daddy Don't Get Drunk This Christmas"

More Christmas cheer

Your Christmas tree is trying to kill you
Secret Santas save Christmas
The X(mas) men: Is there a Christmas gender divide?
Santa tracker is available in app form
All I want for Christmas is… more viral videos
More Christmas »