The fire ritual was so very thrilling, I loved to sit there and let myself being carried with the flames and the mantrams into the subtle spheres invoked. With all the pictures of the Great Ones their presence is much more easily to be absorbed.
After the fire ritual there was the presentation of a new publication, a book of Master EK: The World Teacher – Advent of Lord Krishna. It is the third book of a series of 7 books Master EK envisioned to write, but he died after having written this book in Telugu and having translated 13 of 31 chapters. Since it was in a very elaborate Telugu language it ahd not been translated before. Several times in previous years I had asked people of the Indian brotherhood why they don't translate this book, I would love to read it, but they said, it is too difficult for them. Sri Kumar now had taken up this talk. He said that even for him it was very delicate and he often had to look up corresponding English words in Wikipedia. The books is about the preparation of the then-World Teacher, Parasara, together with a group of Masters, to prepare the incarnation of Sri Krishna. Mr. Joshi from Bangalore spoke a bit about the book, saying it was like a cinema film for him to go through the book, they were so much taken into the story like never before. I bought several books to take them with me and of course started reading it during a Telugu lecture…
The afternoon was filled with talks with friends and then again lecture, evening prayer, dinner and a late way back to the center. Not much to blog about.
I wrote these lines during  Telugu lectures…. And the events of Thursday didn't yet find a time window…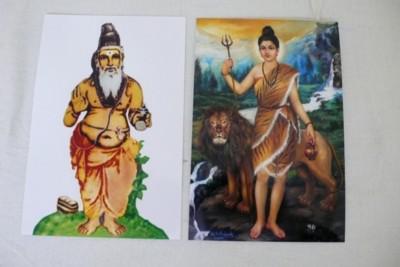 A picture of Rishi Agastya, who was present through Master CVV, and the picture of Saila Putri, the Daughter of the Mountain, the guiding light of Hierarchy (See the book "Man Sacrifice) – I'm very happy that I found these….