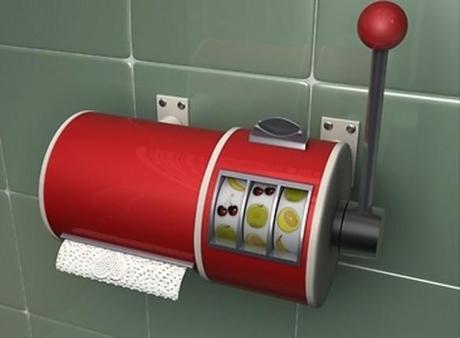 The World's Top 10 Best Fruit Machine Gift Ideas
Those of us that like to have a bit of fun at the seaside or maybe a litter flutter at the casinos will know and mostly understand the joys of playing a fruit machine. From hoping you get that "big win" to just winning some free spins. So today I thought I would take a look at some very good gift ideas for us fans of the one arm bandits… 
The World's Top 10 Best Fruit Machine Gift Ideas
..
10 – Cuff-links
Nothing says "success" like a nice pair of cuff-links, and so it goes without saying that these are a great gift to give someone who is looking to have a night out in a casino or maybe just treats life-like a bit of a constant gamble.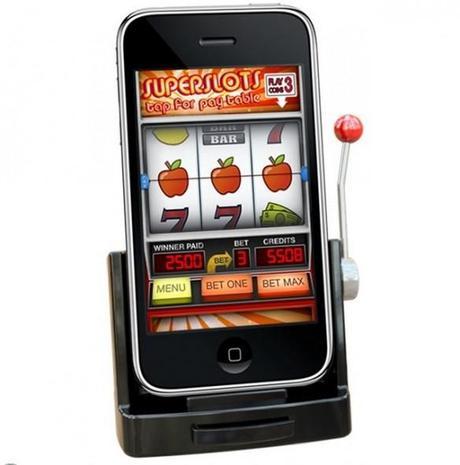 iPhone Fruit Machine
9 – iPhone Accessories
Owning your own fruit machine at home can cost the earth, so why not just buy this rather cool iPhone add-on that can turn your phone it to a lean, mean, gambling machine. I have to say that this really does look like a lot of fun.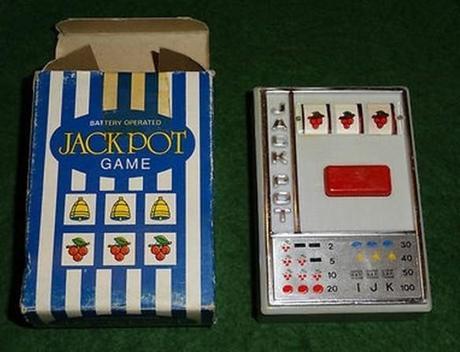 Handheld Fruit Machine from the 70′s
8 – 70′s Handheld Fruit Machine
Sadly you can not longer buy these amazing things, but I do remember playing with one as a very little boy. Maybe that is where my love for online slot machine sites like NorskeSpilleautomater.com comes from. It might have been just a toy back then, but now I would imagine it is worth thousands! (Provided it is still in the box)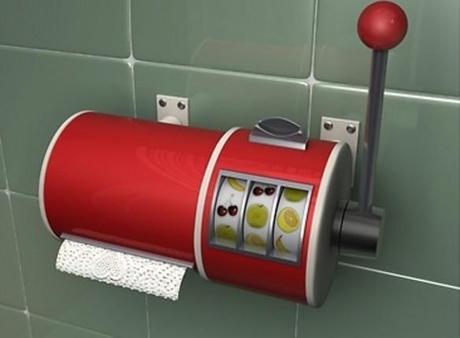 Slot Machine Toilet Roll Dispenser
7 – Toilet Roll Dispenser
While at first this might seem like a fun gift idea to give someone you might soon be ripping the thing off the way when you need a win of toilet paper badly enough. The good news is that this is just a fun image in a calendar and not a real thing. Shame really.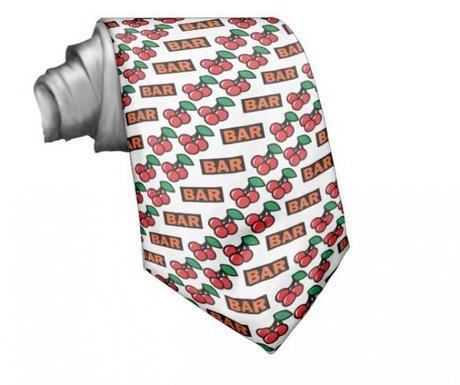 Penny Slot: Fruit Machine Tie
6 – Tie
Why not show the whole office how much of a winner you really are! With vibrant colours and a good size this is a good and very affordable gift idea for any fans of the one arm bandits or casino cash  reels.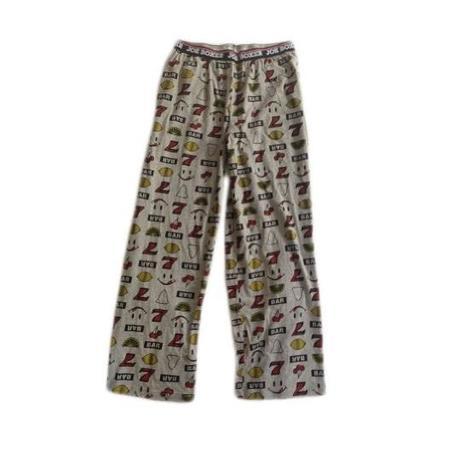 Joe Boxer Mens Casino Slot Machine Pajama Lounge Pants
5 – Lounge Pants
I never thought that I would get to an age when I enjoy nothing more that a nice, loose-fitting pair of lounge pants. But that is exactly what I like, and these slot machine themed ones seems like a very good gift idea to me.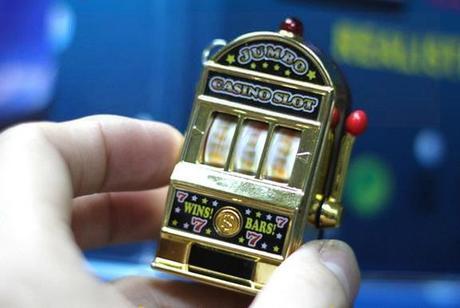 Slot Machine Key chain
4 – Keychain
I just loved these miniature "Jumbo" slot machine key rings. Not only do they look amazing, but they also really work! OK, you are not going to win any money from them, but they spin around and randomly win just like the real thing.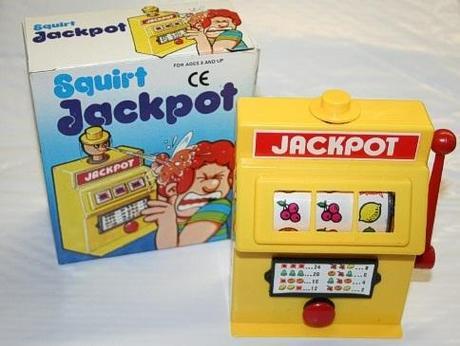 Water Squirting Fruit Machine
3 – April Fools Prank
If you are planning some April fools jokes, or maybe just love play pranks, this squirting Jackpot machine is great fun. Just fill it with water, sit back and watch your friends get wet! Simple, cheap and well worth a few laughs.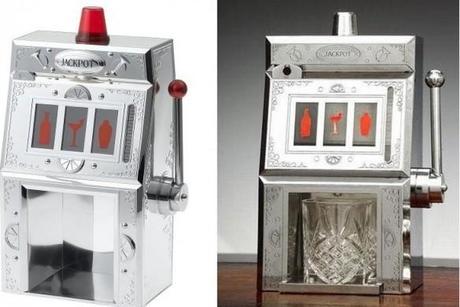 Slot Machine Liquor Dispenser
2 – Drinks Dispenser
While I am not one for drinking and gambling (because if I was drunk I might not be able to find the "spin" button) but if I was this would be an amazing gift idea. Just pull down the bandits arm to release even more booze! A win, win situation indeed.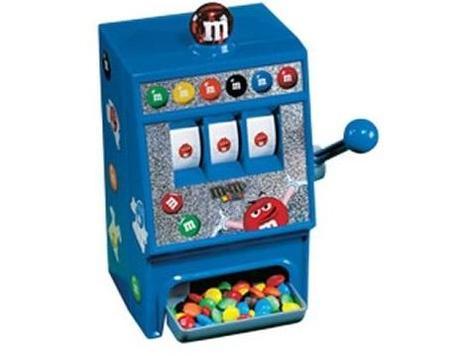 M&M's Slot Machine Candy Dispenser
1 –  Candy Dispenser
This had to be my winner, because every time you pull on this little one-armed bandit you win some more M&M sweets! And that means you are always a winner because chocolate is a gift that keeps on giving. (much like this toy fruit machine)